Trip Summary
Fishing on the mighty Zambezi River can be done all year round for Tiger, Bream, Nembwe and the Catfish, just to mention a few. There are a total of 75 known species found in the Zambezi River. Upper Zambezi River is a dream for fly fishermen during the months of May, June and July, you have good chances of catching predatory fish such as Tiger fish and Nembwe although when the water level drops from the month of July the three-spotted bream and the thin-face will regularly take a fly in the rock pools above Kandahar Island.

Spinning for Tiger fish and Nembwe from August to December when the water is clear will generally have good results, spinning closer to the shore and islands will yield good results. Some bream will take a spinning lure.
Trolling is mainly done for the Tiger fish although the sharp-toothed catfish will take a Rappala. Trolling is mainly done in deep water when the water gets clear and the big solitary tiger fish retreat to deep water, this is due to other predators like the Fish eagle and crocodiles preying on them.
The Zambezi River is a constantly changing environment therefore fish constantly change their fishing habits according to factors such as water levels, water clarity and food supplies. In the winter months the Pink Happy bream is a strong favourite with the local Victoria Falls community and put up a good fight. Most Anglers though tend to underestimate the Catfish or known locally as the Muramba as a good game fish, it has sizes recorded up to 40 kilograms and puts up a good fight.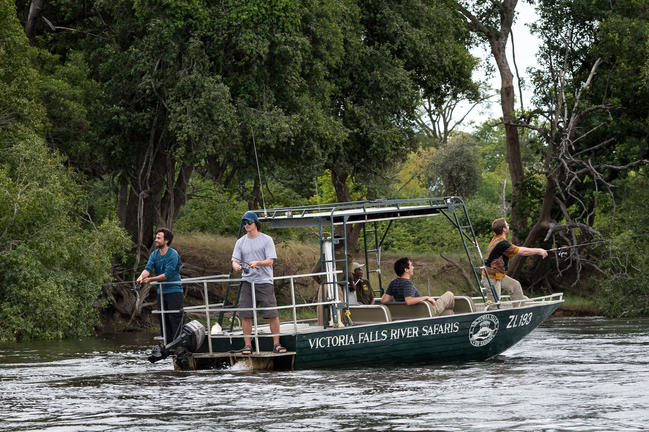 Tour Information
Duration: Approx: 3 hours
Languages: English
Group Size: Minimum 02 guests
Departures: Victoria Falls town hotels
Returns: Victoria Falls town hotels
Additional Information
Fishing is done on a 'catch and release' basis.
Price
2022 RACK RATES:
USD 217.00 per person (Minimum 02 guests)
Includes:
Transfers from Victoria Falls town hotels, park fees, guiding, fishing tackle