Trip Summary
Enjoy 2-nights at Safari Plains, Mabula Game Reserve in Limpopo, and soak up the exquisite beauty of wide open savannas with its rich wildlife heritage and spectacular vistas are a melting pot for a majestic wilderness destination. All meals and 2 daily game drives included.
Set against the backdrop of the magnificent Waterberg Mountains in the Limpopo Province, Safari Plains is close enough to Gauteng, only a couple of hours drive the luxurious haven that is Safari Plains will draw everyone who has experienced it to return again and again. The lodge redefines luxury in the bush from the impressive high ceilinged dining room and elegant lounge to the impressive bar and relaxing spa.
Safari Plains has created a luxurious setting with a sophisticated ambience. Like little jewels placed along winding sand pathways, each of the gorgeous tented suites commands a private space within the natural indigenous bush-veld. These safari-style tents offer great comfort and a luxurious ambience with private timber wrap-around decks. A romantic swing or authentic safari seating offers a great space to sit outdoors and enjoy the views over the waterhole. The six luxury tents offer a slightly larger main area and come complete with a private sala which is perfect for whiling away a lazy afternoon. All tented suites are perfectly appointed with sunken baths, separate showers and toilets. The hospitality armoire offers a fully stocked mini bar fridge and tea and coffee making facilities. Air conditioning throughout ensures guests can enjoy year-round temperature-controlled tented accommodation. Proudly family-friendly, the family-style safari and Luxury tents consist of a second bedroom with two twin beds.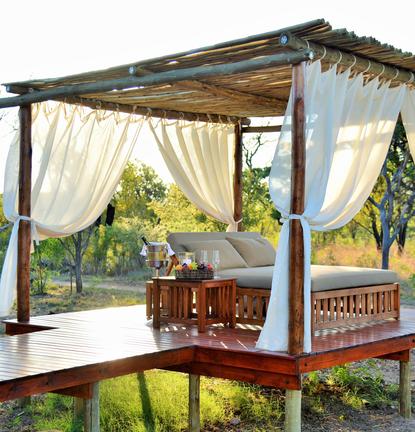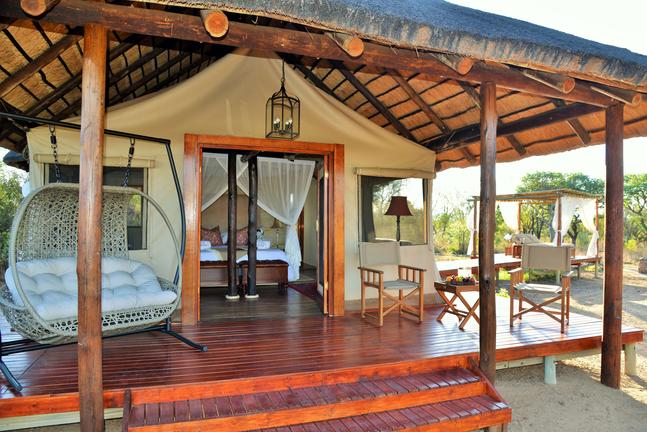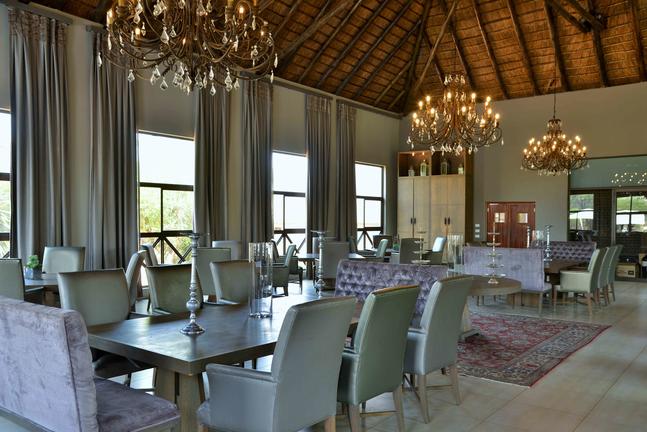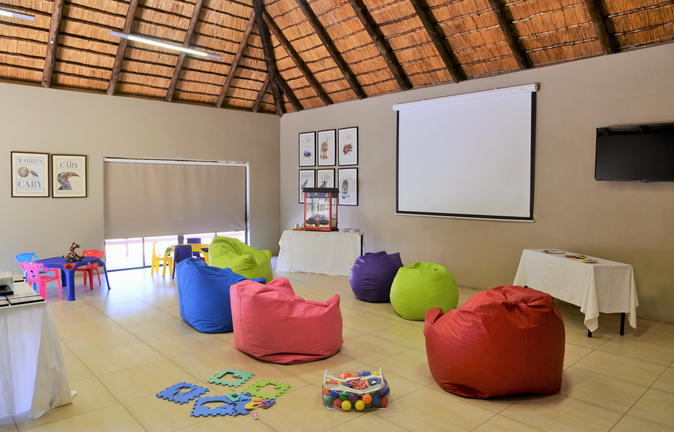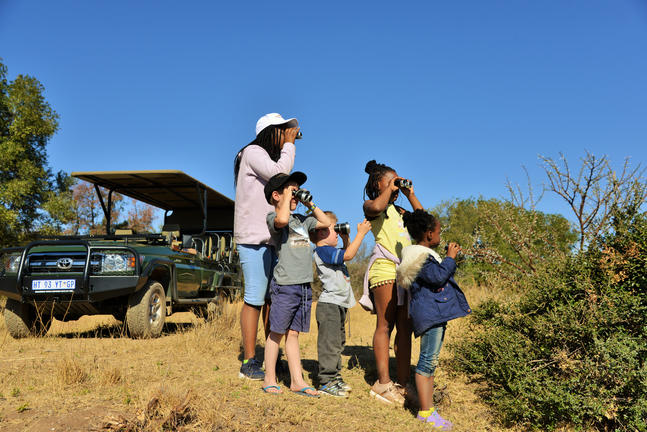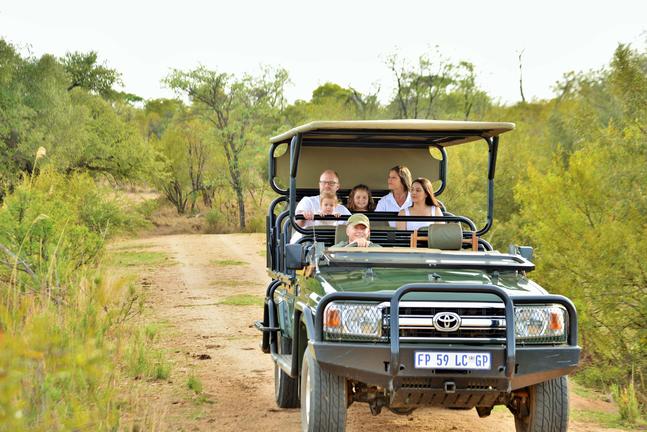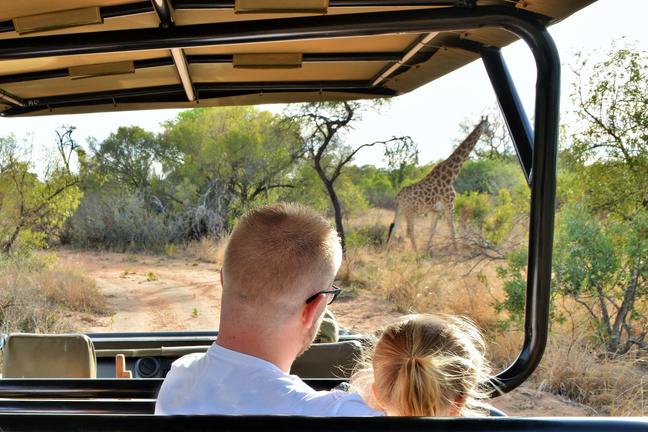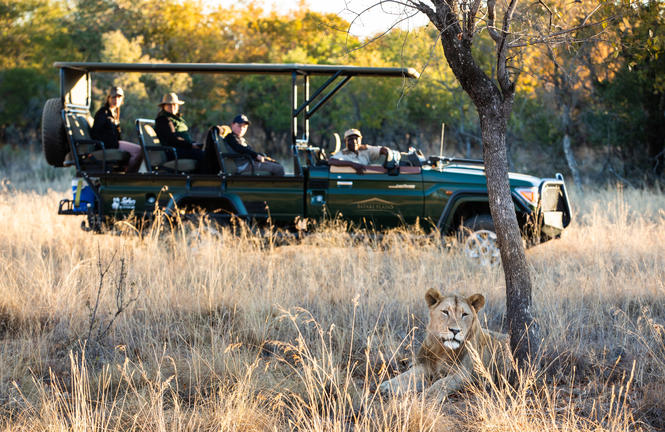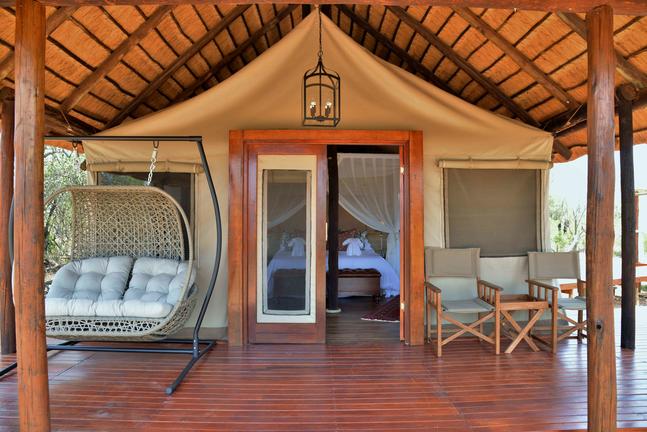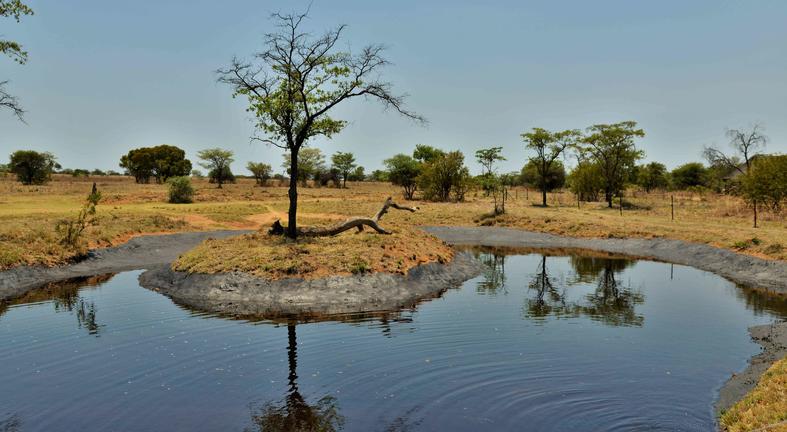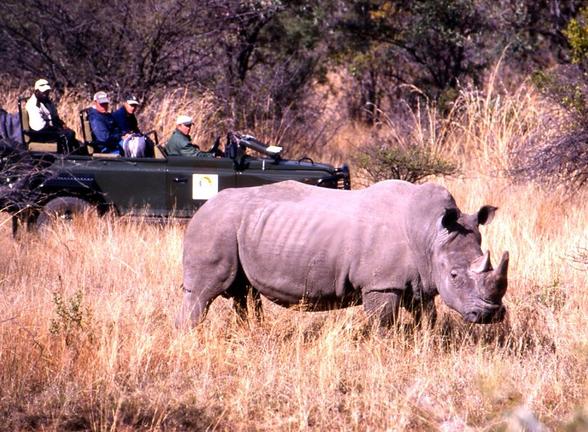 Activities at Safari Plains:
Game Drives:
The wildlife experience will not disappoint with our open 4 x 4 vehicle safaris exploring the one hundred and twenty square kilometres big five private game reserve. A wide array of activities are available such as hot air balloon safaris, horseback safaris, quad biking adventures and guided bush walks among others
Dining:
Dining and wining at Safari Plains is a chic affair in the sophisticated dining rooms or experiencing a candlelit bush dinner accompanied by spectacular African entertainment. A safari for the palate as much as for the wildlife the culinary team aim for the stars with new and exciting dishes presented to our guests every day.
Star Gazing:
Exploring the African skies in the bush is an extraordinary event and we encourage guests to join the after dinner stargazing activity. An extraordinary destination for all who seek the true tranquillity fused with the excitement of an African Safari.
Guided Safari Walks:
Leaving from the lodge, Guides will accompany you on an experience that introduces you to Nature on an intimate level. Being on foot allows you to witness the detail of both Flora and Fauna on a different scale, often highlighting smaller and less familiar species. Guides are specifically qualified to undertake walking safaris and are well equipped to ensure safety.
Horseback Safaris:
Horseback Safaris offer a different perspective for wildlife viewing. Benefit from the height and mobility offered from being mounted that sets this opportunity aside from other activities. Experienced Guides ensure that riders are aware of the necessary safety precautions. Long trousers and closed shoes are recommended.
Eco-Adventure Trail (Quad Biking):
Participate in an adventure over interesting trails on a Quad Bike. With the emphasis on safety, guides ensure that participants are wearing the necessary safety gear before exploring the reserve. the safari is undertaken on 250cc Suzuki Quad bikes that can be driven in manual or automatic.
Hot Air Ballooning:
The Balloon Crew, consisting of the pilot and two crew members, will arrive at the Lodge the evening prior to the flight, meet the passengers and brief them on the following morning's balloon safari. The flight lasts approximately one hour, starting at 06h00 at a suitable area selected on the reserve – the latter depending on the flight direction and meteorological conditions of the day. Rangers will transfer you back to the Lodge in time for breakfast.
Safari Spa:
Indulge in an exotic menu of time honored spa treatments under the skillful hands of therapists.
Additional Information
Valid for SADC residents only
Price based on Best Available Rates (BAR) and subject to change
All rates are commisionable to travel agents and advisors
Subject to availability at the time of booking
Terms and Conditions:
Prices are per person sharing, subject to change, currency fluctuations and room type availability.
The exact amount will be confirmed at the time of booking.
Advance purchase, peak or high season surcharges, block out periods and minimum stay conditions may apply
Price valid for dates as specified. Group rates available on request.

For standard Terms and Conditions please refer to: https://www.southernafrica360.com/terms-conditions/ E&OE
Price
Price for a 2-night Stay:
PAY STAY SPECIAL UNTIL 30 JUNE 2021
Stay and pay for 2 nights and get a 3rd night FREE!
Valid until 30 September 2021
Safari Tents - Fully Inclusive
ZAR 5 780.00 per adult sharing for 2 nights
ZAR 8 666.00 per single
ZAR 4 334.00 3rd person sharing in family tents
ZAR 2 890.00 4th person sharing in family tents
ZAR 2 890.00 per child aged 6-18 years sharing in family tents
Luxury Tents - Fully Inclusive
ZAR 6 356.00 per adult sharing for 2 nights
ZAR 9 5320.00 per single
ZAR 4 768.00 3rd person sharing in family tents
ZAR 3 178.00 4th person sharing in family tents
ZAR 3 178.00 per child aged 6-18 years sharing in family tents
Children aged 0-5 years stay free of charge when staying with 2 adults, however are not permitted on the standard game drives. Maximum 2 children per tent sharing with 2 adults.
MID-WEEK SPECIALS (Sun-Thu)
Valid until 30 September 2021
Last Minute Bookings (within 7 days prior to travel):
Safari Tents - Fully Inclusive
ZAR 4 500.00 per adult sharing for 2 nights
ZAR 6 750.00 per single
ZAR 3 380.00 3rd person sharing in family tents
ZAR 2 250.00 4th person sharing in family tents
ZAR 2 250.00 per child aged 6-18 years sharing in family tents
Luxury Tents - Fully Inclusive
ZAR 5 080.00 per adult sharing for 2 nights
ZAR 7 620.00 per single
ZAR 3 810.00 3rd person sharing in family tents
ZAR 2 540.00 4th person sharing in family tents
ZAR 2 540.00 per child aged 6-18 years sharing in family tents
Advance Purchase Mid-week Bookings:
Safari Tents - Fully Inclusive
ZAR 5 000.00 per adult sharing for 2 nights
ZAR 7 500.00 per single
ZAR 3 750.00 3rd person sharing in family tents
ZAR 2 500.00 4th person sharing in family tents
ZAR 2 500.00 per child aged 6-18 years sharing in family tents
Luxury Tents - Fully Inclusive
ZAR 5 500.00 per adult sharing for 2 nights
ZAR 8 250.00 per single
ZAR 4 126.00 3rd person sharing in family tents
ZAR 2 750.00 4th person sharing in family tents
ZAR 2 750.00 per child aged 6-18 years sharing in family tents
Includes:
2 nights Accommodation including 15% VAT and bed levy
All Meals and select beverages (alcohol between 12.00 and 22.00 daily)
2 Daily Game Drives
Excludes:
Transfers
Additional meals and premium drinks
Conservation fees (R 245.00 per vehicle per stay)
Items of a personal nature