Trip Summary
Spend 2-nights at Africamps Klein Karoo, Located only a 10 minutes' drive from Oudtshoorn centre, in the middle of a pristine Karoo landscape with direct views of the Swartberg Mountains, AfriCamps Klein Karoo offers you the perfect backdrop to relax.
Set on one of the biggest working Ostrich farms in Southern Africa, this AfriCamps location is one to experience. (Don't miss the authentic ostrich tour if you want to see these amazing creatures up close.) A large portion of the farm has been made available to a wide variety of free-roaming game and the popular ostrich tour is a short drive away on the same property. Among the free-roaming game you will find 12 luxury boutique camping tents positioned around a big water dam. Located just off the Garden Route, about an hour north of George, this farm makes the perfect mid-way stop between Cape Town and Port Elizabeth. Oudtshoorn has something for everyone in the family, explore the famous Cango Caves, take a drive through the scenic Swartberg Mountain pass, or embrace local culture at one of the many festivals that run throughout the year. Also, take a stroll through the lively centre of this friendly town to experience its many nice restaurants and coffee shops.
AfriCamps tents consist of a spacious open plan lounge area with a comfortable couch and a fully equipped kitchen. The dining room area has a solid wooden table with enough seating for 5 people. For winter months the fireplace will be the perfect way to warm up the tent, bringing in an intimate setting for you and your love ones. Both bedrooms are furnished with a queen size bed and have their own private entrance which allows maximum privacy. One of the bedrooms also contains an extra single bunk bed, so the tent will comfortably sleep a family of 5. Our tents are equipped with an air conditioning unit to keep you cool during those hot summer nights and a private bathroom with a hot shower cabin, washbasin and flushing toilet. Three of the tents now offer a private wood-fired hot tub where you can take in the breathtaking view while listening to the crackle of fire under the African sky. A wood-fired hot tub is the purest form of relaxation and enjoying the outdoors, ideal for those starry winter nights. With all the comfort of a permanent structure – proper furniture, bathroom, a fully equipped kitchen and a solid wooden floor – they still preserve the romance and atmosphere of staying in a tent.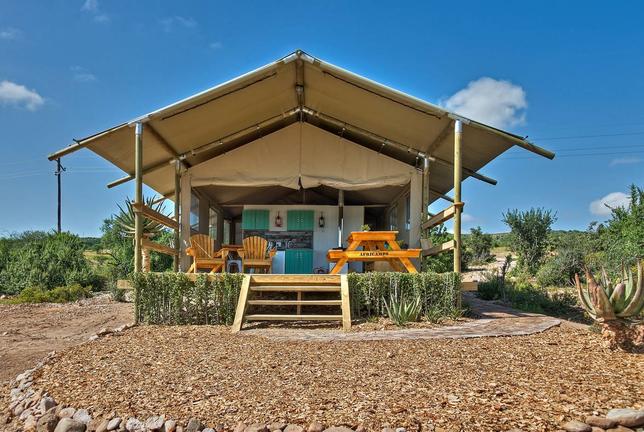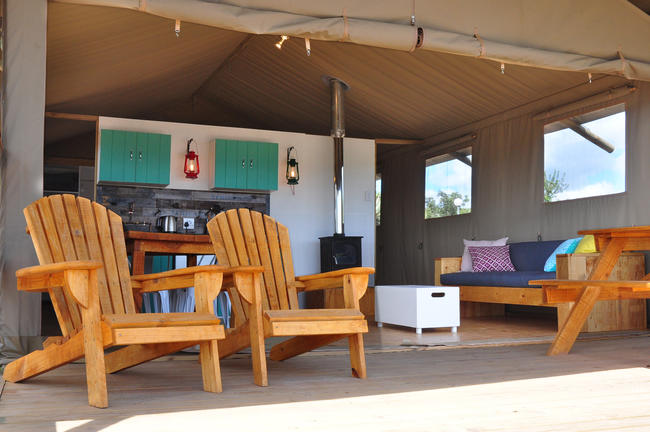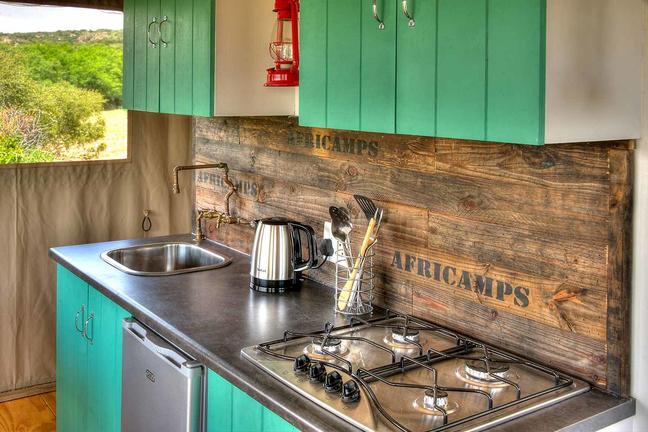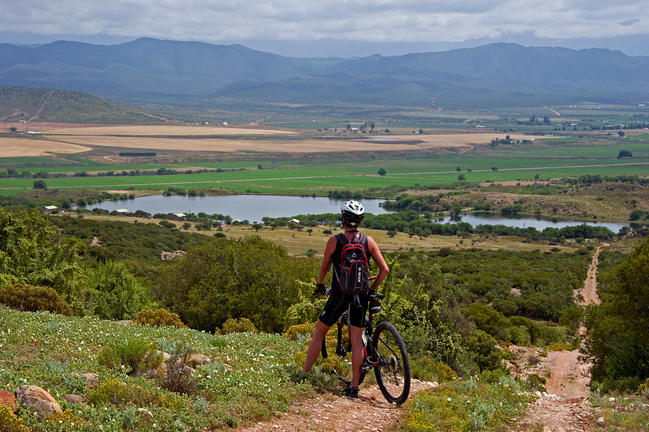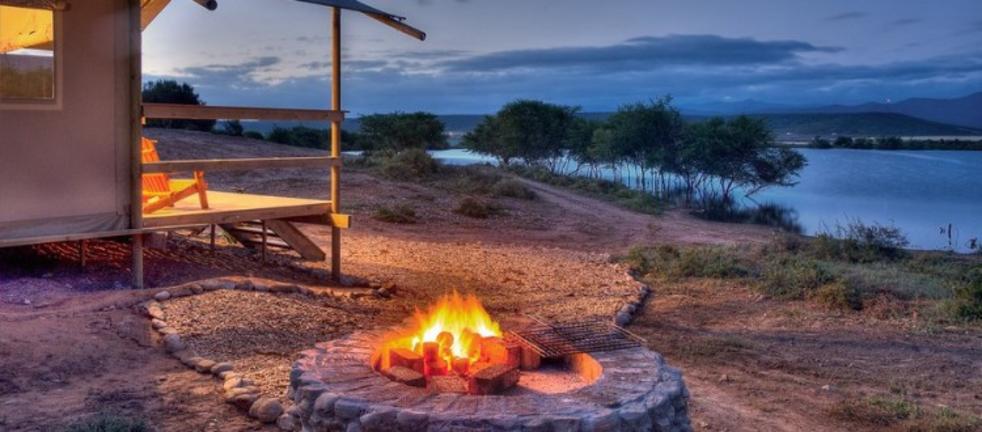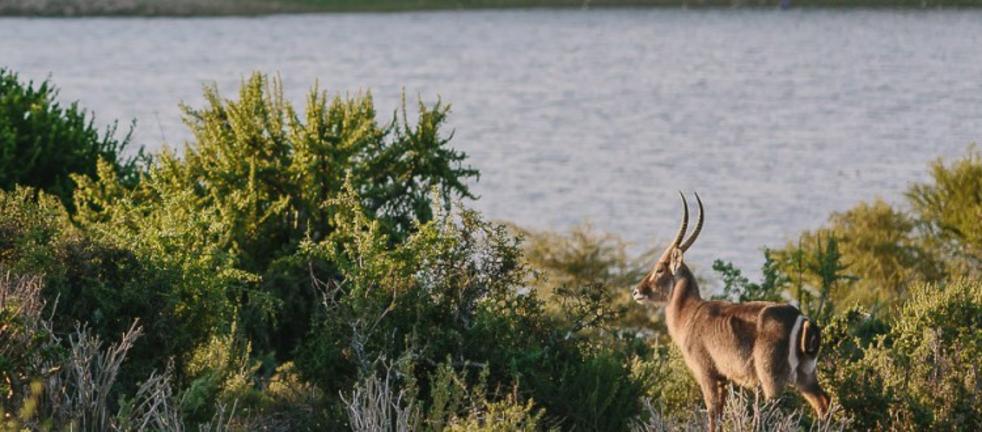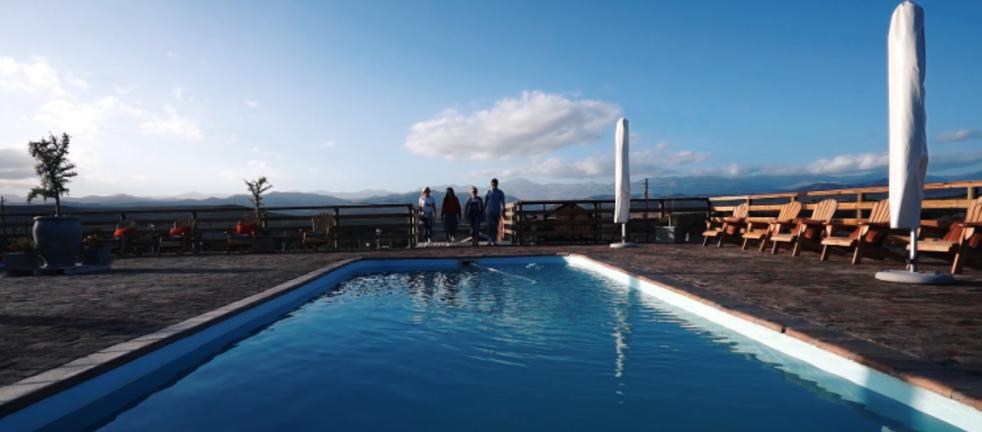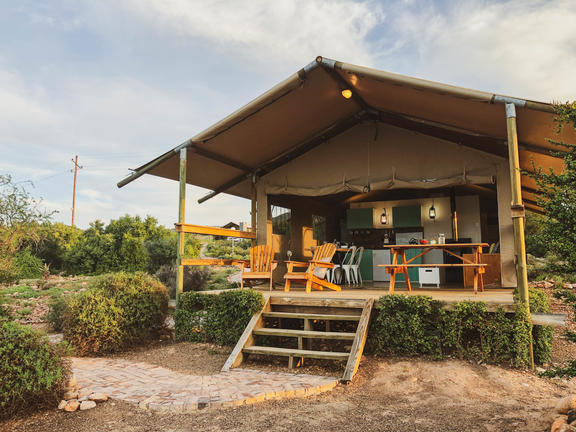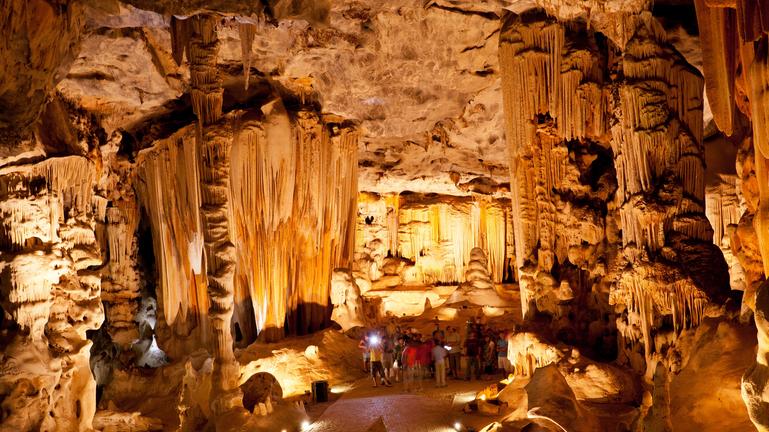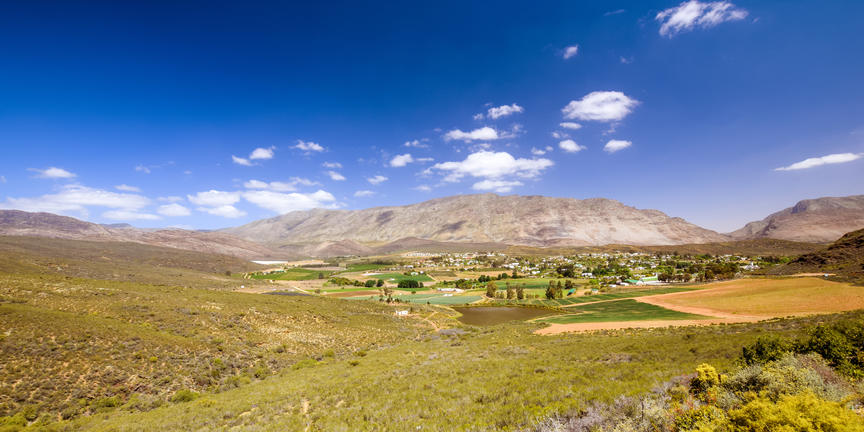 Actitivites on the Farm:
(bookings is essential for all these activities)
Authentic Working Ostrich Farm Tour:
A unique guided tour of a working ostrich farm, including an exclusive viewing of the incubator and each stage of ostrich farming. During season you can even help the chicks hatch! (+/- 2 hours). Monday-Sunday | Daily scheduled tours @9h00. Private tours (outside of the scheduled times) for smaller groups are available on request.
Meerkat Safari:
One of the highlights when visiting us is the introduction of our Meerkat Family! Join an early morning drive down to the Meerkat burrows. Your guide will introduce you to the daily lives of these cute creatures. Wait patiently with a cup of coffee/tea in the hand, as they start to appear in the early morning to start their day. A once in a lifetime experience, only possible in the Little Karoo. *Meerkats are wild animals and sightings are not guaranteed. Meerkats are observed from a distance and no petting is allowed. *Children under 7 by special arrangement.
Karoo Drive:
Start or end your day with a safari and discover the sights, sounds, smells and tastes of the Little Karoo. In our wildlife reserve that comprises an area of over 5000 hectares, your guide introduces you to some of the indigenous Karoo vegetation, some to be found nowhere else in the world. An opportunity to see not only species such as giraffe, springbok, kudu, eland and wildebeest, but also some of the almost 150 species of birds, including the fish eagle.
Visit A Local Creche (Vreugde Voetjies):
At "Happy Feet", we care for 85 children between the ages of one and 6 years old, from the underprivileged community.
Stargazing:
Join a fascinating 45 min tour of the Southern Celestial Hemisphere at the comfort of your own tent. (Subject to availability, amount in group and clear skies)
Hiking:
Join a hike amongst the beautiful unspoilt veld that surrounds Africamps. Here you can take a closer look at all the smaller things that make the Little Karoo ecosystem tick, from special adaptations that the plants employ to survive, to medicinal uses. Have a look at the finer details of many animals that are often overlooked. Enjoy the surrounding scenery and lose yourself in nature with us.
OTHER ACTIVITIES IN THE AREA:
Cango Wildlife Ranch:
Situated en-route the Cango Caves. Standard Tour
Cango Caves:
Standard Tour:
All standard heritage tours are led by experienced, knowledgeable, accredited cave guides. Learn about the stalactites and stalagmites that form in these caves. This tour will take you through a number of different halls, each enchanting you with its own mystery and wonder. Fun for the whole family, this tour will capture your imagination and educate you on the beauty of these formations.
Adventure Tour:
All adventure tours are led by experienced, knowledgeable, accredited cave guides. This tour starts off in the same hall as the standard tour but takes you on an adventure that will have you climbing up iron ladders and crawling through the tunnel of love, all the while learning about these mystical formations.
Additional Information
Valid for SADC residents only
Price based on Best Available Rates (BAR) and subject to change
All rates are commisionable to travel agents and advisors
Terms and Conditions:
Prices are per person sharing, subject to change, currency fluctuations and room type availability.
The exact amount will be confirmed at the time of booking.
Advance purchase, peak or high season surcharges, block out periods and minimum stay conditions may apply
Price valid for dates as specified. Group rates available on request.

For standard Terms and Conditions please refer to: https://www.southernafrica360.com/terms-conditions/ E&OE
Price
Price for a 2-night stay:

HIGH SEASON:
09 Jan - 30 Apr 2022
R 1 635.00 per person sharing
R 520.00 per additional adult (up to 3 additional adults)
R 330.00 per child sharing (aged 3-16 - maximum 5 people in total)
Children aged 0-2 years are free of charge
PEAK SEASON:
10 Dec 2021 - 08 JAN 2022
R 2 100.00 per person sharing
R 520.00 per additional adult (up to 3 additional adults)
R 330.00 per child sharing (aged 3-16 - maximum 5 people in total)
Children aged 0-2 years are free of charge

LOW SEASON:
01 Oct - 09 Dec 2021 and 01 May - 30 Sep 2022
R 1 165.00 per person sharing
R 520.00 per additional adult (up to 3 additional adults)
R 330.00 per child sharing (aged 3-16 - maximum 5 people in total)
Children aged 0-2 years are free of charge
Includes:
2 nights self-catering accommodation in a luxury tent
Excludes:
All meals
All activities
All transport