Trip Summary
Spend 2 nights at Lukimbi Safari Lodge, one of only 7 private concessions in the wildlife rich southern part of Kruger National Park. Experience a unique safari in this vast protected reserve where the Big Five and a wide variety of other animals and birds roam free in their natural habitat. Includes all meals, twice daily game drives and a game walk.
Lukimbi has a character of its own – warm, inviting, charmingly imperfect and a little quirky too. Bright and richly textured natural fabrics, bold furniture chosen for comfort and artisanal crafted artworks encourage proper relaxation where you're invited to make yourself completely at home – be that in the lounge, the bar, the dining room or one of the relaxation alcoves on the upper or lower deck, or in the library.
The pool area is a place of serenity, right on the bank of the Lwakahle River. It includes multi-leveled relaxation decks, with a pool overlooking the river. A children's paddle pool is close by.
At Lukimbi, safaris are not confined to game drives alone and you will always find good company with the animals drawn to the water of the Lwakahle River right in front of the lodge. Whether on your own private deck, at the pool, at the bar or in the dining room, you can rest assured you will have a natural spectacle in front of you every day.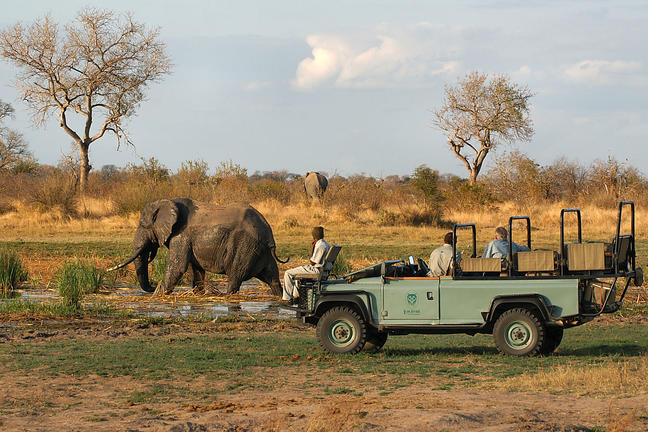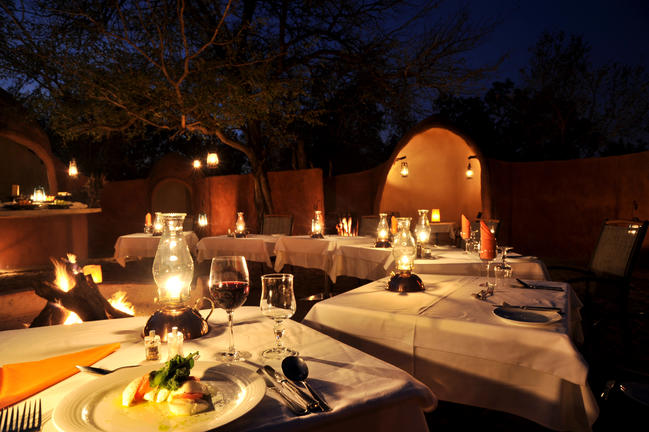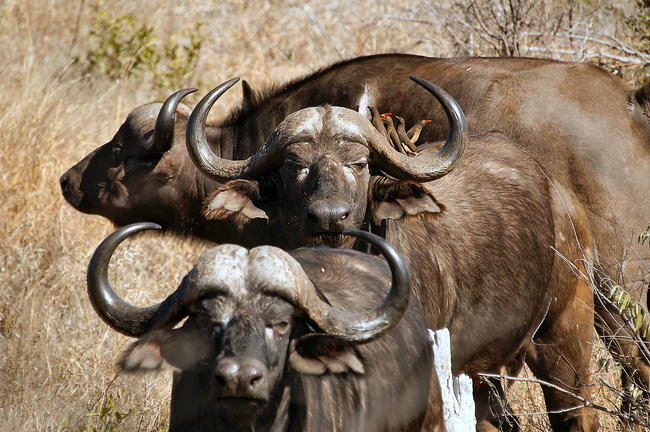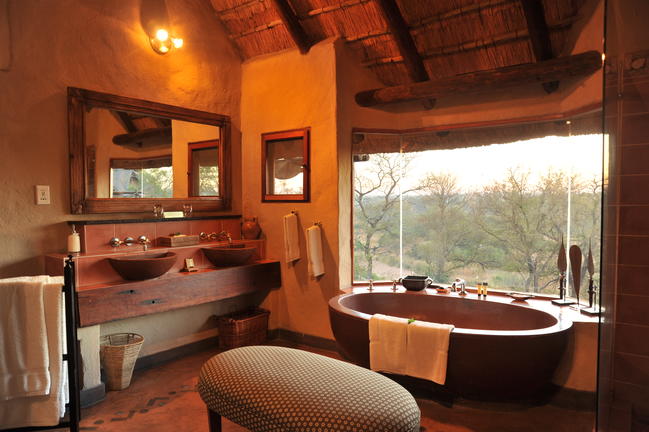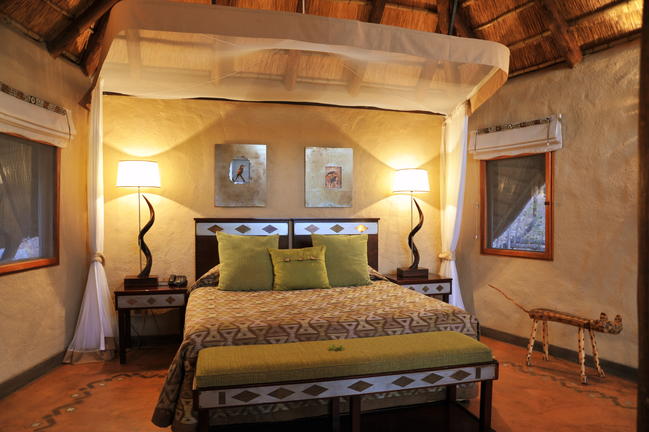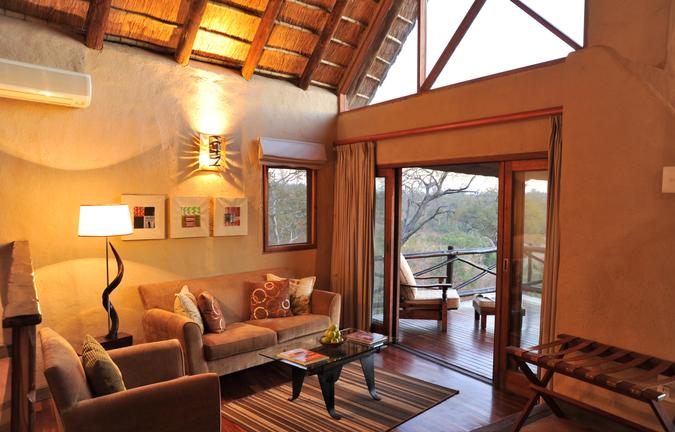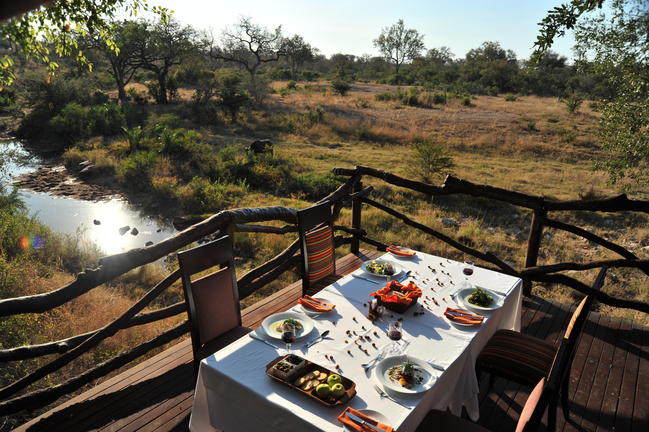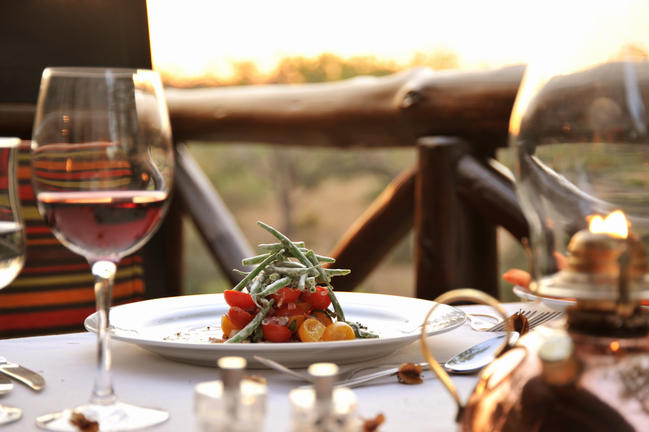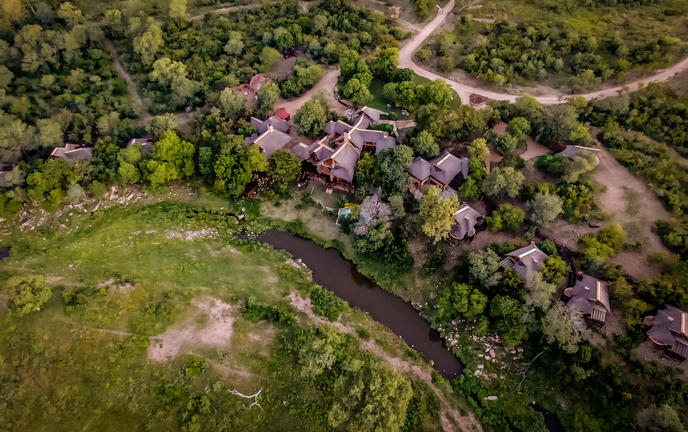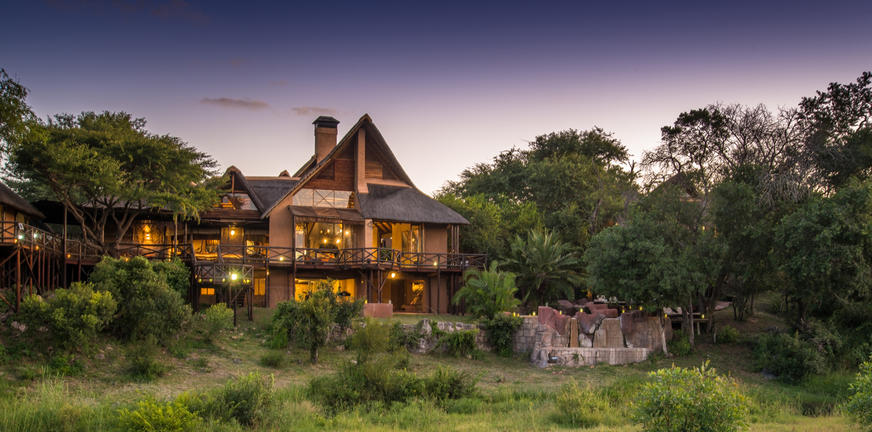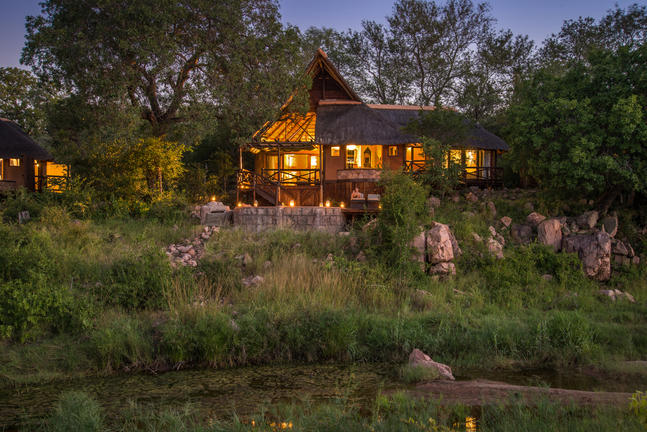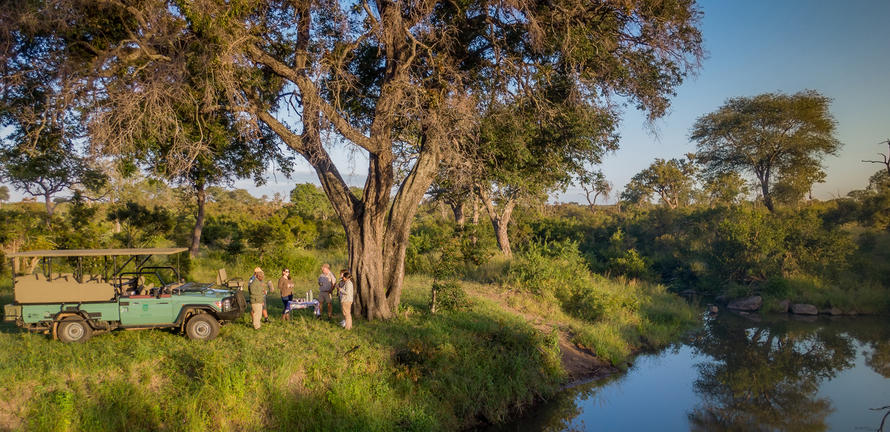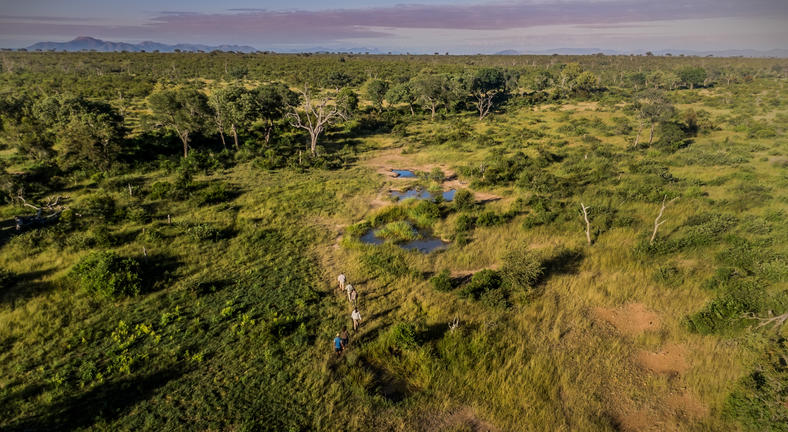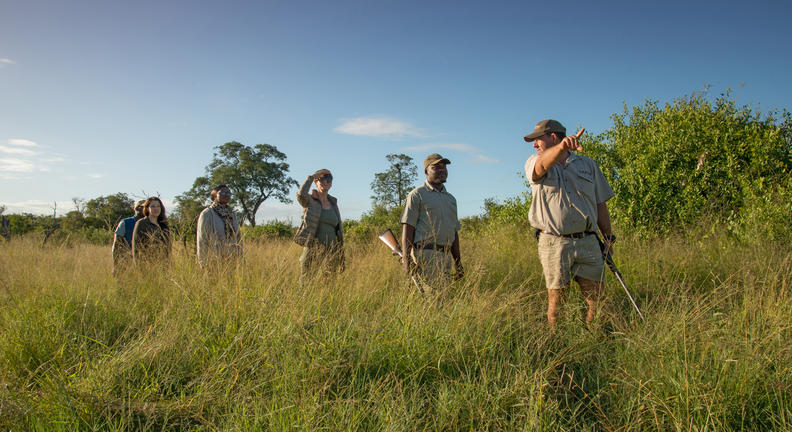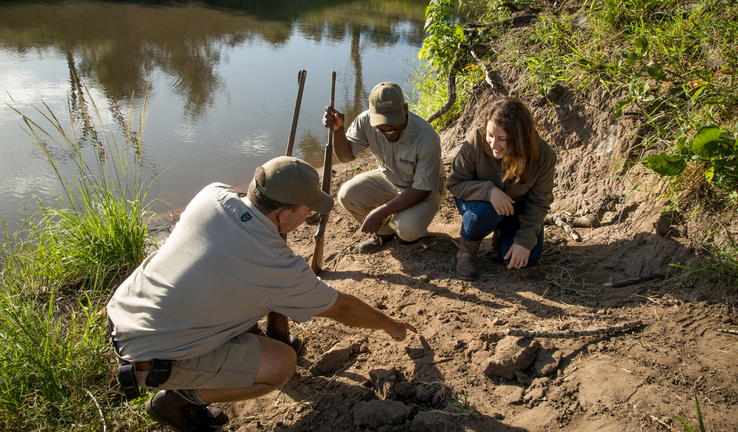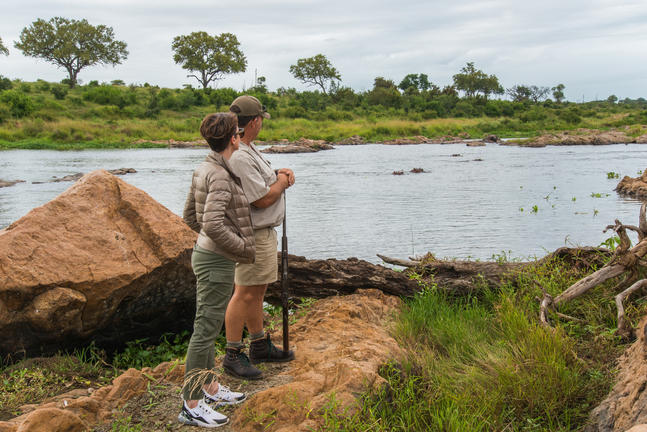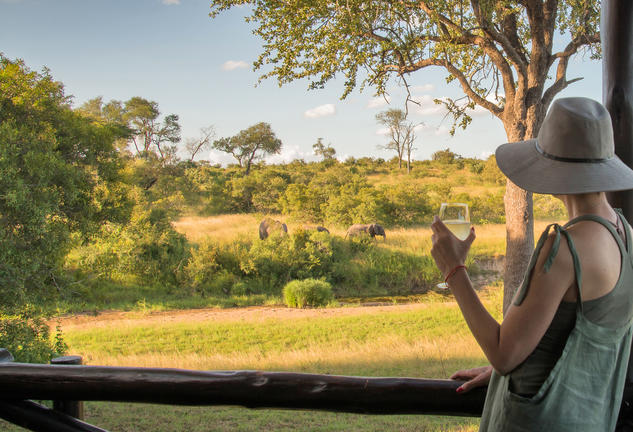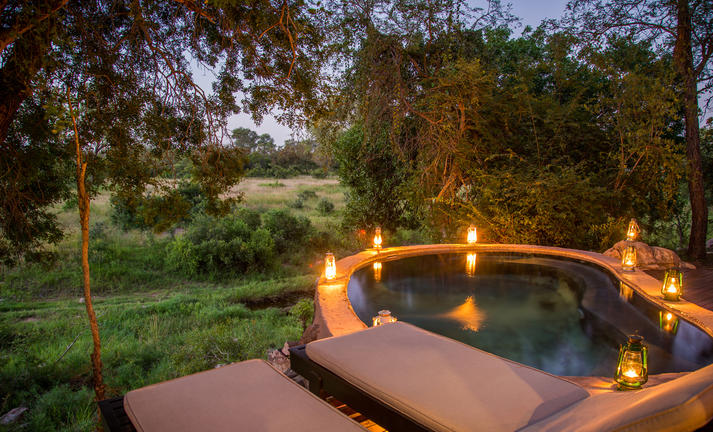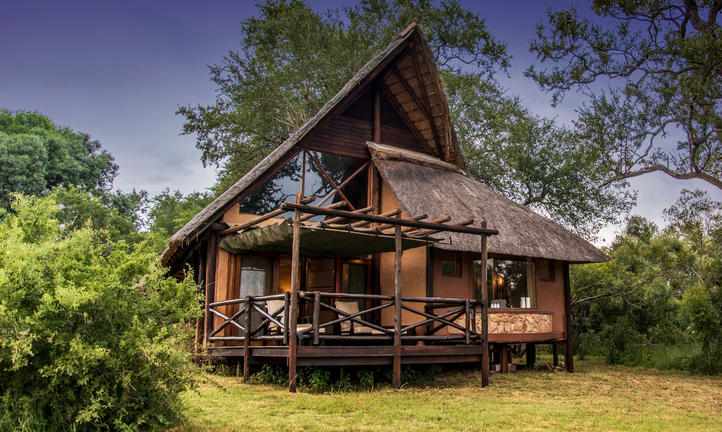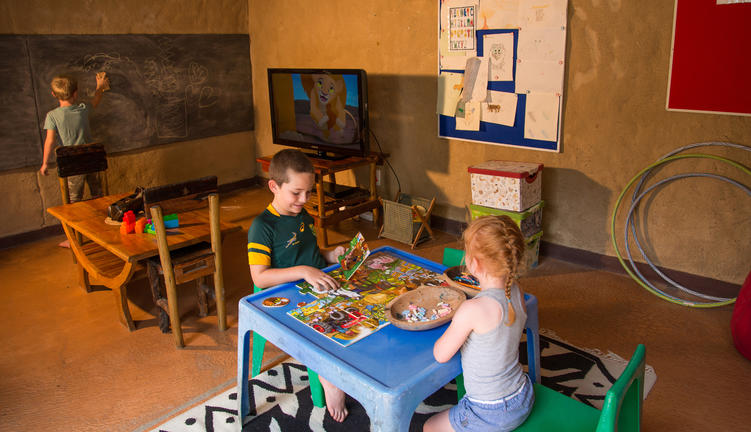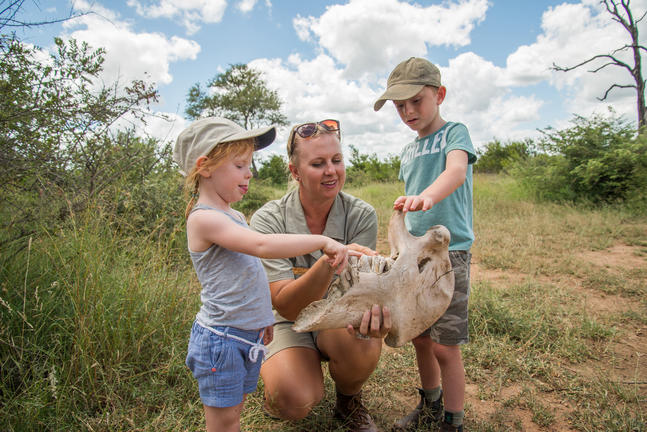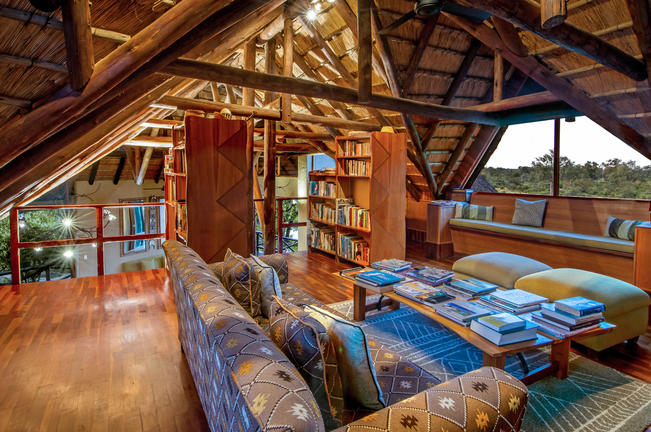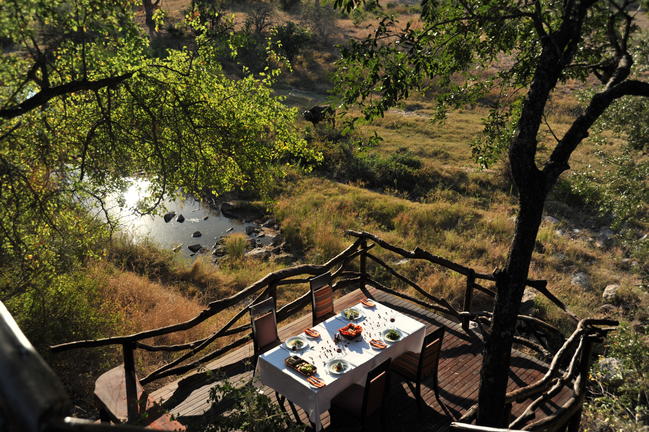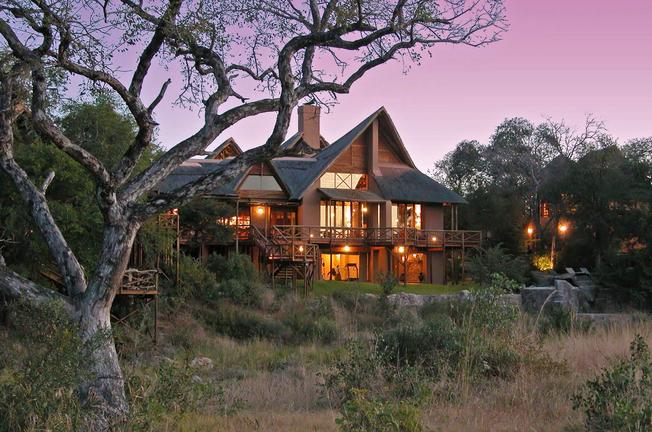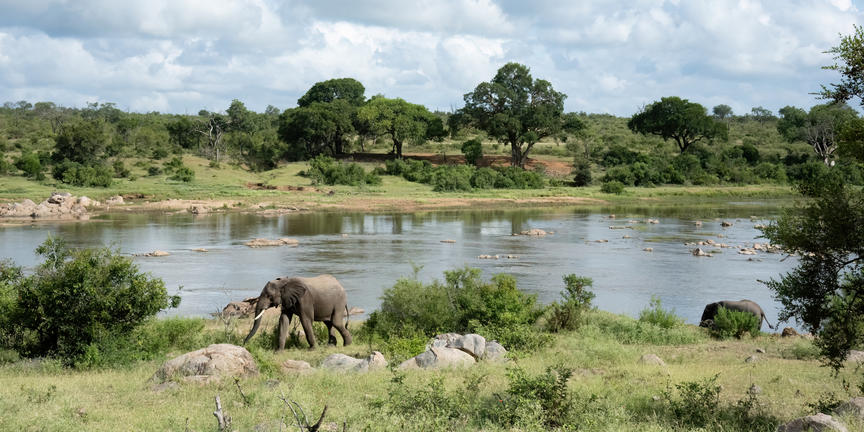 The Reserve
Lukimbi is a private concession within Kruger National Park, and at 15 000 hectares is one of the largest. It is located in the southern section of the park, and is bounded by 3 major river systems. The concession offers a diverse array of habitats, including grasslands, wooded thickets, savannahs, drainage lines, dry river beds, rolling hills and lush riverine thickets. It stands to reason that a healthy abundance of wildlife – including the Big Five and a host of other animals big and small – finds home here.
As a private concession, Lukimbi's visitors are treated to the best of the national public reserve in a highly personalised way. No more than 32 guests at a time enjoy unlimited and exclusive sightings as vehicles are permitted to traverse off road in a highly controlled manner.
The Wildlife
This area of the Kruger National Park is highly protected, and as a result visitors are treated to frequent sightings of the endangered rhino, both white and black.
Although this woodland does not sustain the concentrations of game found on 'sweet grasses' sustained in clay soils, you will find giraffe, zebra, impala, kudu, buffalo, white rhino and elephant . As wildebeest and zebra – preferred prey species of lion – are found in low numbers in this southern region, these apex predators are less common here.
This relative scarcity of lions means that cheetah and wild dog found in reasonable numbers. Another common predator found in bushwillow woodland is the leopard, although these secretive camouflaged cats are more difficult to find.
Game Drives
Sunrise and sunset are very special on safari, in that they give the unique opportunity to pause, breathe and simply take in the beauty of the surroundings. Sip on an Amarula coffee or G&T as you witness the sun's rise and fall in a glorious blaze of colours -no two are ever the same, and the impact is as powerful whether its your first or your hundredth time.
Safaris go out in the morning (just before sunrise to return in time for breakfast) and in the late afternoon (departing before sunset to return in time for dinner), and are an incomparable way to properly connect with Africa. No more than 7 people are allocated to an open shaded safari vehicle, which means that every passenger has a window seat. A maximum of 6 vehicles are out on the reserve at any given time.
A Lukimbi safari is a unique take on a traditional Kruger National Park safari in that vehicles are permitted to traverse off-road under strictly controlled conditions. This, coupled with the fact that no more than 32 people enjoy 15 000 hectares of pristine protected wilderness, makes for an exclusive and highly personalised close contact safari experience.
The importance of a good guide cannot be overstated, and Lukimbi's guides are all qualified and experienced experts. They are teamed with local trackers who were born in this area. Together they make a formidable team, whose passion and knowledge combine to deliver a standalone safari experience.
Bird Watching
The woodlands of this area are home to several bird species that are not as abundant in other areas of the reserve. These include species such as the black sunbird, yellowfronted tinker barbet and Ayres' cisticola. Other notable bird records for the area include the pennantwinged nightjar, redcollared widow and bush shrike. Among the riverine bird species found here – also uncommon in other areas of the reserve – are the purple crested turaco, green Pigeon, African fish eagle, African goshawk, whitecrowned plover, black duck, halfcollared kingfisher, whitefronted bee-eater, trumpeter hornbill, natal robin and bearded robin. Fruit-bearing trees such as wild figs and jackal-berries are common here and attract fruit-eating birds.
Guided Bush Walks
Being on foot in the wilderness is a very special experience. At one with the environment, it's easier to immerse yourself completely in the bush instead of simply spectating from a vehicle.
Our guides are all qualified to lead guests on foot, an accreditation which takes literally hundreds of hours of practical experience. Walking safaris will always be accompanied by a lead trails guide, as well as a backup trails guide. This is wild Africa, and the safety of our guests is paramount at all times.
Bush Walk
(60-120 minutes. Maximum of 8 people)
Our Bush Walk is for those who like to get active. Walkers depart from the Lodge after breakfast and head out directly into the bush. Walks are between 2 and 5 kilometers in distance, and are dependent on the fitness level and specific interests of the guest
River Walk
(45-90 minutes. Maximum of 8 people)
Depart from Lukimbi after breakfast, and drive just 10 to 15 minutes until you reach the Crocodile River (located within the Kruger National Park,where we are the only Lodge to be granted access. This makes for a very personal and exclusive experience indeed).
Additional Information
Valid for SADC residents only
Subject to availability at the time of booking
Valid until 19 December 2021, including peak season
Terms and Conditions:
Prices are per person sharing, subject to change, currency fluctuations and room type availability.
The exact amount will be confirmed at the time of booking.
Advance purchase, peak or high season surcharges, block out periods and minimum stay conditions may apply
Price valid for dates as specified. Group rates available on request.

For standard Terms and Conditions please refer to: https://www.southernafrica360.com/terms-conditions/ E&OE
Price
Price for a 2-night stay
Valid until 19 December 2022
Classic Suites (Standard)
R 9 400.00 per person sharing
R 12 200.00 per single
R 6 000.00 per child aged 2-12 years sharing with parents
Premier Suites (Luxury)
R 9 900.00 per person sharing
R 12 900.00 per single
R 6 000.00 per child aged 2-12 years sharing with parents
Includes:
2 nights accommodation including 15% VAT and bed levies
All meals, all teas and coffees
2 game drives daily in open safari vehicles and a safari walk

Excludes:
Transfers
Kruger Park entrance fees
Bar bill and soft drinks
Curios and items of a personal nature
Spa treatments and gratuities