On arrival at Jomo Kenyatta international airport, you will go through customs and immigrations formalities and thereafter, you will be welcomed by a journey's Intent representative and transferred to Nairobi Serena Hotel where you will be assisted to check in (check in not guaranteed before 12:00 hrs).
Located a short walk from downtown Nairobi, the Nairobi Serena blends a charming ambience with full five-star facilities in a surprisingly green and peaceful setting. The large and luxuriously-furnished rooms are all well-appointed, with views over the lush gardens or the green expanse of Central Park. The Serena boasts one of the country's finest health centres, the Maisha Health Club, and several restaurants catering to a wide variety of tastes, including the acclaimed and newly-refurbished Mandhari Restaurant.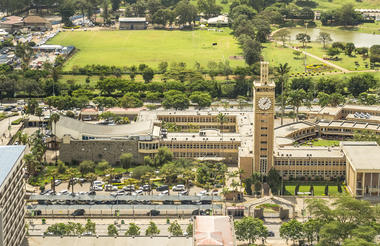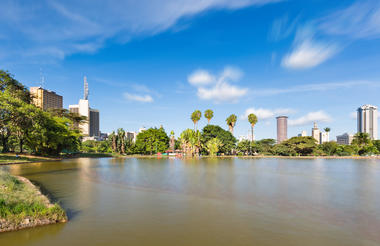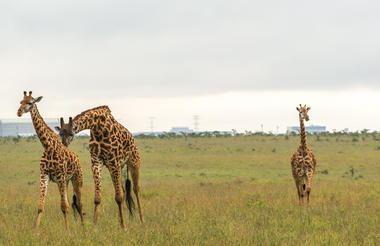 Day at leisure in Nairobi with tour of Elephant Orphanage, Karen Blixen and Giraffe Centre.
Daphne Sheldrick Elephant orphanage
Set on the edge of Nairobi National Park, the David Sheldrick Wildlife Trust was set up by the late Dame Daphne Sheldrick in 1977 in order to raise and rehabilitate orphaned wild animals (mainly elephant and rhino) and later successfully reintroduce them into the wild. The sanctuary provides a perfect home for growing youngsters, with the habitat and space mimicking those that elephants enjoy in the wild. The orphans grow up in mini herds, are bossed about by mini matriarchs and enjoy mud baths, filled with a hose pipe, when they slap wet mud to their skins as sun block and insect repellent. Their care in the sanctuary is described by the head keeper during a visit. Guests who wish to adopt an elephant do so at 17:00hrs when they feed and go to sleep.
Karen Blixen Museum is located in Karen, the beautiful Nairobi suburb that was once part of Karen Blixen's vast coffee estate, 'Mbogani' was Karen's home from 1917 until 1931. The house and grounds were made famous by the film 'Out of Africa' and have been restored by the Danish community of Kenya. Visitors have a glimpse of typical colonial life in Kenya at the turn of the twentieth century. As well as many of Karen's original belongings, replicas replace items that have been lost over the years. From the beautiful gardens there are magnificent views of the Ngong Hills, held dear by Karen and described so tenderly in her writings. At the front of the house the original millstone tables can be seen from which Karen conducted much of her farm business.
Giraffe Centre is the headquarters for AFEW, the African Fund for Endangered Wildlife. Made famous by 'Daisy Rothschild', a giraffe calf rescued from Soi, on the border of Western Kenya, Giraffe Centre was established in 1983 as a sanctuary for the then endangered Rothschild giraffe. The breeding programme has been a great success and visitors can now watch these gentle giants at eye level from a raised platform.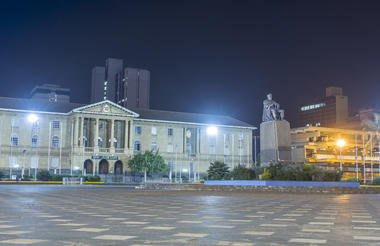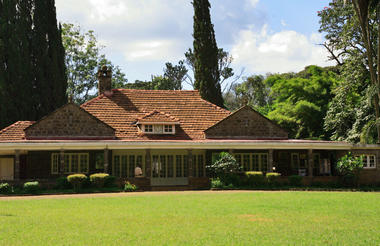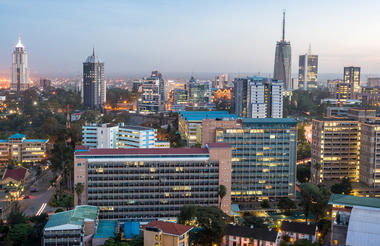 Day 3 :
Ol Pejeta Conservancy
After breakfast, join your driver guide for your journey to Sweetwaters Game Sanctuary (3 hours approximately.)
Check in and lunch at Serena Sweetwaters Camp.
Sweetwaters is a luxurious tented camp on the 90,000-acre Ol Pejeta conservancy. Once the preserve of arms dealer Adnan Khashoggi – who used to land his 727 there – this is a millionaire's playground that is now available to ordinary mortals. The game viewing at the conservancy is spectacular. Overlooked by Mount Kenya, the ranch has plenty of predators and elephants and some interesting extra treats. There is a chimpanzee sanctuary at Sweetwaters – the only one in Kenya.
There are just 39 tents at Sweetwaters, all with en-suite bathrooms and views out over a waterhole. Decorated in tasteful safari style, they are properly luxurious without losing any of the under-canvas experience. Since Ol Pejeta is a private conservancy, guests can do all sorts of extra activities, including bush walks and trekking with camels. There's also a swimming pool and a treatment area where travellers can enjoy a wide variety of natural therapies and massages.
Afternoon game drive.
The 24,000-acre Sweetwaters Reserve is situated within the sprawling Ol Pejeta ranch with magnificent views across the plains to the peaks of Mount Kenya. A variety of plains game is found within the reserve and the big cats may also be seen. As Sweetwaters is a private reserve, it is possible for visitors to enjoy activities such as escorted bush walks, night game drives and camel riding. Orphaned rhino and warthog (one of which was the model for Pumba, from the movie the Lion King), which have been reared by hand, provide a wonderful treat for children, as does the chimpanzee sanctuary. The sanctuary homes chimps mainly from the Jane Goodall Institute in Burundi, where a great many were placed after being rescued.
Dinner is included at the camp.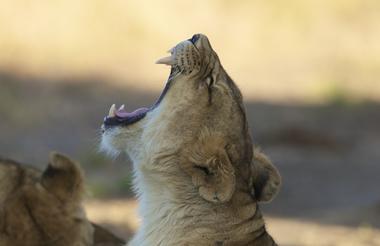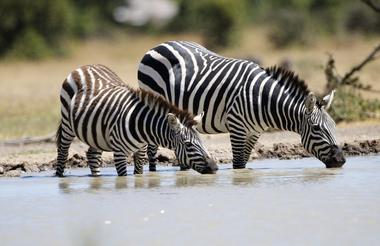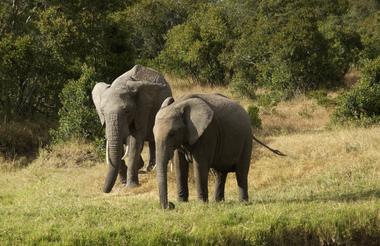 Day 4 :
Samburu National Reserve
Breakfast at the lodge and thereafter, proceed to Samburu Game Reserve (3 hours approximately).
Check in and lunch on arrival at Samburu Intrepids Camp.
Perched on the banks of the Uaso Nyiro River in the arid wilderness of Samburu National Park, Samburu Intrepids has long been a popular base for exploring the ancient wilds of Kenya's Northern Frontier. The 27 tents proffer simple but luxurious accommodation, with large four-poster beds, modern bathrooms, and secluded balconies overlooking the riverbanks where elephant and buffalo regularly come to drink. The camp is also renowned for its inventive kitchens, which have replaced the standard camp buffets with wholesome al fresco dishes, homemade breads, preserves and desserts. Intrepids is run by a delightful Samburu crew who will introduce you to their wild world from a rich variety of perspectives: on foot, from a four-wheel-drive vehicle, on a river raft, or from the back of a tame camel.
Afternoon game viewing drive.
Dinner at the Camp and respective camps.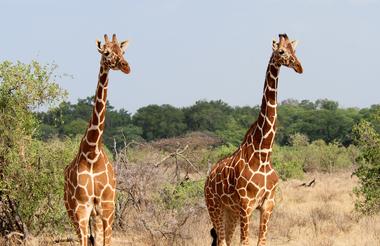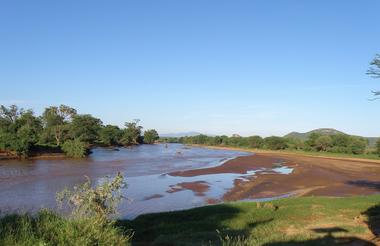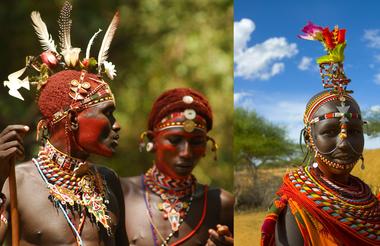 Day 5 :
Samburu National Reserve
Spend full day in Samburu with morning and afternoon game viewing drives. Other options available at extra costs.
Samburu National Reserve in the dry country in the north of Kenya, described by Ludwig Ritter von Höhnel, an Austrian explorer who visited the area in the 1860s as 'teeming with game'. Undoubtedly why it became renowned as big game country for famous hunters such as Arthur Henry Neumann who set up camp in the spot where the Samburu Game Lodge now sits, on the banks of the Ewaso Nyiro River. The river takes its name from the local dialect meaning "River of Brown". It rises from glaciers on Mount Kenya and flows through the reserve on its journey north. The river provides the lifeblood of this harsh wilderness, without which the game would not survive. You'll see animals here that you won't see in the south: the impressive Beisa oryx which stand a meter at the shoulder and thrive because of a physiological ability to store water, the reticulated giraffe, the thin-striped Grevy's zebra and the gerenuk antelope with its improbably long neck. This is also lion country - the Samburu was home to George and Joy Adamson who raised Elsa and brought us Born Free. Samburu's remoteness means it has clung too much of its appeal of yesteryear, it feels as untamed as it looks.
Together with neighboring Buffalo Springs and Shaba National Reserves, this area covers almost 1,000 square kilometers (386 square miles) of protected semi-desert land. It is the home of the Samburu tribe, cousins of the Maasai, who share the same nomadic, cattle-herding existence and staunchly observe age-old rites and customs.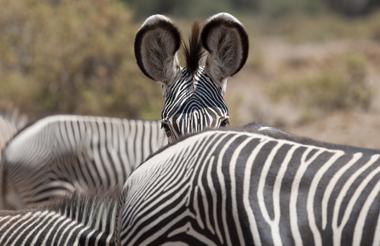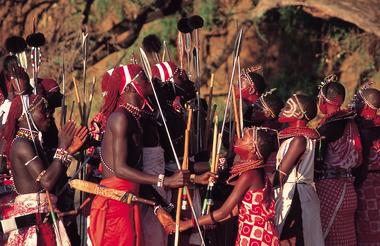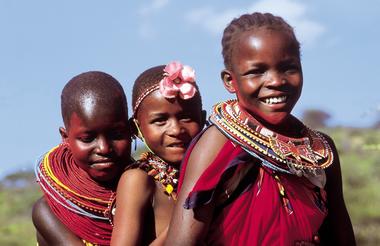 Included
Breakfast, lunch and dinner included at the camp.
Day 6 :
Mara North Conservancy
Breakfast at the Camp and thereafter, transfer to the airstrip for scheduled flight to Masai Mara game reserve departing at 10:05 and arriving at 11:30 approximately.
On arrival, you are met by Camp staff and transferred to Kichwa Tembo Camp.
Overlooking the endless, game-filled grasslands of the Maasai Mara, Kichwa Tembo offers a series of spacious, stylish tents with stunning views across the world's greatest natural wilderness. The 48 tents are a picture of rustic sophistication, with comfortable twin beds, en suite showers and shady verandahs with sweeping views over the surrounding savannah. From your tent, it's possible to see large herds of elephant, prides of big cats, and the world's greatest wildlife spectacle - the migration of over a million wildebeest and zebra, which pass this way between July and September on their instinctive march to pastures new. The camp's expert Maasai guides are on hand to reveal more of this magical wilderness through game drives, bush walks and visits to the villages of the local Ilkarekeshe Maasai.
Afternoon game viewing activities.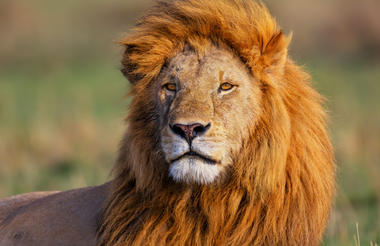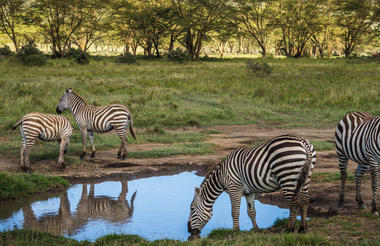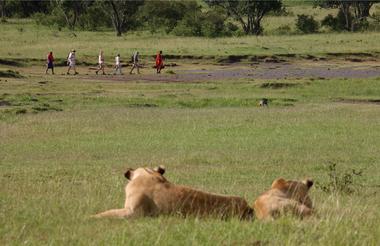 Day 7 :
Mara North Conservancy
Spend two full days exploring the Masai Mara with game viewing activities or other activities offered by your hosts (some at extra costs).
The jewel in Africa's crown, Maasai Mara is host to the most spectacular array of wildlife. Her 1,510 square kilometers of open savannah, woodlands and tree-lined rivers creates an eco-system which supports huge numbers of bird and mammal species. The western border of the park is the spectacular Siria Escarpment, and together with the acacia dotted plains, creates scenery of stunning beauty.
Lion are found in abundance throughout the park as are elephant, giraffe, a variety of gazelle species and zebra. Cheetah and leopard are also regularly seen and, if lucky, you may also find rhino. Game viewing is never dull in the Mara, and patience is often rewarded with unique sightings: a pride of lion stalking their prey; a solitary leopard retrieving its kill from the high branches of an acacia tree; male wildebeest sparring to attract females into their harem; or even a herd of elephant protecting their young from opportunistic predators. The annual wildebeest migration traditionally is present in the Mara from July-September and at this time nature's dramas unfold before your very eyes at every turn. As well as wildlife, the Maasai Mara is also home to many members of the colourful Maasai tribe who may be seen around the borders of the park - morans (warriors) loping across the plains, young boys herding goats, or elders grouped under a tree discussing matters of the day.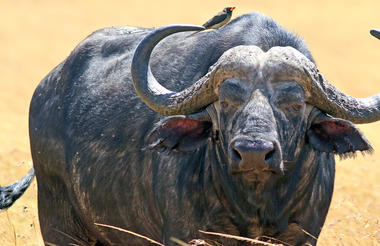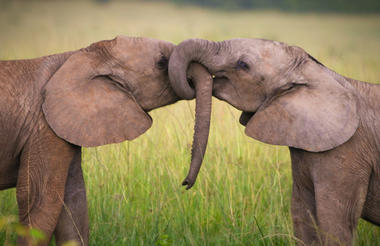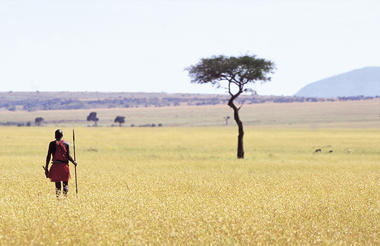 Expert tips
Balloon Safari: at an extra cost
As the balloon is inflated against the first rays of sunrise your pilot will go through safety procedures. Once aloft, the balloon floats gently over the plains, giving a bird's eye view of the game below as the sun creeps slowly over the horizon. After around one hour the balloon lands as breakfast is already being prepared and, of course, enjoy a glass or two of bubbly to toast your flight in a tradition initiated by the Montgolfier brothers.
Day 8 :
Mara North Conservancy
Explore the mara with your guide and consider visiting a local Masai village.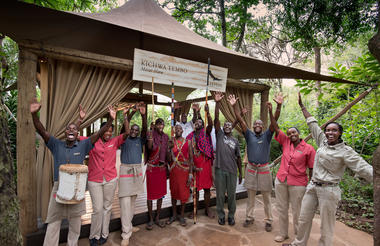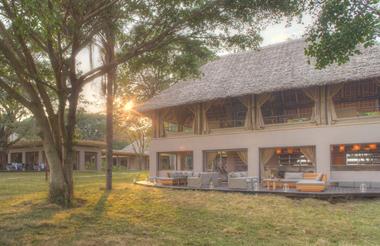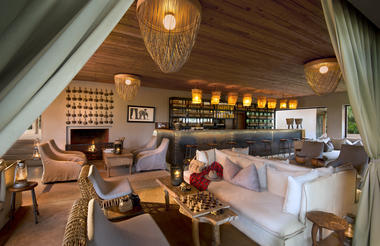 Expert tips
Masai village visit:
During the visit to a Masai Village, visitors' interaction with the Masai is normally provided. At the village guests are normally entertained with Masai dances which they are encouraged to join and therein are taught how to dance and jump like Maasais. They are then taken to hats and shown how they live, the inside of their houses and are given a lecture on their way of life and questions answered. The Masai do not normally hunt the wildlife so they do no not show hunting. They also generally have a live and let live attitude with the animals so no ranger skills either.
You will also be entertained by Masai traditional dancers, taught how to dance like them, invited to their manyattas and hosted to a question and answer session, taught and encouraged to try your hand at fire making the traditional way – no lighters or matches please! You will be shown how to make Masai ornaments and if you request, you may even try milking cows of both milk and blood or taste their milk and blood mixture diet.
After breakfast, bid your camp staff farewell as you are transferred to the airstrip for scheduled flight to Nairobi departing at 11:15 to arrive at 12:45 approximately. On arrival, you will be transferred to Ole Sereni Hotel where day room are booked until 20:00 hrs.
Located just off Mombasa road Ole-Sereni is the only hotel bordering a National Game Park. The title of the hotel is taken from the Maasai name for the area meaning 'place of tranquility'. Ole-Sereni captures the essence of Nairobi, which is the only city in the world that boasts a natural game park within its precincts. The hotel offers its guests views of animals in their natural surroundings at the waterhole in the park from the restaurants, bar, swimming pool and other parts of the hotel.
As 'The City Hotel by the Game Park' Ole-Sereni combines the best features of a modern City Hotel and a traditional wildlife lodge where guests can enjoy nature's tranquility from a very close range. Ole-Sereni is strategically positioned close to the Airport and the city center, offering world-class facilities and personalized services to business as well as leisure travelers.
Ole-Sereni Hotel offers guest 134 exquisitely furnished, air-conditioned rooms and suites spread over three floors. Guests will have the opportunity to relax and unwind at the Roof top heated swimming pool that overlooks the park, the Gymnasium and Aerobics Room or the Sports Lounge. One could also enjoy special therapies and treatments at the Massage Centre.
Later in the evening, you will be transferred to Jomo Kenyatta international airport for your departure flight.