Athens
Welcome to Athens! After checking in and freshening up, meet in the lobby for a general orientation walking tour of the Plaka and Monastiraki neighbourhood with local guide Aristotle and Laura Ranieri to provide a welcome overview of the vicinity. Enjoy cocktails and a welcome presentation of the overall tour program and introduction to Greek and Minoan history.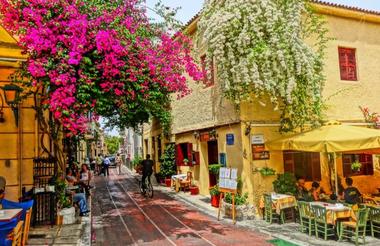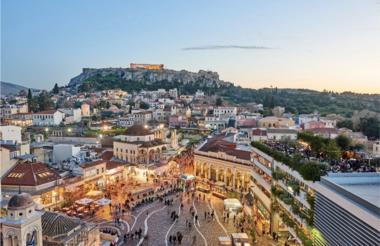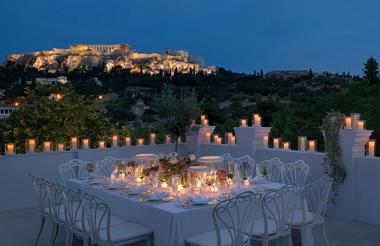 Expert tips
Athens is one of the world's great cities to be explored on foot. Wear comfortable footwear and be prepared for different elevations over uneven ground. Dress in layers, but anticipate warm and hot weather. Drink lots of water to hydrate (especially after a long flight). There are many great restaurants in the immediate vicinity to the hotel and the concierge will be happy to suggest an appropriate dinner spot.
Included
Welcome reception with drinks and snacks
Accommodation at Electra Palace Hotel, standard room
Meet and Greet transfer from the airport to the hotel upon arrival
Short orientation walking tour of the Monastiraki/Plaka neighbourhood
Ancient Athens
After breakfast at the hotel, embark on foot for a full day of touring beginning with Acropolis Hill. Once a 5th-century BC sanctuary of religious worship, it became the pinnacle of artistic creations during the Classical Era. Your guided tour will visit the magnificent Doric Parthenon, the Theatre of Dionysus, the small Ionic temple of Athena Nike and the ancient Agora - the civic, religious and commercial centre of Athenian life. Break for lunch at one of Athen's most famous restaurants, which is conveniently located in lush gardens with stunning views of the Acropolis. Immediately after lunch, tour the incredible New Acropolis Museum; this award-winning modern building is perched atop an ancient neighbourhood excavation site and the collection includes masterpieces of antiquity including the remaining Parthenon Marbles. There will be free time to further enjoy the museum's exhibits or wander the lively Plaka district before returning to the hotel for cocktails, presentation and guided discussion lead by Laura Ranieri. Dinner on own and the rest of the evening at leisure.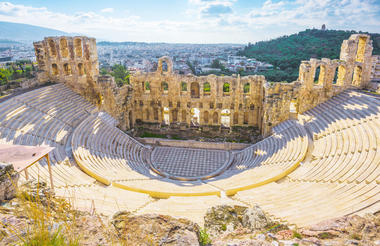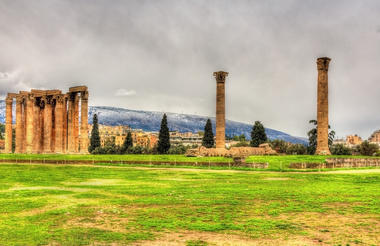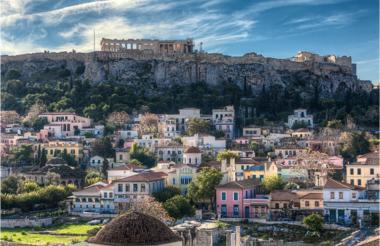 Included
Breakfast at hotel
Guided tour of Acropolis Hill
Fabulous lunch at historic restaurant with view of the Acropolis
Guided tour of Acropolis Museum
Cocktail lecture at hotel
Overnight stay at Electra Palace Hotel
Athens
After breakfast, depart the hotel on foot for a walking tour through the National Garden passing various archeological sites along the way. Today's itinerary will include the National Art Gallery, which was recently re-opened after more than a decade-long renovation. Wander through the Kolonaki and Plaka neighbourhoods, enjoy a lively taverna lunch, and visit the special shop of Melissinos, the "Poet Sandal Maker of Athens". A regular stop for celebrities since the 1950s, Melissinos specializes in artisan custom sandals, so be sure to pick a pair that suit your individual style! You will also ascend Lycabettus Hill, the city's highest point, by cable car for fabulous views across the city. This evening is free for you to enjoy dinner on your own at one of the many lively tavernas in the Plaka where there's an abundance of live music, mezedes (Greek tapas) and wine!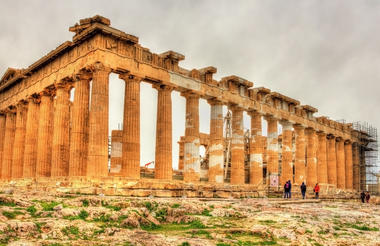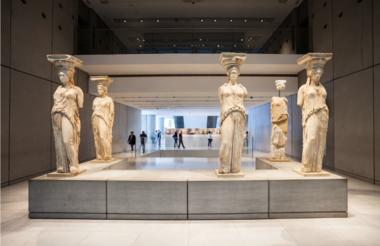 Included
Breakfast at hotel
Guided tours
Lycabettus Hill Cable Car ticket
Lunch at local Taverna
Overnight stay at Electra Palace Hotel
Excluded
Dinner
Transportation - this is a walking day!
Athens - Chania, Crete
After checking out of the hotel, board the coach for a transfer to the airport. Board the flight to Chania (flight schedule TBD, flight time is less than one hour). After arriving in Crete, board the coach for the short transfer to Chania's scenic Venetian port and check-in to the waterfront hotel. Regroup for a brief cocktail lecture by Laura on Crete/Minoan history, followed by a walking tour of the harbour with the Egyptian lighthouse, Jewish Quarter and ancient Cretan Agora. Dinner this evening will be in a local restaurant and feature local cuisine.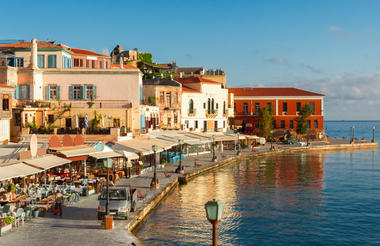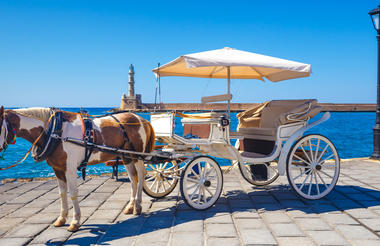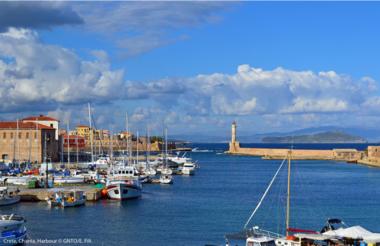 Expert tips
Flight could be early in the morning in which case the hotel will provide a boxed breakfast.
Please make sure that all bags are packed the night before to ensure a smooth departure.
Each guest will have to pay the Athens City Tax at the time of check-out (approx 4 euro per person, per night, subject to change).
Included
Breakfast at hotel or boxed breakfast
Transfer from hotel to airport
Flight from Athens to Chania
Transfer from Chania airport to hotel
Cocktail lecture
Walking tour
Dinner at local restaurant
Overnight stay at Porto Veneziano hotel
Chania - Vamos - Rethymno - Chania
After breakfast this morning travel into the hills and visit the famous traditional village of Vamos. Known for its quaint cobbled streets and ancient olive oil press, Vamos is also home to the famous Vamos Cooking School and the legendary chef Mrs. Koula. Using family recipes handed down through generations, the cooking school specializes in using sustainably sourced local produce to create mouthwatering Cretan dishes. Enjoy the fruits of your gastronomic labour and sit down to a family-style feast in the evocative surroundings of a historic olive oil press dating back to 1846. Return to the coast and visit one of the most beautiful villages in all of Greece: Rethymno. Originally built by the Minoans, Rethymno has an old aristocratic appearance including a Venetian era citadel. Wander along the lovely streets and visit the Archeological Museum before returning to Chania. Remainder of the afternoon and evening is at leisure.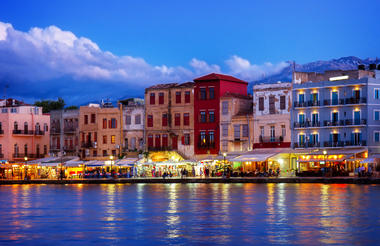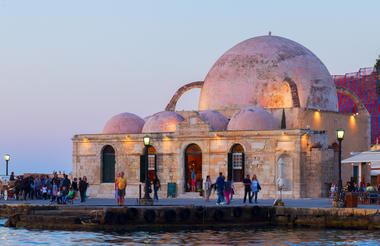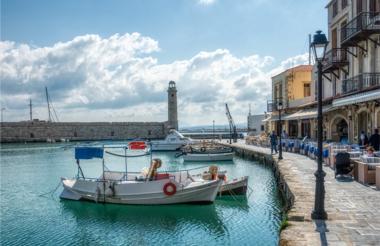 Expert tips
Bring your appetite for creativity and fun! The Vamos Cooking School is an experience that all enjoy. Make sure to specify any and all dietary restrictions at the time of registration so Vamos and Mrs. Koula can take into account well in advance. Rethymno old town has many fine artisan shops including locally made leather goods, pottery and jewelry.
Included
Breakfast at hotel
Private motor coach transfers
Guided tours
Cooking lesson in Vamos Village with famous local chef followed by lunch
Walking tour of Rethymno, one of the most beautiful towns in Greece
Overnight stay at Porto Veneziano hotel
Chania - Knossos - Elounda Plaka
After breakfast, check-out of the hotel and travel along the coast to Knossos, the oldest Bronze Age archeological site in Crete and technically Europe's oldest city. The Palace of Knossos (dating from c. 2000 BC) was the political and ceremonial heart of the Minoan civilization and in its heyday covered over five acres with more than 100,000 inhabitants. Archeologists speculate the vast palace could inspired the idea of the labyrinth in the myth of Theseus defeating the Minotaur. The adjoining archeological museum provides great context and detail of the Minoan civilization and Knossos complex. After lunch in Heraklion (on own), continue the journey along the beautiful coastline to Elounda Plaka and the new Cayo Exclusive Resort, Crete's most stylish hotel. Poised on its own private swathe of seafront overlooking charming Elounda Bay, CAYO's unique terraced architecture blends seamlessly into the mountainous landscape and offers unparalleled access to the island's tapestry of beaches, historic treasures and hilltop villages. After settling in and perhaps taking a dip in one of the swimming pools, enjoy dinner at the hotel this evening.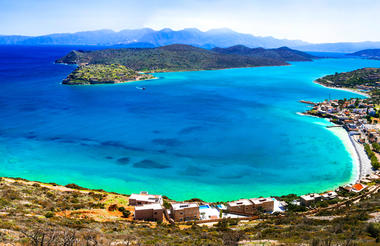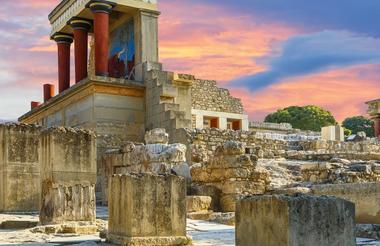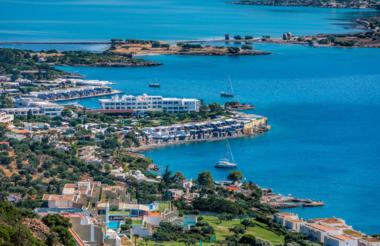 Included
Breakfast at hotel
Private motor coach transfers
Guided tour of Knossos and Archeological Museum
Dinner at hotel
Overnight stay at Cayo Exclusive Resort
Elounda Plaka - Spinalonga - Agios Nikolaos - Elounda Plaka
This morning board a boat for the quick trip across the bay to the island of Spinalonga. A strategically important defence point, Spinalonga protects Elounda Bay and was once the main fortification for the ancient city of Olous. During 15th century Venetian rule, the island's impressive walls and citadel were built, but ultimately were conquered by the Ottomans before ultimately being abandoned in the mid-20th century. The island's eery stillness and beauty belies its tumultuous history, but provides a lovely destination for a day out on the water. Return to Plaka for a gorgeous waterside taverna lunch. The remainder of the afternoon is free to relax on the beach, enjoy the hotel spa amenities, or walk along the peninsula's coastal path to Elounda town.
Optional Afternoon Activity: snorkelling and swimming at the submerged archeological site of Olous including snorkel equipment and transport to and from the hotel.
If you are so inclined, there will be a coach departure to the buzzing town of Agios Nikolaos a short distance away, where you can walk along the harbour, enjoy the lively atmosphere, and dine at one of the many lakeside restaurants.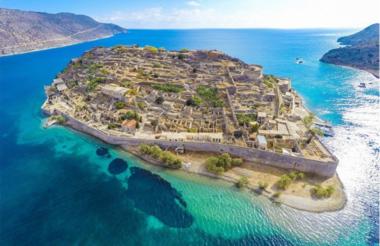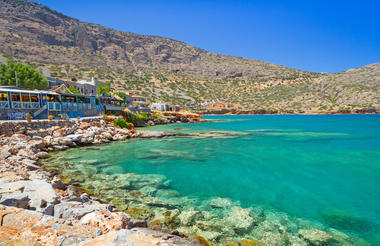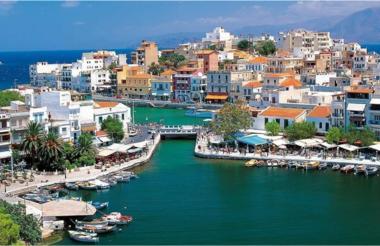 Included
Breakfast at hotel
Boat tour to Spinalonga
Lunch at Elounda Plaka Taverna
1 group transfer to Agios Nikolaos in the evening
Overnight stay at Cayo Exclusive Resort
Excluded
Dinner
Optional activity: snorkelling at Olous archeological site
Return transfer from Agios Nikolaos to Plaka hotel
Elounda Plaka - Kritsa - Olive Farm - Elounda Plaka
After breakfast board the coach and travel to Kritsa mountain village. Considered to be one of the most picturesque towns in Crete, white washed houses cling to the mountain side. Kritsa is renowned for weavers, embroiderers and lace artisans. Enjoy a guided visit to the Rodanthi Museum where exhibits focus on botany and traditional herbs. The 13th century byzantine church of Panagia Kera has outstanding frescos and is not to be missed. Lunch will be at a local restaurant serving traditional cuisine. Later this afternoon, visit an olive farm and take part in a cheese making activity. Return to Elounda for dinner on your own at one of the local tavernas on the beach or at the hotel.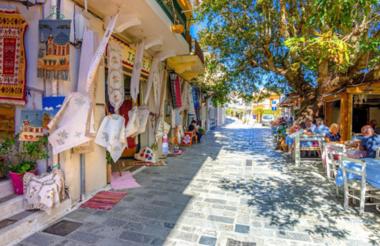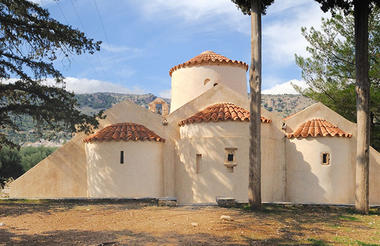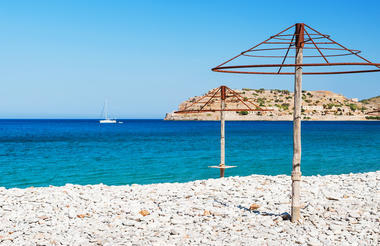 Expert tips
Kritsa is built into the mountain side so it's important to wear comfortable shoes and be prepared for uphill walking. Kritsa's streets aren't designed for cars, so the coach will drop you at the bottom of the village and you will walk up. Enjoy strolling and make sure to admire the many traditional handicrafts and panoramic views.
Included
Breakfast at hotel
Private coach transfers
Guided tour of Kritsa mountain village
Entrance to Rodanthi Museum
Lunch in local taverna
Visit to Byzantine Church of Panagia Kera
Olive farm and cheese making experience
Overnight stay at Cayo Exclusive Resort
Elounda Plaka- Phaistos - Elounda Plaka
Today's excursion will be to the ancient city of Phaistos, one of the three principal cities of the Minoan empire. Phaistos is located on a hill a few miles from Crete's southern coast facing the portion of the Mediterranean known as the Libyan sea. This coastline was the locus of considerable ancient Bronze Age settlement, with Phaistos being the most prominent. After touring the archeological site, enjoy lunch at a local taverna. The remainder of the day will be spent on one of Crete's famous beaches (weather permitting) before returning to the hotel. Dinner on own this evening.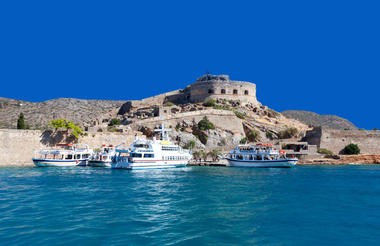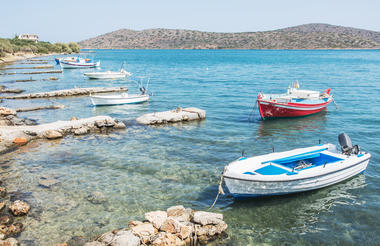 Included
Breakfast at hotel
Private coach transfers
Guided tour of Phaistos Minoan Palace
Lunch at local taverna
Free time at local beach
Overnight stay at Cayo Exclusive Resort
Elounda Plaka - Dikteon Cave - Heraklion - Santorini
After breakfast, check-out of the hotel and depart for Heraklion. Enroute stop at Dikteon Cave, the largest and most important of Crete's 3000 caves and mythical birthplace of Zeus. Already famous in the time of antiquity, the Dikteon Cave was dedicated to the worship of the greatest of the gods, as evidenced by the many offerings found by archeologists. Today the cave consists of five chambers covered in stalactites and stalagmites with a lake at the lowest point. Continue the journey to Heraklion port for embarkation on the high speed ferry/hydrofoil to Santorini, the most famous of all Greek islands. Your home for the next three nights is the Andromeda Villas located cliffside in the small town of Imerovigli. After settling in, Laura will give a brief cocktail lecture on the fascinating history of the island and the ancient site of Akrotiri before dinner.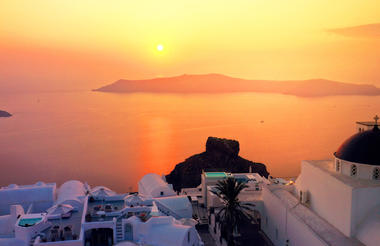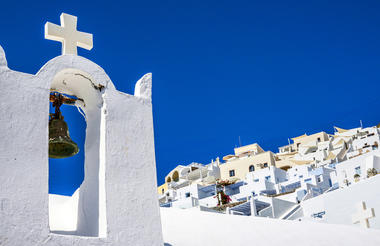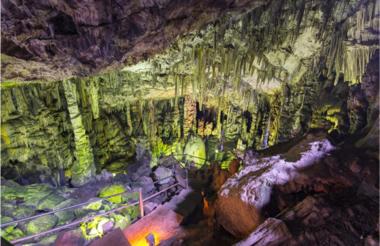 Expert tips
To reach the Dikteon cave, there is a 15 minute uphill walk/hike to reach the mouth of the cave, and then a descent of about 200 steps into the two caverns to see the stalactites and stalagmites. For those people who don't want to walk, there are a limited number of donkeys available to give a ride with an approx cost 10 euros per donkey. The temperature inside the cave is noticeably cooler.
The travel time from Heraklion to Santorini on the ferry is approx 2 hours with magnificent approach views of the caldera.
Included
Breakfast at hotel
Private coach transfers
Guided tour of Dikteon Cave
Possible visit to Malia Minoan Palace
Ferry ticket to Santorini
Cocktail lecture
Dinner at hotel or local taverna
Overnight stay at Andromeda Villas and Spa Resort
Excluded
Lunch
Donkey ride at Dikteon cave
Santorini Akrotiri
After breakfast visit Akrotiri archaeological site - often referred to as the "Greek Pompeii". Destroyed by an ancient volcanic eruption (possibly the one that inspired the myth of Atlantis), Akrotiri was covered in a thick layer of ash, with the result being stunning intact frescos that date to 1620 BC. After touring the site, lunch will be at one of Santorini's most famous tavernas located right on the water's edge.
Rest of the afternoon is at leisure! Enjoy one of the many beaches and beach clubs: there are white, red or black sand options! Alternatively return to the hotel, book a spa treatment, or wander and shop in Fira, the largest town and commercial centre on Santorini . This evening dinner is on your own.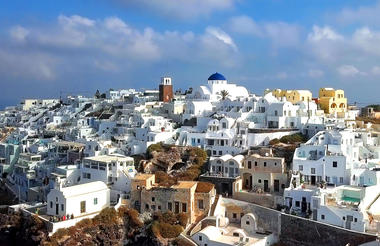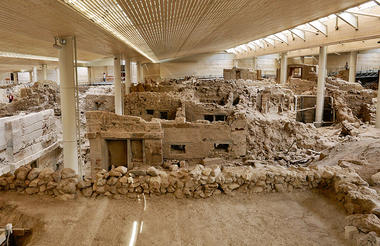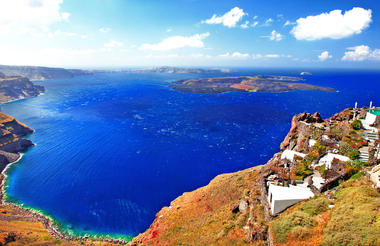 Expert tips
Santorini's uniquely coloured beaches are a product of the island's volcanic foundation. If visiting a red or black beach, don't wear a light coloured bathing suit as the sand can stain! On some beaches the terrain can be more pebbles than smooth sand. Black beaches can be hot underfoot. Make sure to wear flip flops or water shoes that are easy on/off!
Included
Breakfast at hotel
Round trip private group coach transfer from hotel to Akrotiri
Visit to Akrotiri
Lunch
Overnight stay at Andromeda Villas and Spa Resort
Excluded
Dinner
There will be one bus transfer back to Fira/hotel for those who want to take it after lunch; for those who want to stay at a beach close to Akrotiri or visit another part of the island, you will have to arrange a taxi or take the local bus at extra cost to return to the hotel
Santorini
This morning is free to relax or plan an outing of your choice. In the afternoon, we will visit one of Santorini's top wineries for a tasting and tour before making our way to the port and boarding a boat for a fun late afternoon/sunset cruise on the water. The captain will take us to local inlets, beaches only accessible by boat, and the volcano for those who dare to climb! Return to the hotel to freshen up before tonight's farewell dinner.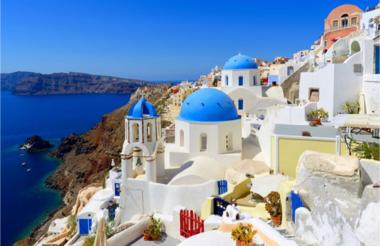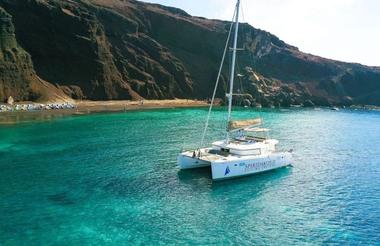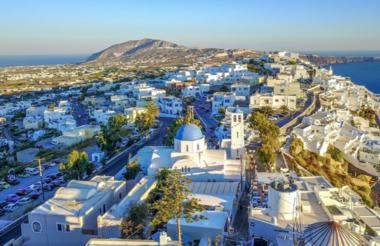 Included
Breakfast at hotel
Private coach transfers
Wine tasting at one of Greece's finest wineries
Caldera cruise
Farewell dinner at local restaurant
Overnight stay at Andromeda Villas and Spa Resort
Farewell!
After breakfast this morning, your Greek Odyssey comes to an end!
Let us help you plan the next chapter of your adventure: stay on Santorini longer; island hop and explore other Cyclades islands like Mykonos, Paros or Milos; or return to Athens and discover some of the fantastic locations on mainland Peloponnese. For those returning home, Santorini airport has connections to Athens and many other major European cities.
Excluded
Lunch
Dinner
Transfer to Santorini airport
Return flight to Athens or elsewhere
Any other travel plans or post-tour itineraries (custom bespoke options will be quoted on an individual basis)