Day 1:
Arusha National Park
Arrival - self booked flight into Kilimanjaro International Airport.
A visa is required for entry into Tanzania for US Citizens. This visa can be obtained electronically before arrival at the cost of $100 per person.
On arrival, after customs and immigration, you will be met by a Nomad Tanzania representative and transferred to Rivertrees Country Inn for one night.
Rivertrees Country Inn for 1 night on Half Board - Arrive for Dinner River House
Note from Bert: Rivertrees lodge is located in very pleasant surroundings, with a lovely garden and spacious grounds with a large deck from where there is a view over a riverine forest, some huge trees and various flowering plants. There were lots of bird calls on the morning of our departure.
We had a couple of meals here: a very pleasant dinner with a peppery carrot soup, a local bean dish, brown rice, beet salad, a fruit salad and fresh bread. Our plant-based breakfast was porridge with soy milk, toast and a selection of fresh fruit.
The room where we spent the night was large and comfortable and had a double bed with mosquito net – which was needed. The lighting was rather poor -it felt like we were already on safari. A hot bath was very welcome.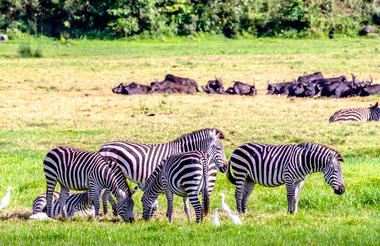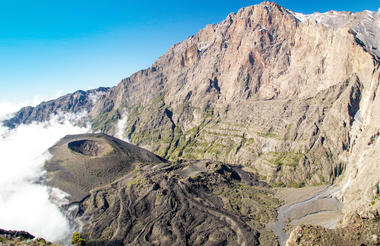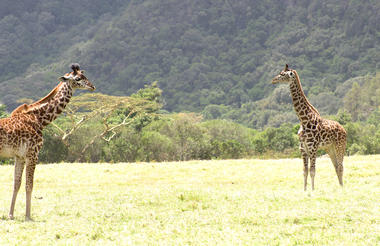 Day 2:
Northern Serengeti
Transfer by Nomad ARK to Arusha Airport
Scheduled flight ARK to Lamai Airstrip
Drive with Nomad private car/guide to Lamai Serengeti
Lamai Serengeti for 3nts - shared game package - arrive lunch
Note from Bert: Nomad Tanzania's Lamai Serengeti camp is as good as it gets in terms of all-round comfort (luxurious but not opulent or ostentatious), location (close to Mara River for possible wildebeest crossing) and diversity of animals. Barring unforeseen weather-related issues (such as drought) the wildebeest migration usually is to be found in the northern Serengeti and Masai Mara from July onward. Plus the Lamai area is exceptionally good for big cats; on one day there a couple of years ago we saw lions, leopard and cheetah all on the same day. So even when the migration is not around, the area is well worth visiting for its resident wildlife. None of the big cats move away as they are territorial and there is always something worthwhile to see on every game drive.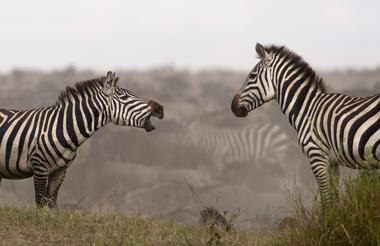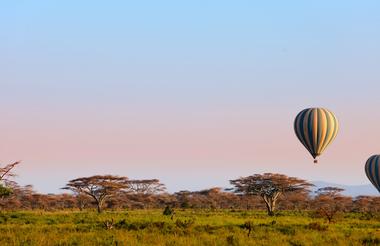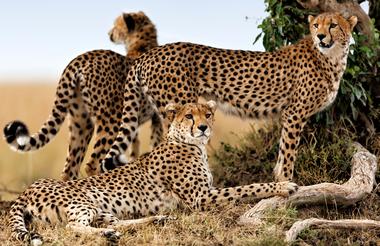 Day 3:
Northern Serengeti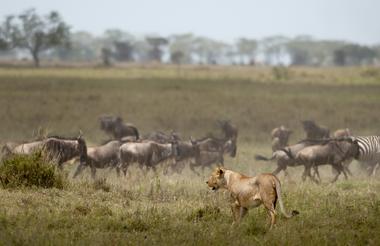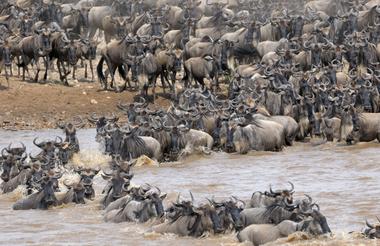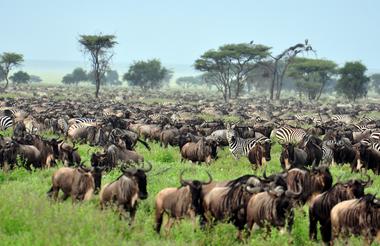 Day 4:
Northern Serengeti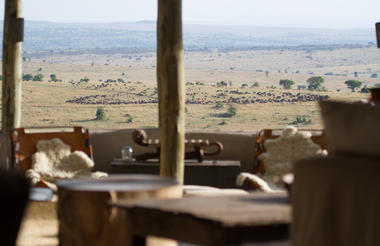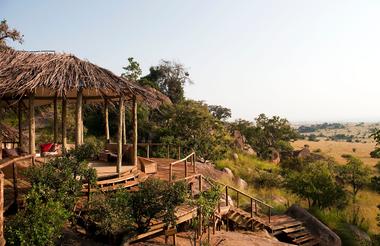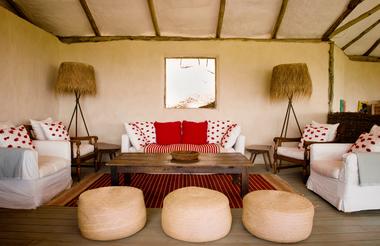 Day 5:
Nyerere National Park
Transfer by Lamai Serengeti to Kogatende airstrip
Coastal Schedule Flight Kogatende to Selous/Kiba (09h30/12h50)
Transfer by Sand Rivers Selous to the lodge
Sand Rivers Selous for 3nts - shared game package - arrive lunch #Riverside rooms
Note from Bert: Sand Rivers' location is absolutely perfect. Perched on a rocky outcrop overlooking the broad and slow-flowing Rufiji River, the camp is everything any first-class African safari lodge aspires to be. Romantic, authentic, visually striking and very private. The huge wood, brick and stone rooms with high canvas ceilings are totally open in front, with dramatic views over the river. Nights (at least in summer) are sultry but quite comfortable inside a huge mosquito net, a powerful yet quiet fan providing a cool breeze. Sleep comes easily among the rhythmic drone of frogs, the occasional grunts and snorts of hippo, and the pleasantly lulling effect of millions of liters of waters rushing off to the Indian Ocean, just meters away from your room. This is truly a place that dreams are made of.
Despite some heavy poaching of elephant in the area, Sand Rivers is still a great place to while away a few days, particularly when combined with a more 'big game' oriented property such as Beho Beho. We like to refer to it as the safari version of a 'surf and turf' combo. Sand Rivers is about taking it easy, taking boat rides, drifting down the Rufiji River, going on picnics and maybe sleeping out in a fly camp one night.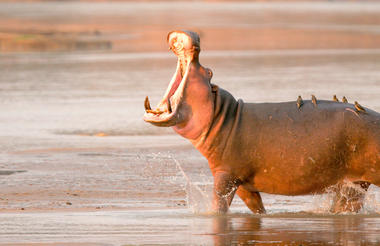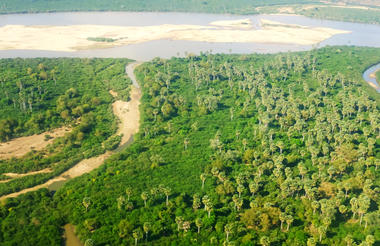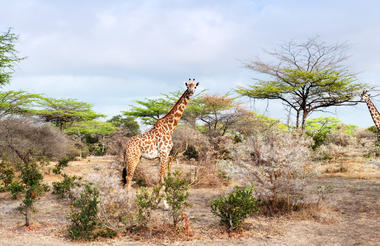 Day 6:
Nyerere National Park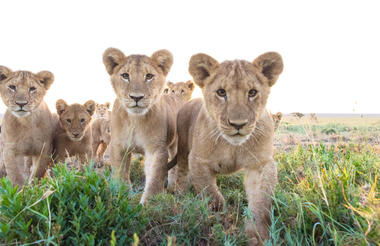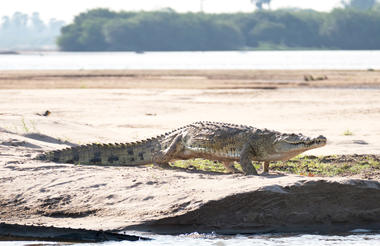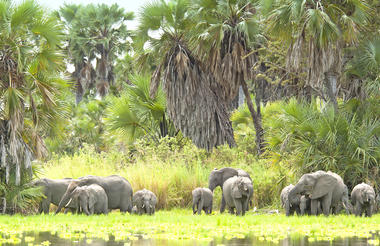 Day 7:
Nyerere National Park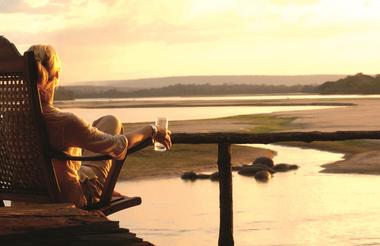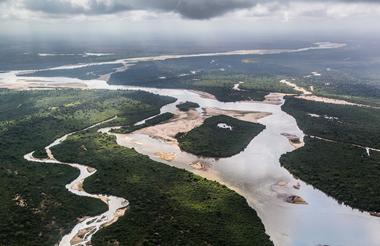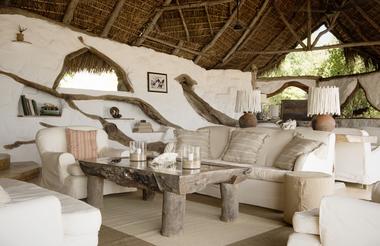 Day 8:
Ruaha National Park
Transfer by Sand Rivers Selous to the airstrip
Coastal Schedule Flight Selous/Kiba to Ruaha/Msembe (09h20/11h00)
Transfer by Kigelia to camp
Kigelia Ruaha for 3nts - shared game package - arrive lunch
Night Drive- Kigelia
Notes from Bert: After two separate visits to Ruaha over the last few years, and staying at 4 different camps, I highly recommend this huge and remote park in south-central Tanzania, for avid wildlife enthusiasts. The game-viewing at Ruaha is just as good and possibly even better than in the Selous. Ruaha now has bigger numbers of elephant than Selous and it has more lions than any other Tanzanian national park.
A camp in the area worth considering is Nomad's Kigelia Ruaha, a simple six-tented camp in a perfect spot from which to explore. The camp's simplicity and focus on the essence of safari is totally in keeping with the Nomad way of doing things. It certainly has a great location and when combined with other Nomad properties, there is a long-stay discount if choosing this camp. The airy tents provide shelter from the elements without detracting from the beauty of the natural bush setting...no manicured lawns here! The tents are well furnished with locally crafted pale wood furniture and there's a hot safari-style bucket shower under the stars. The showers are en-suite but outdoors. The camp also has a family room/tent.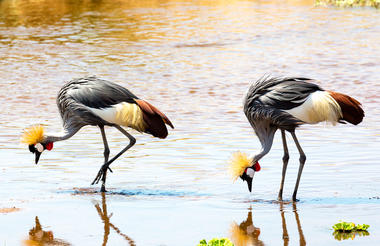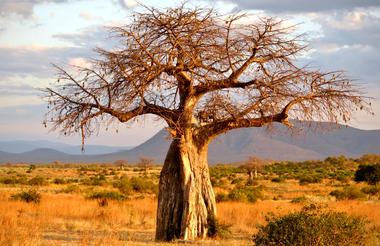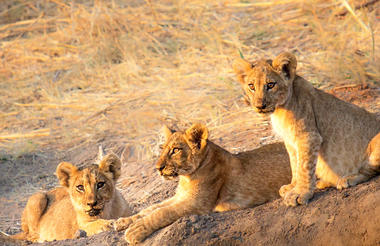 Day 9:
Ruaha National Park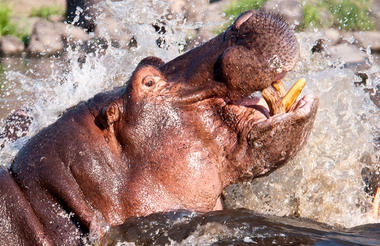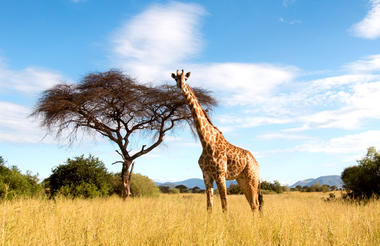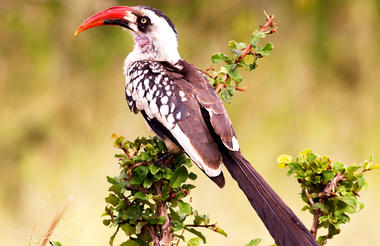 Day 10:
Ruaha National Park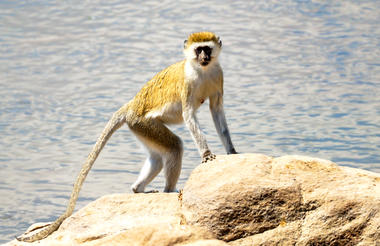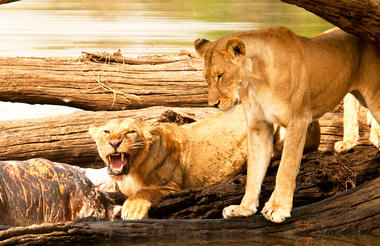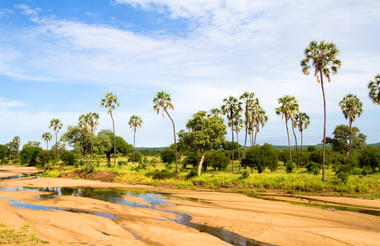 Transfer by Kigelia to the airstrip
Coastal Schedule Flight Ruaha/Msembe to Dar (11h45/13h50)
Transfer by Nomad DAR to the International terminal
Departure - self booked flight from Dar (Departure details TBA)