Explore the cosmopolitan city of Cape Town during the day and meet your group and your Tour Leader in the evening at 18.00 to get acquainted and review your trip details. Cape Town offers an unbelievable variety of experiences, tastes, and sightseeing. Try a variety of exotic tastes, like some of the delicious Cape Malay curries, the famous local dish Bobotie, or the freshest seafood at one of the exquisite seafood restaurants at the V&A Waterfront. Make sure to arrive a day earlier to go to the world-famous Robben Island where former President Nelson Mandela spent 18 of his 27 years in prison, visit Cape Point or propel Table Mountain with a cable car up to enjoy a panoramic view of Cape Town from the top.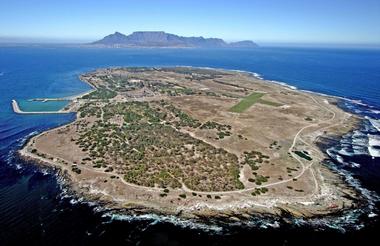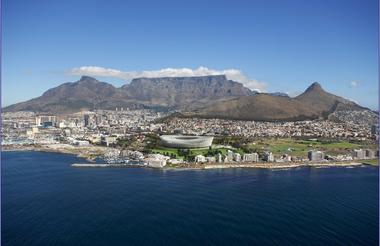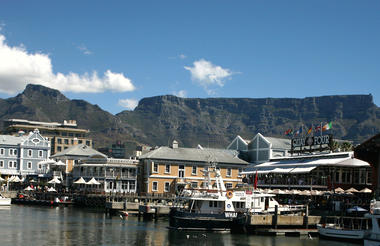 Expert tips
If there are clear skies when you arrive then you should make a beeline for Table Mountain! The weather in Cape Town is notoriously changeable, and there is no guarantee that the next day....or even later that day will be clear!
Depart Cape Town early on your way to Springbok in the heart of Namaqualand. Springbok is set in a narrow valley that is covered in the granite domes of the Klein Koperberge. This area is referred to as 'The Garden of the Gods' and is well known for the beautiful spring flowers that come into bloom every August and September.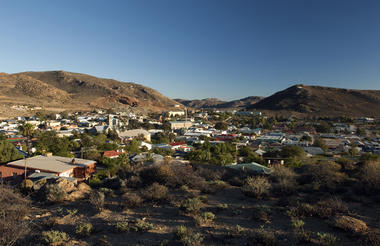 Day 3 :
Fish River Canyon
Today you will travel onwards to Fish River Canyon and take in the sights. The canyon is the second largest in the world, only being surpassed by the world famous Grand Canyon. The canyon has a length of around 110 miles, stretching south from Seeheim down to the Orange River, forming the border between Namibia and South Africa.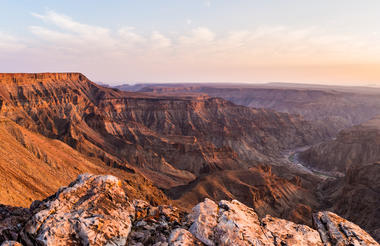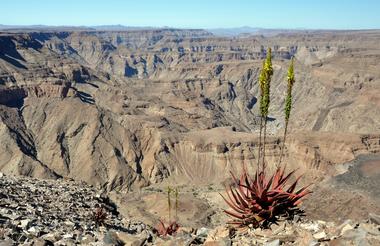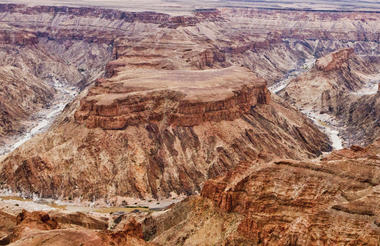 The adventure continues today to Helmeringhausen, a tiny place made up of little more than a homestead, hotel, and petrol station. Located in the southern part of Namibia, between Fish River Canyon and Sesriem. Orange and red desert sands surround the settlement. On arrival you can simply sit back and relax and take in the tranquil landscapes.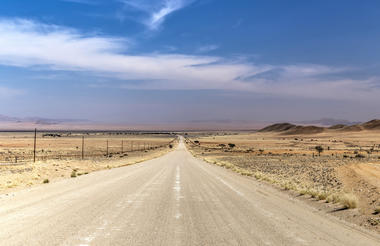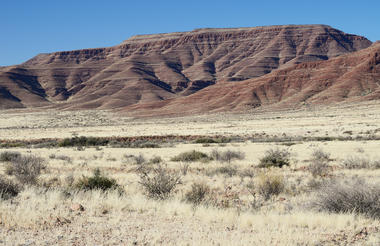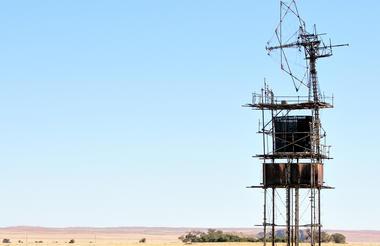 Sesriem is found in the Namib Desert. The name Sesriem means "six belts' and was named by the Dorsland Trekkers, a group of Afrikaans-speaking settlers. It is said that they had to tie together 6 belts (made of oryx hide) to reach buckets down into the Sesriem Canyon to scoop up water. The Sesriem Canyon is a natural canyon carved in the sedimentary rock.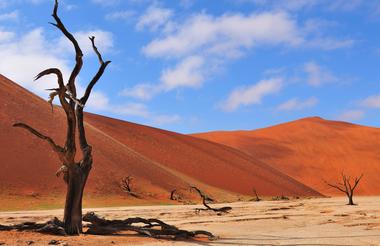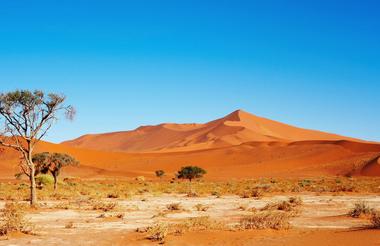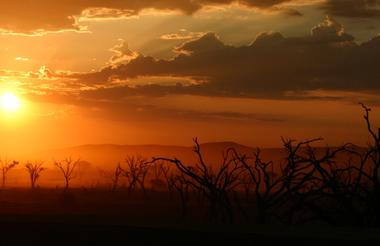 An early departure today will give you the opportunity to climb the majestic Dune 45 during the cooler time of the day. Dune 45 is named as such because it is 45km from Sesriem gate. It is then time to head on to the entrance of Sossusvlei, a seemingly endless expanse of beautiful red and orange sand dunes. The dunes are created when sand that was carried to the west coast by the Orange River is blown back again inland by winds.
The Namib, a minimum of 55 million years old, is regarded as the oldest desert in the world. The sand here is red in colour due to the prominent levels of iron oxide. These dunes are known as star dunes, created by winds blowing from all directions and it is also suggested as the highest sand dunes in the world.
In the afternoon, you will visit the Sesriem Canyon, a miniature canyon by world standards but beautiful to walk around in and appreciate the distinctive sedimentary rocks and conglomerate that line the canyon walls.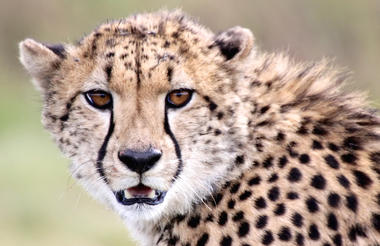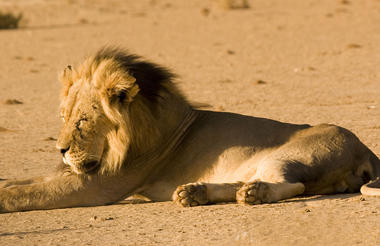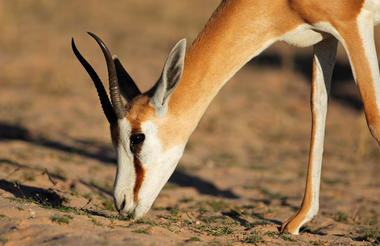 Continue to Swakopmund with its cooler Atlantic sea air, cultural experiences, and options for some extreme adventures such as quad biking, sand boarding, 4×4 safaris, skydiving (weather permitting) and more.
The only meal provided today is breakfast as Swakopmund has plenty of wonderful places to eat local cuisine. Swakopmund offers a variety of bakeries and cafes with a selection of reasonably priced meals.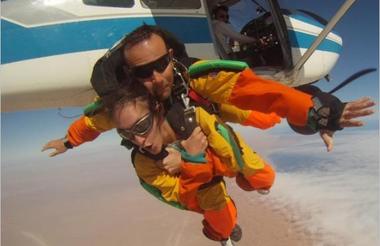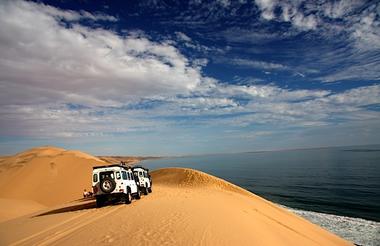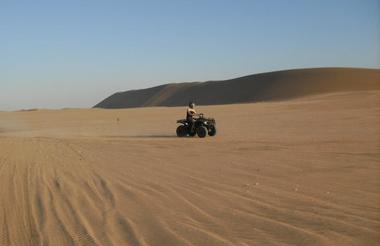 Swakopmund's wide variety of things to see and do caters for a wide scope of tastes and styles. Take a walk along the beach and dip your toes in the icy Atlantic Ocean or visit the Krystal Galerie boasting with the largest Quartz Crystal Cluster on display in the World, weighing in at 14 100 kilogrammes. Browse the many excellent bookshops and curio shops and spoil yourself with a unique gift from the area. If adrenalin and outdoors is your thing then you can enjoy various optional activities (weather permitting).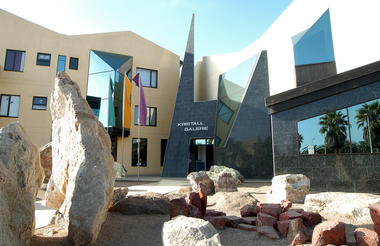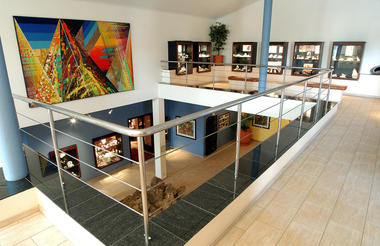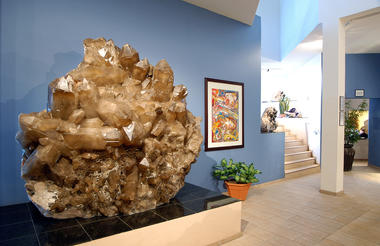 Depart for Outjo, which is a quaint little town on route to the Etosha National Park. Here there are a small number of souvenir stores where you can pick up some great local crafts. The Farmhouse is also a great place to visit where you can enjoy some delicious meals, cakes and pastries.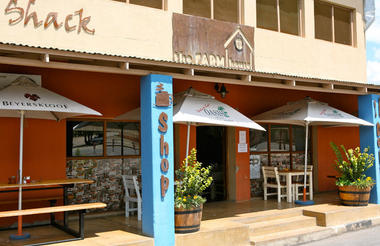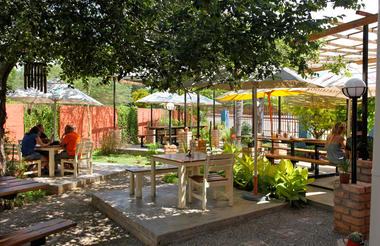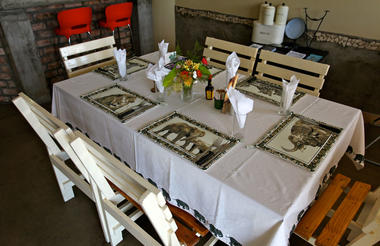 Depart after breakfast for Etosha National Park, one of Southern Africa's best-loved wildlife sanctuaries. We visit a Himba settlement prior to arriving in Etosha, where you get to understand more about this fascinating culture.
On arrival into Etosha head out for a game drive in search of elephant, the unique black-faced impala, zebra, endangered black rhino, or any of the more than 100 mammal species the park is home to. In the rainy season, the salt pans turn into shallow lakes with pelicans, flamingos and other bird species flocking to this temporary water haven. Animals often cluster around the watering holes close to the campsites and this offers you the unique opportunity to sit and wait for the animals to come to you. These fenced watering holes have seating areas and are perfectly safe. Floodlights gives you the opportunity to sit at the waterhole and enjoy the interaction between different species of animals.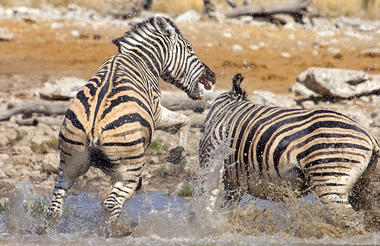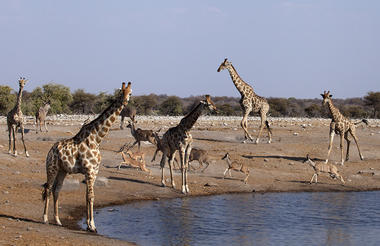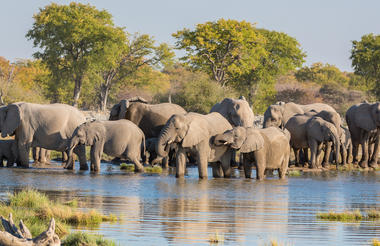 Enjoy a full day's game drive in the Premium Overland Safari Vehicle. Gather memories of unique sights that you will not likely experience again. Watch how ghostly grey-white elephants bathe themselves in the white dust of the area or zoom in on the magnificent sight of giraffes etched against the wide-open horizon. Fall asleep with the haunting calls of hyena or a lion's roar in the distance.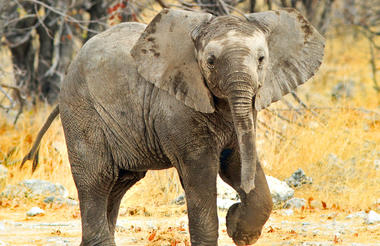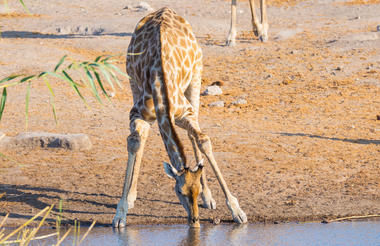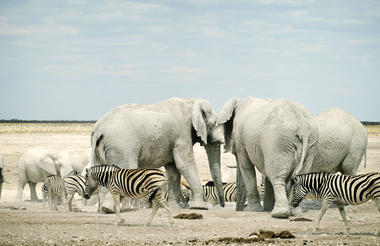 Travel to Windhoek, Namibia's capital. Spend the last few hours of the day exploring Windhoek. This capital town has loads of interesting things to offer. One of the most famous is the display of 33 meteorites, the Gibeon Meteorites in the Post Street Mall. Here, you can take pictures of and touch these extra-terrestrial bodies that are corrosive resistant due to the high amount of nickel the bodies contain.
Shopping opportunities abound and for the historically inclined there are many museums and historical buildings within walking distance in the town centre. One of the most widely photographed and a historical landmark is the Christ Church, a Lutheran church, built in the Gothic revival style.
Windhoek is the "getting on" and "getting off" hub for people who have booked shorter "legs" of your combo trip. You might lose some of your travel companions and new people might join.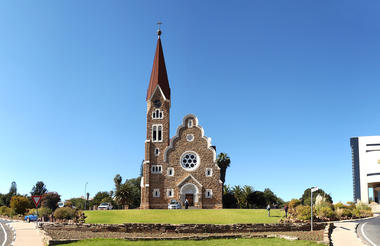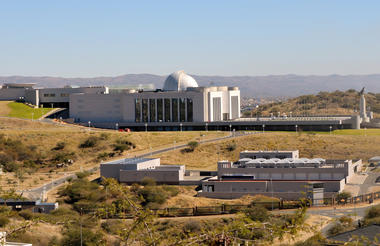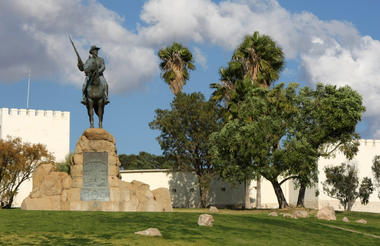 Depart Windhoek early for a long drive through the eastern part of Namibia, and then crossing the border into Botswana and travelling into the heart of the Kalahari Desert. Ghanzi is the area where San (Bushmen) live who still have the knowledge of an ancient lifestyle and are eager to welcome visitors into their almost forgotten world. In the evening, you can enjoy an optional ancient dance ritual performed around a campfire by the San and if the night is clear, enjoy the amazing sparkling, starry skies for which Ghanzi is famous.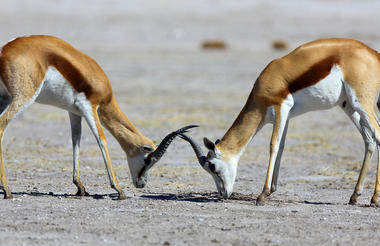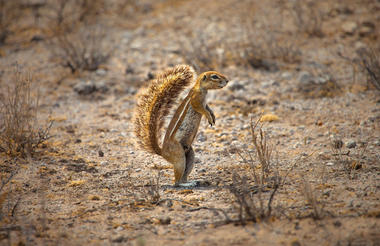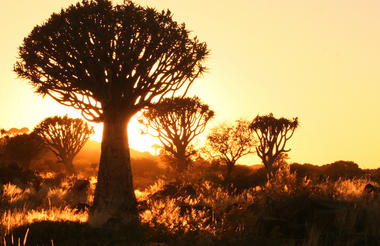 Enjoy a morning walk with the San (Bushmen) as they display their survival skills that have been passed on from generation to generation. You will then depart and head over to Maun, Botswana's fifth largest town.
Once you've arrived in Maun you will have the option to get a spectacular birds-eye view of the Okavango Delta from above in a small fixed wing aircraft (weather permitting). Looking down on the Delta from the aircraft, you will have a fair idea of the magnitude of this massive mix of land and water with its intricate system of channels and islands. You might also see families of elephant, giraffe, and herds of buffalo or even hippos from the air. If you skip the flight, you will have the chance to kick back and relax at the lodge.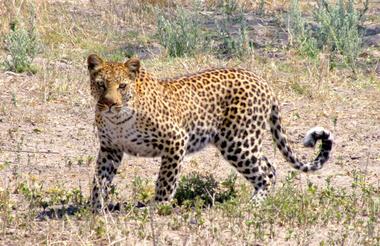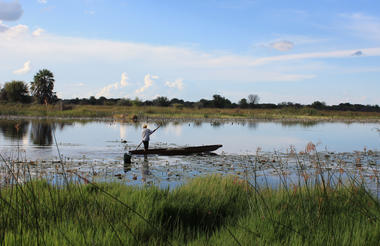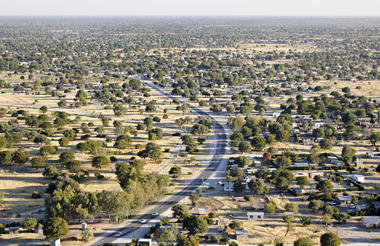 To ensure the best Delta experience for our clients we have implemented two different styles or means of exploring this unique eco system. Due to the changing water levels in the Delta and dry seasons we will either explore the Delta on a Mokoro(boat) or on a 4x4 open vehicle game drive.
If exploring by Mokoro:
You will experience a unique way of travelling into the Okavango Delta with a mokoro. The mokoro is used by local people as means of transport. You will be transferred to the ''polling'' station either with a motorized boat or a 4x4 vehicle depending on the water levels of the Delta.
A mokoro is a traditional dug-out canoe that seats two people. The mokoro is steered by a ''poler" standing at the back, manoeuvring the mokoro downstream with a pole, very much like the gondoliers in Venice.
Once you are comfortable and laid back in your mokoro, the slow and tranquil journey into The Delta begins. Gliding along on the quiet water you will have an unlimited source of opportunities to take exquisite photos of your surroundings. The duration of the mokoro trail depends on the time of year and water levels of the Delta. You will stop for lunch at an island and enjoy a nature walk of a few hours. Then you head back to Maun, again in your mokoro enjoying the last hour or two on the water while the late afternoon sun starts heading for the horizon.
The Delta is usually at its lowest point from December to May
If exploring by4X4 Open Vehicle Game Drive in Moremi Game Reserve:
You will depart from Maun early morning to head for the Blackpools and Xini Lagoon areas in Moremi Game Reserve.
Once past the Buffalo Fence and inside the Delta area, 50km from Maun, the Delta experience starts. You can expect a full day of exploration in the search of wild animals, interesting and varied landscapes in this untamed African bush. Lunch will be done en-route and you will have the opportunity to take exquisite photos as Moremi is well known for teeming bird life, elephants, buffalo, hippo, lion and if you are lucky leopard (including various antelope species).
What makes Moremi unique is that it was the first tribal land to be proclaimed by a local African tribe in 1963 as a wildlife sanctuary.
During the dry season, a congregation of all bird and wildlife species, along permanent rivers and water holes makes Moremi Game Reserve one of the most unforgettable wildlife experiences!
This 4x4 open vehicle experience will only be conducted if the water levels are too low for our travellers to have a proper Mokoro Delta experience. The Delta is usually at its lowest point from December to May.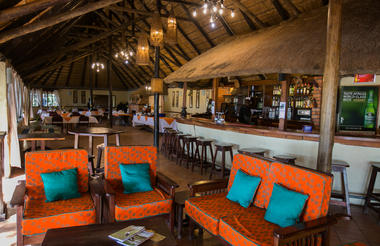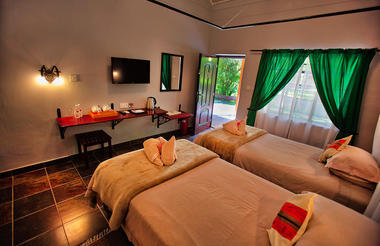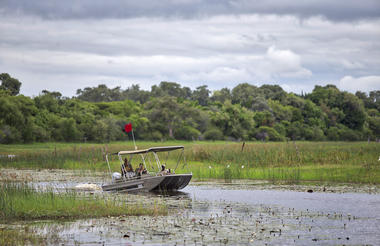 Set out for Elephant Sands, which is close to the Botswanan village of Nata. Elephant Sands is famous for its watering hole, voted as one of the top ten watering holes in Africa. Here you can expect to see animals such as wild dogs, different antelope species and of course elephants that walk through the campsite searching for fresh water. This will probably be the closest you will get to these wild animals on foot. With luck on your side, you may have the wonderful and unique experience of sitting in front of your tented room, watching elephants and other animals come and go to quench their thirst at the watering hole while you sip on a sundowner yourself.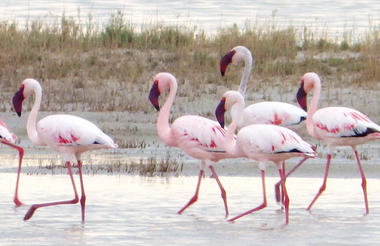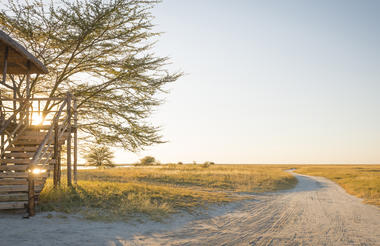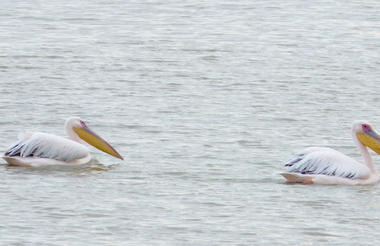 Continue to the small town of Kasane, which is adjacent to the Chobe National Park & Chobe River. Relish the views during your included afternoon sunset boat cruise. Take your own sundowner with you as you look for wildlife on the banks of the Chobe River. Game such as elephant, buffalo, kudu, bushbuck, hippo, giraffe, and sable are commonly seen along the river edge, and it is a birdwatcher's paradise during the summer months. (You have an opportunity to go on an optional photo safari at your own expense, however, you would forfeit the included afternoon sunset boat cruise).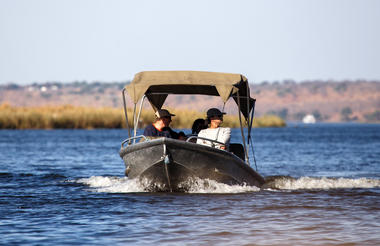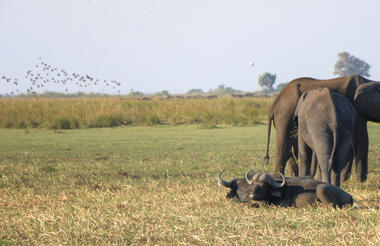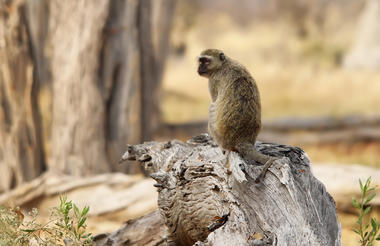 Day 18 :
Victoria Falls (Zimbabwe)
Today you will have time to do some of the action-filled activities that the area offers. Bungee jump or gorge swing off the Victoria Falls Bridge that links Zambia and Zimbabwe and have a different view of the Victoria Falls at the same time. This bridge is constructed to carry railway, road, and foot traffic. For an adrenaline activity, closer to the Zambezi River, choose a half day or full day white water rafting adventure. Many of our groups opt to spend their final evening together aboard a sunset cruise along the Zambezi River with game-viewing, beautiful scenery, and an open bar. We recommend that you book an extra day or two post-tour to make the most of your stay.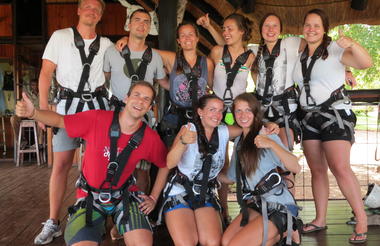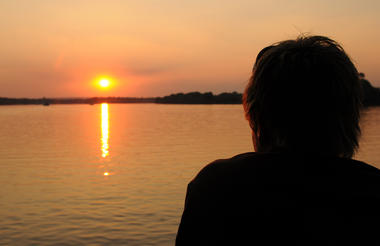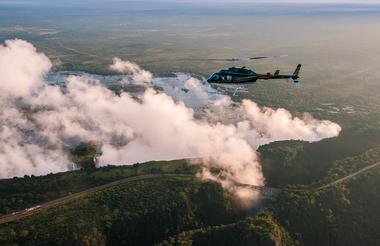 Day 19 :
Victoria Falls (Zimbabwe)
Today you have a further day to explore all that the small town of Victoria Falls has to offer.
Victoria Falls is the "getting on" and "getting off" hub for people who have booked shorter "legs" of your combo trip. You might lose some of your travel companions and new people might join.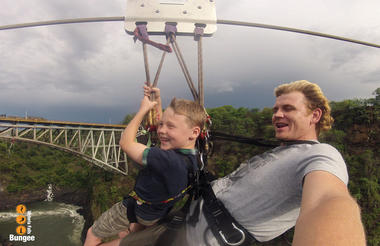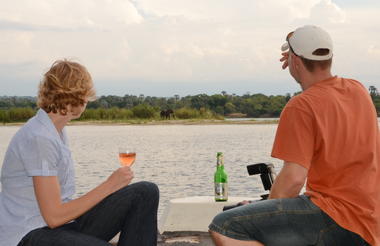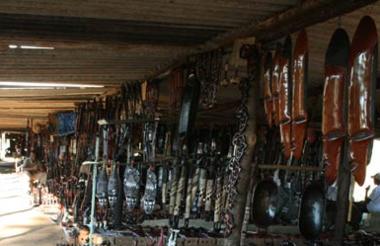 Day 20 :
Hwange National Park
After breakfast, continue to Gwango situated just outside Hwange National Park, named after a local chief. This park is the largest park in Zimbabwe occupying roughly 14,650 square kilometres. Look forward to an included afternoon open vehicle game drive. After dinner, you can go on an optional night game drive which will give you the opportunity to discover nocturnal animals such as porcupines, civet cats, genets and leopard.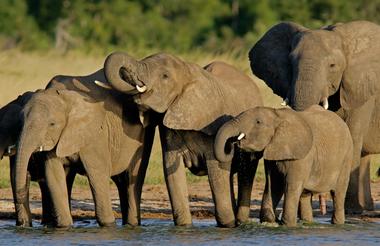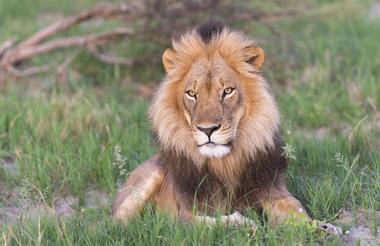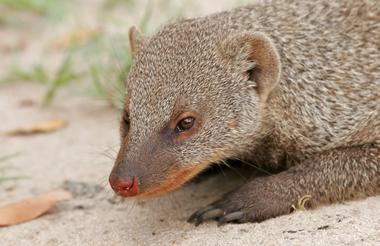 Head south towards Matobo National Park, which is at the Matobo or Matopos Hills, a scenic area of granite kopjes and wooded valleys. Banff Lodge, in the leafy suburb of Ilanda, Bulawayo will be your home for the next two nights.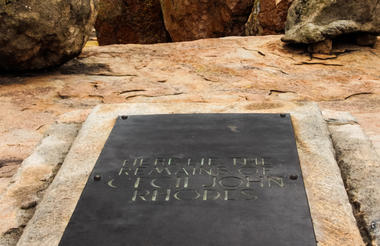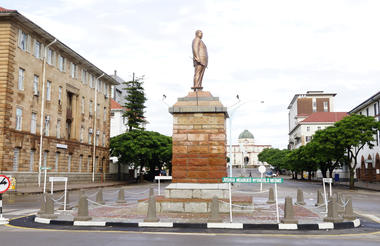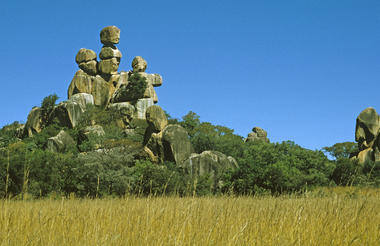 Today you will enjoy a full day excursion, which includes a game drive and a guided rhino walk in Matobo National Park. Visitors to Matobo National Park regularly spot white and black rhino, sable antelope, and impala, among other wildlife.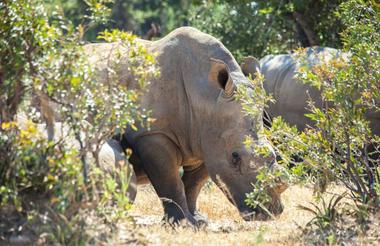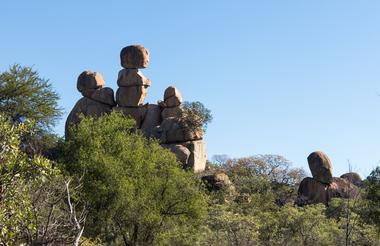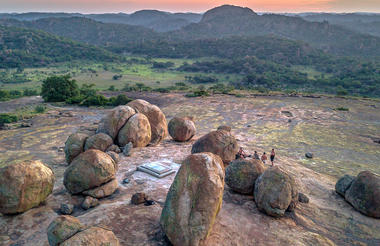 Today cross the Zimbabwe / South Africa Border and overnight at the Bolayi Game Lodge. Klein Bolayi Game Lodge is set in the Limpopo Valley, in the heart of the world`s largest concentration of Baobab trees, surrounded by fascinating granite outcrops in pristine bushveld vegetation.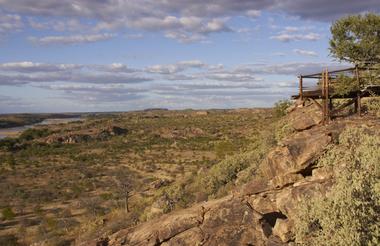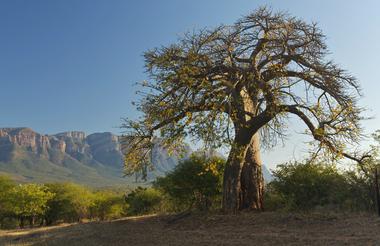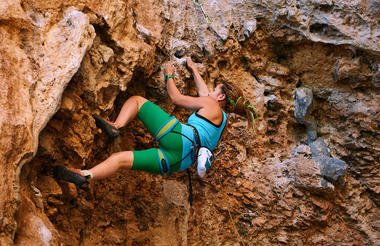 Your last night is spent in Johannesburg – South Africa's largest city – also known as Egoli or The City of Gold, referring to the gold mining history of this fast-paced city. If you would like you can book an additional night or two post tour to make the most of your stay.
In JoBurg a visit to Gold Reef City, the amusement park and museum built on an old mine shaft will give you the opportunity for a ride on the Shaft of Terror, a vertical-drop roller coaster that is known as the tallest and fastest roller coaster in Africa due to its sheer 47-metre drop. For the historically inclined there is the outstanding and fascinating Apartheid Museum and Constitutional Hill, and for those interested in understanding people and cultures there is the ever-popular Soweto tour. You can also just jump on a Hop-On-Hop-Off bus to discover Johannesburg at your own pace.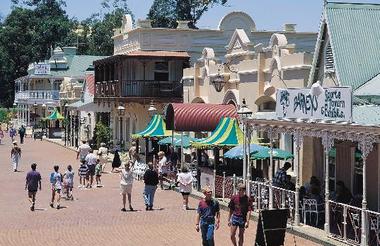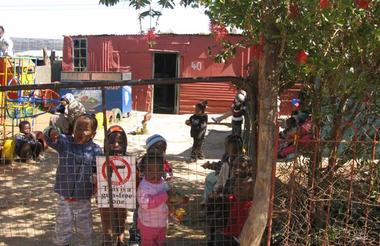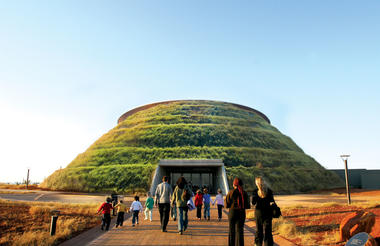 Day 25 :
End of Itinerary
Today marks the end of your memorable tour. If you are leaving today then a time will be agreed for your transfer to the airport.
If you would prefer to explore more of Johannesburg then we can arrange a couple of days post-tour accommodation where you can explore all that this area has to offer.