Arrival - self booked flight into JRO ex -Details to be advised
Transfer by Nomad ARK to Arusha Coffee Lodge
Arusha Coffee Lodge for 1nt - HB - arrive dinner #Plantation room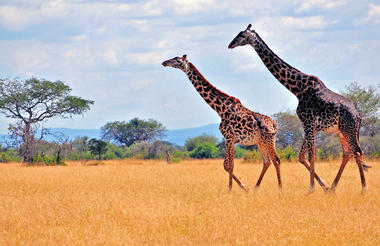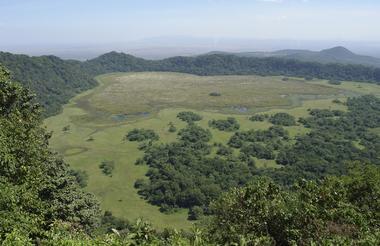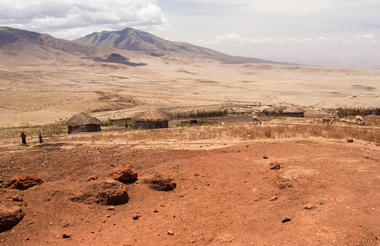 Day 2 :
Tarangire National Park
Transfer by Nomad ARK to Arusha Airport
Air Excel Scheduled Flight Arusha to Tarangire/Kuro 08h00/08h25
Transfer by Nomad Shared Vehicle and Guide to Kuro Tarangire
Kuro Tarangire for 3nts - Shared game drives - arrive Lunch
Night Drive - Kuro - provisional (should be prebooked, subject to availability)
Note from Bert: Tarangire National Park is a little gem in the northern Tanzania safari circuit. Less well known than its big brother, the Serengeti, Tarangire boasts the next greatest concentration of wildlife after that magnificent area. The herds of elephant and buffalo are surprisingly big here, often numbering in the hundreds. There is also a great variety of plains game including giraffe, eland, impala and zebra to name but a few. Of course, this also makes for perfect cat territory and we've often quietly observed large prides of healthy looking lion and been privileged to see a few leopard during our exploits here.
The park is famous for its huge number of elephants and baobabs. Visitors to the park can expect to see good numbers of resident zebra and wildebeest addition to the less common animals. Other common animals include waterbuck, giraffe and olive baboons.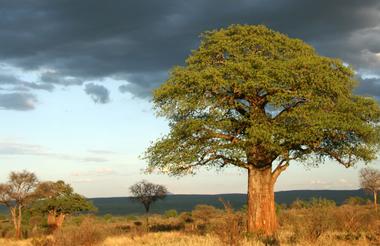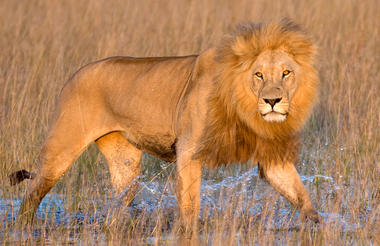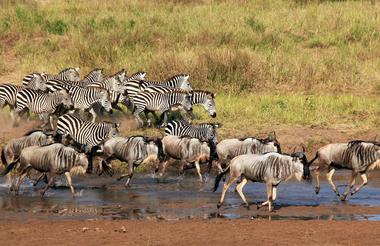 Day 3 :
Tarangire National Park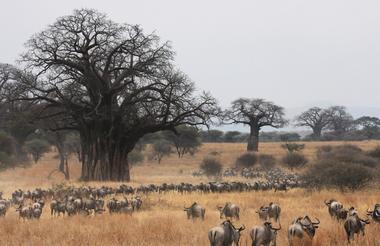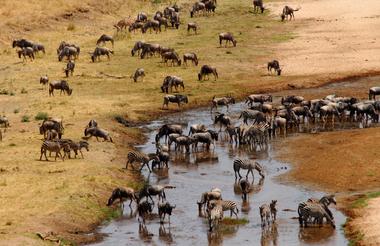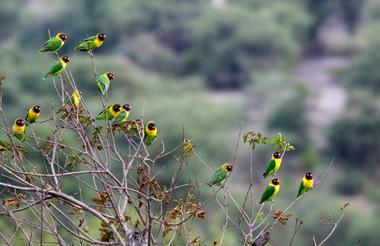 Day 4 :
Tarangire National Park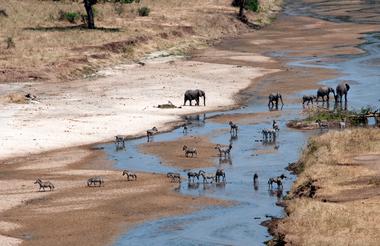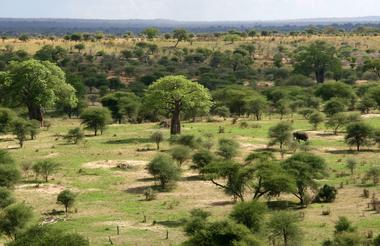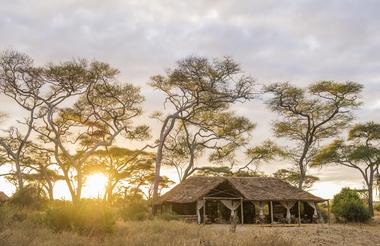 Day 5 :
Ngorongoro Crater
Transfer by Nomad Shared Vehicle and Guide to Kuro AIrstrip
Air Excel Scheduled Flight Tarangire/Kuro to Manyara 08h30/08h45
Transfer by Nomad Shared Vehicle and Guide to Entamanu
Entamanu Ngorongoro for 2nts - Shared activities - arrive Lunch
Note from Bert: If you can overlook the presence of just one too many minibus in the high season months Ngorongoro Crater can live up to its reputation as a Garden of Eden, or a Shangri-La of wildlife. Ngorongoro Crater is one of those exceptional natural places on earth where reality meets and sometimes exceeds expectation. Vague images that may have formed in one's mind over many years of anticipation are instantly reframed and focused, upon your first view of the crater, from the top of the descent road. Indeed, Ngorongoro Crater belongs squarely in that rather over-crowded pantheon of 'natural wonders of the world'.
Here, in an area of just about 10 miles square, you essentially have a microcosm of practically all the natural habitats of East Africa: lakes, marshes, rivers, grassy plains, woodland, forest and hills. For such a small area, the crater (more correctly a caldera), is extremely productive and as a result it sustains large numbers of an amazing variety of animals and birds.
Word of caution: Ngorongoro Crater is very popular and during some months of the year – notably July through September – it can get a little too busy for its own good. Omit it if the presence of too many other vehicles are going to be upsetting to you - or consider traveling in a less busy time like March through May & early June.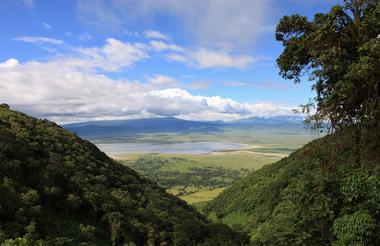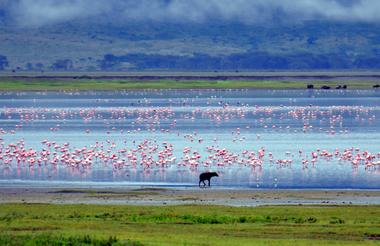 Day 6 :
Ngorongoro Crater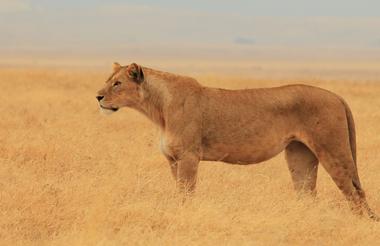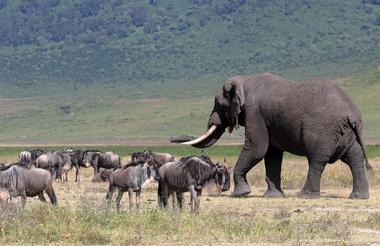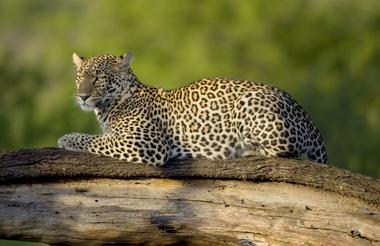 Day 7 :
Northern Serengeti
Transfer by Nomad Shared Vehicle and Guide to Manyara airstrip
Coastal Scheduled Flight Manyara to Grumeti (11h30/13h00)
Transfer by Nomad Shared Vehicle and Guide to camp
Serengeti Safari Camp # 1 for 2nts - shared game drives - arrive lunch #Musabi
Note from Bert: Serengeti National Park is Tanzania's largest and most famous park at 5700 square miles. It is unequaled for its beauty and contains more than three million large mammals spread over the vast endless plains. It is here at certain times of the year that the breathtaking spectacle of the annual wildebeest migration, where one and a quarter million wildebeest trek in columns of up to 25 miles long in search of grazing and water, occurs. It is also famous for its huge lion population and is one of the best places on the continent to see them and other predators such as cheetah and hyena. Most of the Serengeti is a vast open plain broken down by rocky outcrops with patches of acacia savannah & savannah woodland. Nomad's Serengeti Safari Camp is a nicely appointed 'semi-mobile' camp which moves from one location to another every few months, in order to stay close to the anticipated movement of the wildebeest herds. Compared with a permanent camp like Lamai Serengeti, the appeal of Serengeti Safari Camp is the close proximity to nature, with sounds like contact calls of the wildebeest and the iconic braying of the zebras being heard often, at night.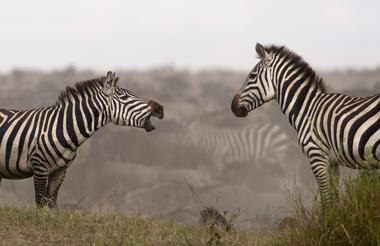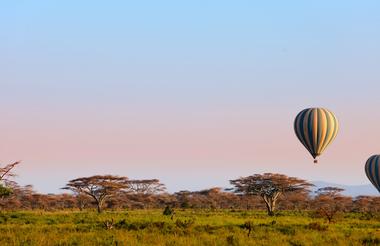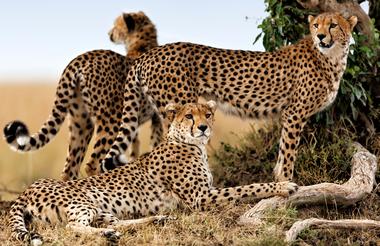 Day 8 :
Northern Serengeti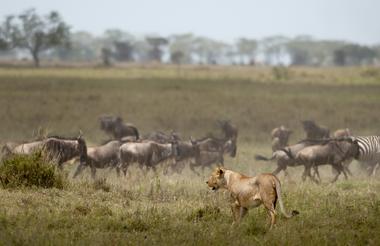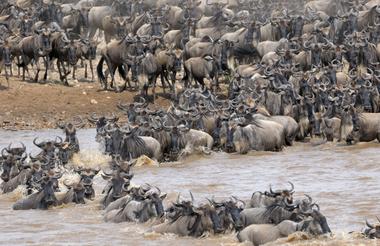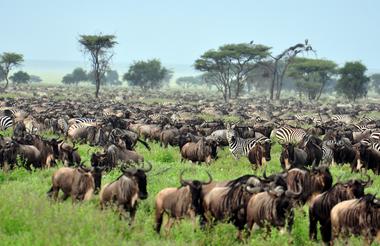 Day 9 :
Northern Serengeti
Transfer by Nomad Shared Vehicle and Guide to Grumeti Airstrip
Coastal Scheduled Flight Grumeti to Kogatende 09h10/10h05
Transfer by Nomad Shared Vehicle and Guide to Lamai Serengeti
Lamai Serengeti for 3nts - Shared game drives - arrive lunch
Note from Bert: Nomad Tanzania's Lamai Serengeti camp is as good as it gets in terms of all-round comfort (luxurious but not opulent or ostentatious), location (close to Mara River for possible wildebeest crossing) and diversity of animals. Barring unforeseen weather-related issues (such as drought) the wildebeest migration usually is to be found in the northern Serengeti and Masai Mara from July onward. Plus the Lamai area is exceptionally good for big cats; on one day there a couple of years ago we saw lions, leopard and cheetah all on the same day. So even when the migration is not around, the area is well worth visiting for its resident wildlife. None of the big cats move away as they are territorial and there is always something worthwhile to see on every game drive.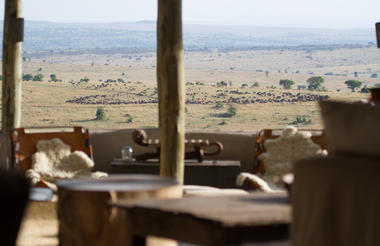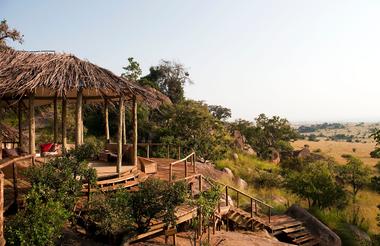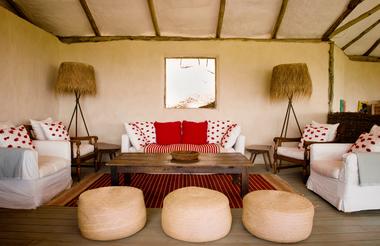 Day 10 :
Northern Serengeti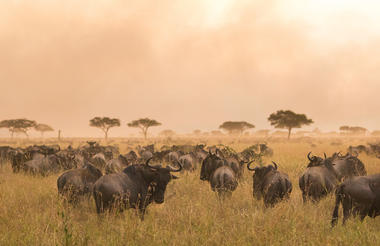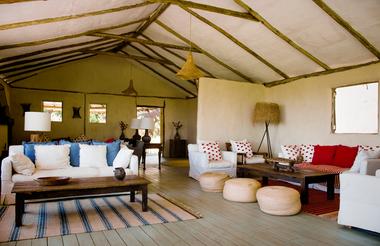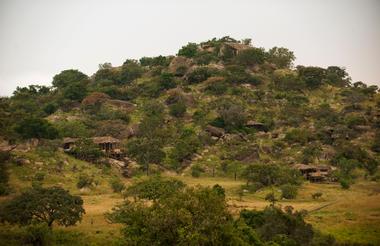 Day 11 :
Northern Serengeti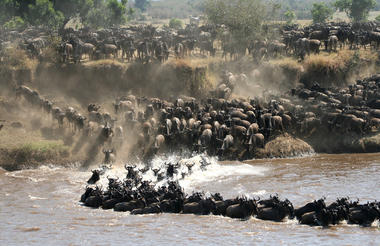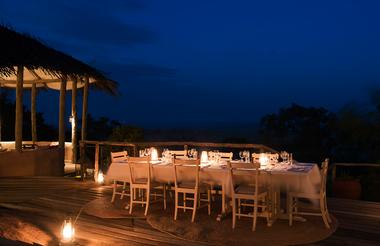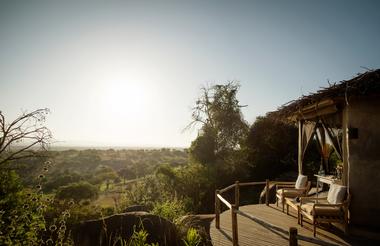 Day 12 :
End of Itinerary
Transfer by Lamai Serengeti to Kogatende airstrip
Coastal Scheduled Flight Kogatende to Kilimanjaro 09h25/13h15
Transfer by Planet Lodge to Planet Lodge (FOC)
Airport Planet Lodge -Dayroom at Planet Lodge
Transfer by Planet Lodge to Kilimanjaro Airport
Departure - self booked flight from JRO