Upon arrival in Cape Town, you will be met for a scheduled road transfer from Cape Town airport to Glen Avon Lodge
Accommodation: Glen Avon Lodge
Rooms: Deluxe Room
Breakfast and VAT
Nestled in the heart of the Constantia Winelands with easy access to top destinations including the Cape Town Waterfront, Table Mountain, Kirstenbosch Gardens, The Wine Route, White sandy beaches and so much more. Our rooms and suites are all air conditioned, with ensuite modern marble bathrooms, king size beds, satalite TV, mini bar fridge, and internet access. There are two swimming pools to choose from, one being solar heated, nestled in beautiful manicured gardens full of roses and rolling lawns with plenty of secure parking throughout. We serve hearty breakfasts daily and gourmet evening dining to remember. This hotel is owner run and we pride ourselves in looking after our guests and making sure they have an unforgettable experience to remember.
Note from Bert: Glen Avon is a small boutique hotel in Constantia, one of Cape Town's premier suburbs. Being based in Constantia rather than in the congested downtown or V & A area, will make sight-seeing easier and more convenient, with Kirstenbosch National Botanical Gardens as well as a couple of noted wineries being close to the hotel, and with easy access to the Peninsula sites like Boulders, Simon's Town and the Cape of Good Hope.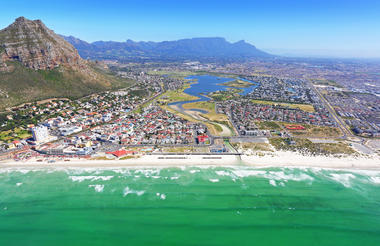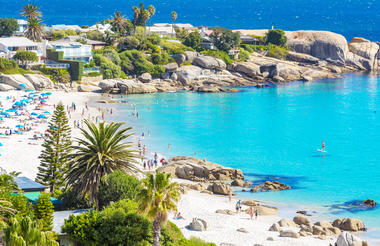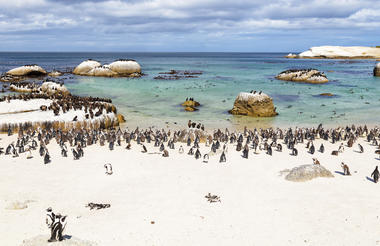 9 hour 'go as you please' tour within Cape Town or surrounding areas. Tour any sites you would like with a local Cape Town private guide. Lunch to be paid direct. Entrance fees included for Chapman's Peak Drive, Cape of Good Hope Nature Reserve, Boulders Beach (African Penguins) and Kirstenbosch National Botanical Gardens.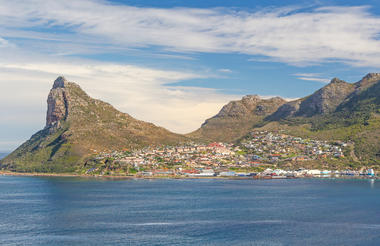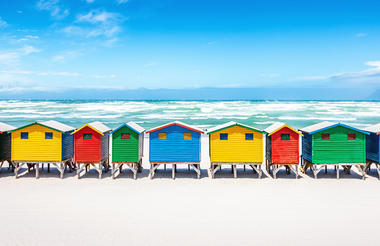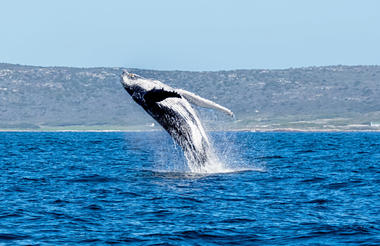 9 hour 'go as you please' tour within Cape Town or surrounding areas. Tour any sites you would like with a local Cape Town private guide. Lunch and entry fees to be paid direct.
Entry fees for The Castle, Christiaan Barnard Museum and Table Mountain. cable car tickets included.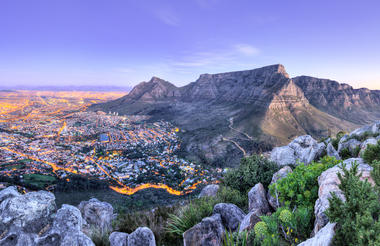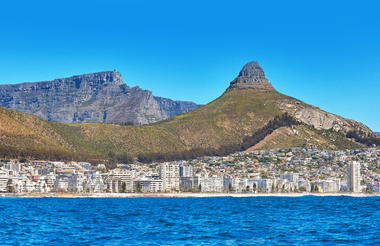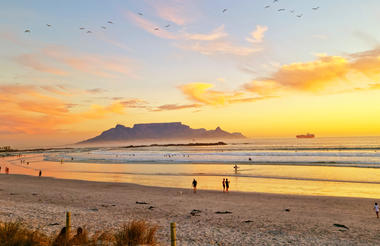 Scheduled road transfer from Glen Avon Lodge to Cape Town Airport
Scheduled flight CPT-WDH SA 8126 1000-1205
Wilderness Air Namibia
Route to be flown: Hosea Kutako International Airport (Windhoek) - Doro Nawas Airstrip

On arrival at Hosea Kutako International Airport and after clearing customs & immigration, you will be met and assisted by a Wilderness Safaris representative to your circuit light aircraft transfer to Doro Nawas Airstrip .

The norm is that all flights follow the published circuit, via various points such as Swakopmund, Damaraland, Doro Nawas or Ongava for purposes of pick-ups, drop-offs and refuelling. On the rare occasion that this is not required, then the flights will operate directly.

Note that there are stops en-route which may require changing aircraft.

The number of passengers carried on each leg of our circuit flights is dependent on aircraft used, time of year, passenger and luggage weights, routing, fuel required, etc.
Luggage limit of 44 lbs per person in soft sided bags including carry ons
Accommodation: Hoanib Skeleton Coast Camp
Rooms: Standard Tent
All meals, twice daily scheduled camp activities, park fees, laundry, Namibian VAT & Tourism Levy, and local drinks excludes premium imported brands and champagne. On a stay of 3 nights or more at Hoanib Skeleton Coast, a coastal excursion to the Skeleton Coast is included. Please note that the excursion is a long-stay value add activity so if the flight to the coast cannot take place due to weather conditions, no refund is applicable.
Note from Bert: Hoanib Skeleton Coast Camp is a luxury enclave in a geologically astonishing landscape. You fly over it, marveling at the idea that lions and other predators actually survive, given the scarcity of sustenance for their prey. But they all do. The elephants, the giraffes, the oryxes, the brown hyenas, springboks... and so many more birds than you could ever imagine. It all happens because of coastal fog. Freezing cold when it softly cloaks the earth, it leaves behind dripping condensation, eagerly utilized by a myriad tenebrionid beetles, and a host of other thirsty organisms eking out a living in this harshest of environments.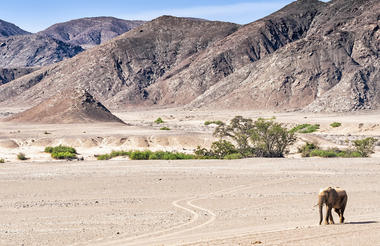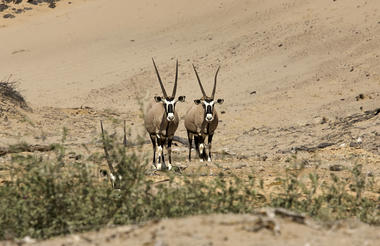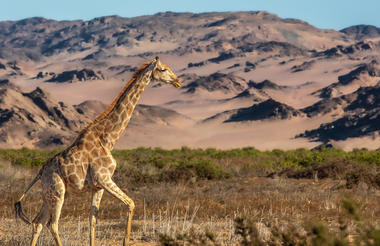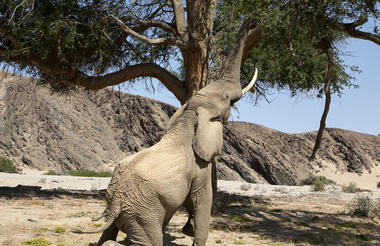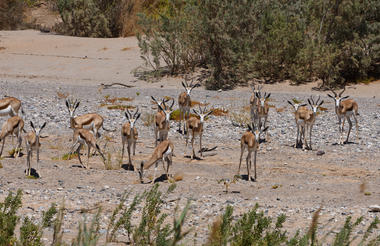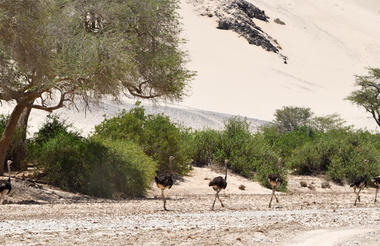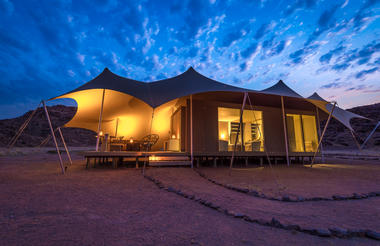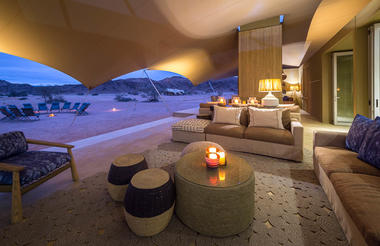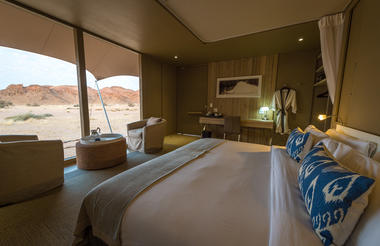 Day 7:
Ongava Private Game Reserve
Wilderness Air Namibia
Route to be flown: Hoanib Skeleton Coast Camp - Ongava Lodge

At a time to be advised by the camp management, you will be transferred to the airstrip for your circuit light aircraft transfer from Hoanib Skeleton Coast Camp to Ongava Lodge via Doro Nawas Airstrip.
Accommodation: Ongava Lodge
Rooms: Chalets
All meals, twice daily scheduled camp/lodge activities, park fees, local drinks and laundry at camps/lodges which are able to provide this service, Namibian VAT and Tourism Levy excludes premium imported brands and champagne.
Note from Bert: Little Ongava, Ongava Lodge and Ongava Tented Camp are located in an ecotone of woodland and mopane bushveld bordering on the open plains and salt pans of Etosha Game Reserve. The scenery is attractive with large open plains blending into Mopane tree woodlands and granite outcrops. Ongava would definitely be your best opportunity to see white and black rhino.
Ongava Lodge is somewhat bigger with 14 rooms, strung out along a walkway lower down the same hill on which Little Ongava is built. All rooms have en suite bathrooms and are air-conditioned. The best feature at Ongava Lodge is its roomy and inviting main lounge and dining area, overlooking the waterhole below camp and the bushveld surroundings. The waterhole is subtly lit at night, and there is a hide (accessed by a protected walkway) from where it is possible to get good close up views of the interesting species which come to drink at night. This includes the otherwise seldomly seen black rhino. On a recent visit we point blank views of no less than 7 black rhino - including two youngsters - all at the same time, at the hide.
Game is plentiful on the Ongava property which is effectively a private game reserve. On one of our trips there we saw gemsbok, waterbuck, kudu, zebra, eland, warthog and giraffe within 30 minutes of our arrival. Like most other lodges, the Ongava properties takes its guests on two game outings each day, usually heading into Etosha national park in the morning and exploring the 115-square-mile reserve in the afternoon. Alternatively, guest may opt to go on a guided walk on the reserve, in search of the rare white rhino, which is regularly seen here. Besides the smaller, more common mammals like the bat-eared fox and black-backed jackal, in Etosha there is an excellent chance of spotting game such as lions, cheetah, black rhino, giraffe, elephant, springbok, gemsbok, Burchell's zebra and wildebeest.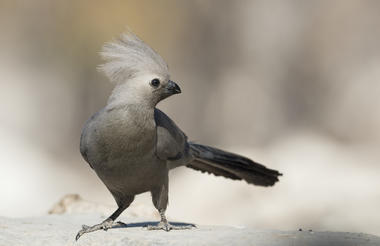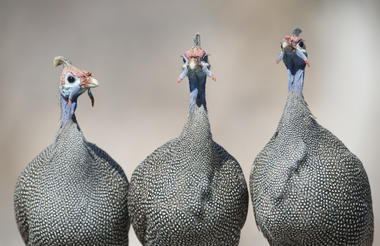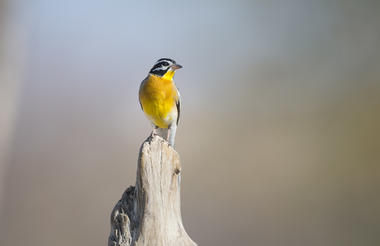 Day 8:
Ongava Private Game Reserve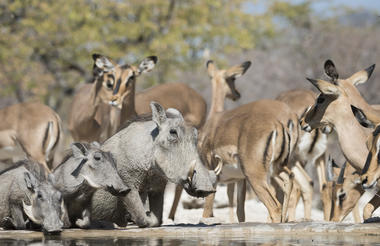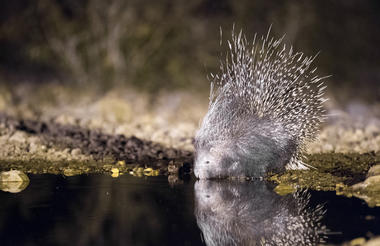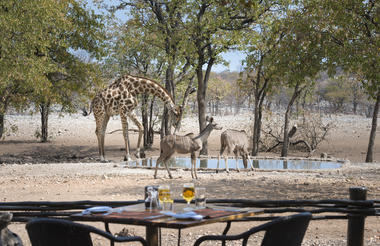 Day 9:
Ongava Private Game Reserve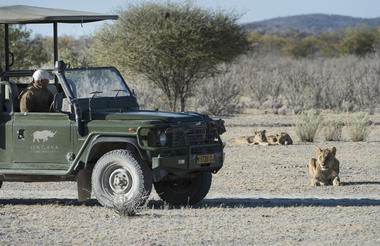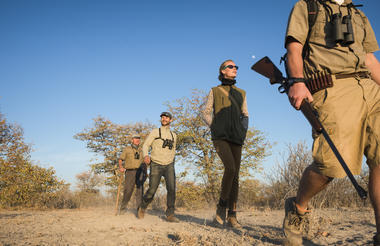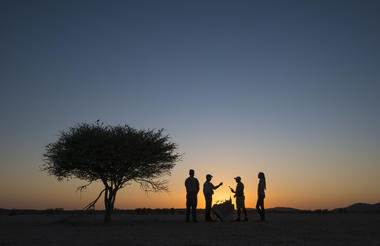 Scheduled light air transfer from Ongava Lodge to Windhoek.
Scheduled flight WDH-CPT SW 709 1730-1930
Scheduled road transfer from CPT Airport to Leeu House in Franschoek.
Accommodation: Leeu House
Rooms: Classic Room
Breakfast (07h0011h00), limited mini bar (includes mineral water, small red and white wine, sweet and savoury snack) and Nespresso machine in room, unlimited Internet access, all national phone calls, complimentary tasting of Mullineux & Leeu Family Wines at Leeu Estates per guest per stay, complimentary shuttle services within a 10km radius & 15% VAT.
The individually styled bedrooms feature superbly comfortable beds with high quality linen, and are fitted with sisal carpets, and curtains and upholstery in natural linens, contributing to the relaxed yet sophisticated feel. The luxury en-suite bathrooms have marble floors, free-standing baths and/or generous showers, underfloor heating and heated towel rails.
Set in the vibrant epicentre of Franschhoek village, resident guests can enjoy leisurely meals in The Conservatory, or al fresco on the terrace.
Set among the vineyards, Leeu Spa is a wellness sanctuary that offers authentic massages and holistic treatments by expert therapists.
Note from Bert: Franschoek is the prettiest and most interesting of the Cape wine lands towns. Surrounded by the Franschoek Mountains - part of the Cape Fold Mountains, one of South Africa's oldest geological formations - the views of the vineyards, mountains and white gabled Cape Dutch buildings are unbeatable. Plenty of things to do and see and several top-notch restaurants to be visited.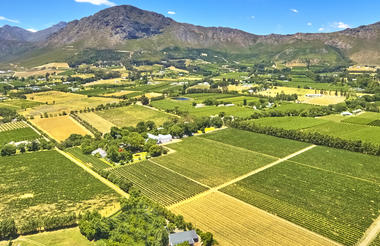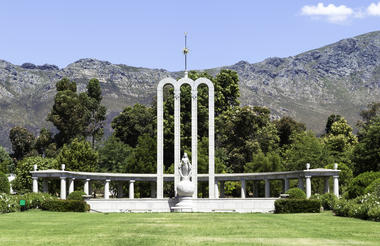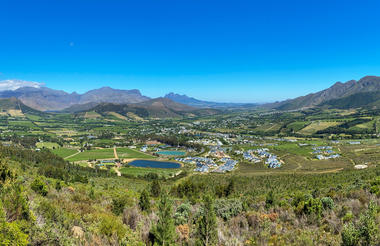 Wilderness Private Journeys
Dominic Dear Wine/Art Tour
Late this morning you will be collected for a half day private wine & art tour, visiting a couple of boutique wineries, a local craft beer brewery (if you wish) for lunch and an art installation at one of the estates, such as La Motte.
Franschoek Valley Tour
Discovering the best of Franschhoek – from boutique wine farms to galleries and the history of the Franschhoek Valley
After a pick up from your hotel, we start the day with an introduction to the village, discovering the fascinating history of Franschhoek, and visiting some of the best local galleries on foot.
The rest of your day can then be tailored to your specific interest, be that fine wine, craft beer, art or gardens. If your focus is on great wine, we will visit three wine farms, or for beer enthusiasts, we have access to three craft breweries. Art lovers can delve deeper into the fantastic collections on three of the estates, and there's something special for keen gardeners too!
We will visit two of the following wine farms: Haut Espoir, Boukenhoutskloof, Stony Brook, GlenWood, Eikehof, Colmant, La Bri and Moreson. We specially select these farms to visit as they are small, exclusive, off the beaten track wineries, producing exceptional wines, catering for those looking for something unique. Each one produces a variety of cultivars and depending on your preferences we can focus on those producing classic whites, such as chardonnay and Semillon, or the full-bodied reds, shiraz, merlot and cabernet sauvignon, or enjoy the wonderful Method Cap Classique's.
OR if you are more of a beer connoisseur, Franschhoek has three craft breweries: Hey Joe, The Franschhoek Beer Company and Tuk Tuk microbrewery, producing local ale, lagers and Weiss beer. We will visit all three to get a real taste of local beer production.
OR, if you are interested in continuing with your art adventure, we visit the following estate-based galleries based in the valley:
Grande Provence, who showcase works by leading and emerging South African artists. They have an extensive selection of artworks including paintings, drawings, original prints, ceramics, photography and traditional beadwork. Their sculpture garden features specially selected works from world renown artists like Anton Smit and others within the beautifully landscaped estate.
La Motte, one of the oldest farms in the valley, who's museum and gallery features the history of the estate and its magnificently renovated buildings. It is permanent host to the heritage collection of Jacob Hendrik Pierneef and also presents other excellent rotating exhibitions.
OR, a short distance from the village is the magnificent Babylonstoren estate. A must visit for those with a keen interest in gardens. Their extensive fruit and vegetable garden has great botanical diversity and their numerous farm shops sell a fascinating range of goods.
In between the farm stops we head over to the Berg River Dam viewpoint, for stunning views and tranquility of the dam and Groot Drakenstein mountains that very few people get to see.
We also visit the iconic Nelson Mandela statue at Drakenstein prison. This is the site where Mandela was released in 1991, with the eyes of the world watching, after spending 27 years in prison, to go on to become the country's first democratically elected president.
Lunch stop at a local restaurant (for own account).
Franschhoek Valley Half Day Discovery Tour includes tour, entrance fees, snack break and pick up from hotel in the Franschhoek area. Excludes lunch.
All tours are on a private basis.
Half day tour is 4-5 hours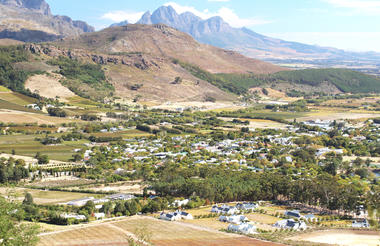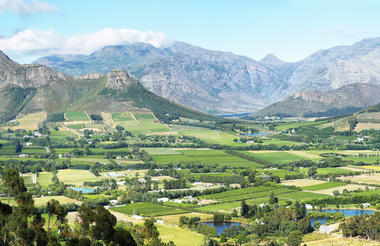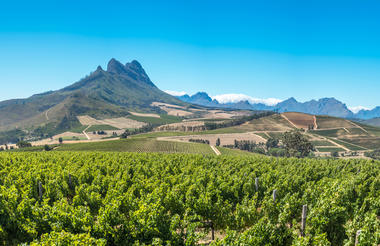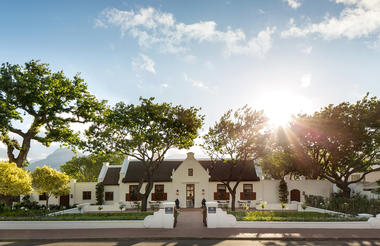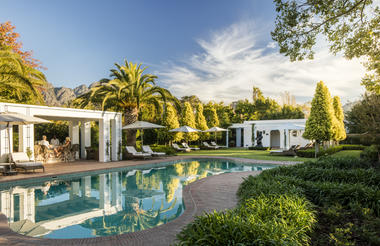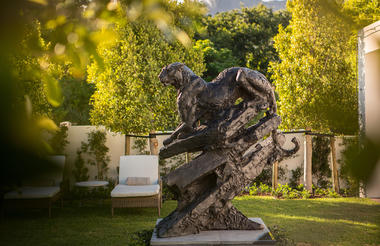 Scheduled road transfer from Leeu House to CPT Airport for your departing flight.