Arrival - self booked flight into JRO (Arrival details TBA)
Transfer by Legendary Lodge to the lodge
Legendary Lodge for 1 night - Full Board - arrive lunch
Legendary Lodge is located at the foothills of Mount Meru, on the outskirts of the bustling town of Arusha and is the gateway to the Northern Safari Circuit of Tanzania. This classic haven boasts lush tropical gardens and is surrounded by a working coffee farm. The peaceful cottages are the perfect place to prepare for or reflect on your safari.
Featuring intimate living, king size beds with mosquito nets and all the comforts of a modern home, including satellite television, direct dial telephone, broadband internet and a private bar. Guests can indulge in gourmet meals including a full English breakfast, delicious lunches and romantic candle-lit dinners, served with a selection of fine wines.
Optional activities offered are a savory coffee tour, shopping at the nearby Cultural Heritage Centre or an excursion to Arusha, Tarangire and Manyara National Parks or other nearby attractions. Legendary Spa offers a full range of professional services. After a long flight, ease your body into African time with a relaxing massage or reflexology treatment. After your safari, re-hydrate your skin with a personalized face or body treatment.
The lodge is conveniently located, a mere ten minutes' drive from the Arusha Airport and 90 minutes from Kilimanjaro International Airport.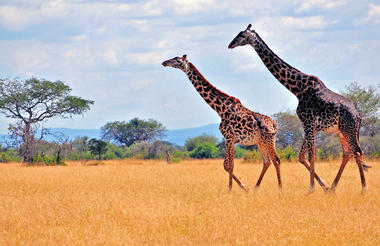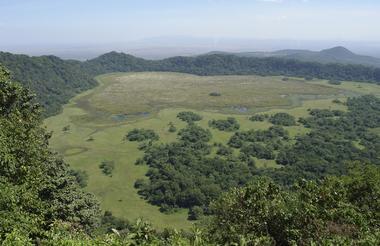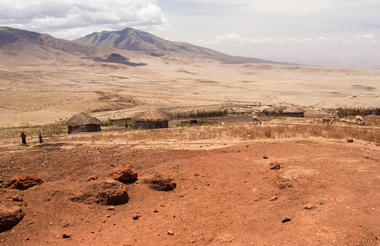 Transfer by Legendary Lodge to Arusha airport
Coastal Scheduled Flight Arusha to Manyara (10h45/11h20)
Transfer by Nomad private car/guide to camp
Entamanu Ngorongoro for 2 nights - Full Board - arrive lunch
Perched high on the wild side of the Ngorongoro Crater rim, Nomad's Entamanu Ngorongoro is a thoughtfully designed refuge in this elemental place, from which to explore the unique highland environment. Surrounded by the soaring peaks of dormant volcanic hills and the ebb and flow of Maasai pastoralist life, this is a place to explore beyond the hustle and bustle of the tourist trail. Not only to visit the Crater, but to understand it as part of a wider environment.
Seven large en-suite tents, two of which are family units made cozy with heaters, warm textiles and sheepskin look across the iconic Crater view, with a backdrop of ancient acacia trees. The style here is as unique as the location - everything carefully handcrafted locally to the highest standard.
There's nothing tame about this location – the high altitude sun has some real heat and the wind can be biting and sometimes noisy. Nomad Tanzania have taken up the challenge to create a camp that makes the most of the extraordinary view while providing warmth and shelter from the elements, while being entirely removable. Every design detail has been considered in light of this, while still providing comfort in this elemental place.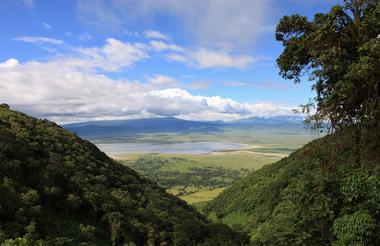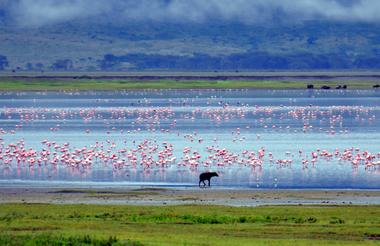 Note from Bert: We are sometimes reluctant to recommend Ngorongoro Crater to prospective visitors because it is somewhat over-traveled and over-priced, even over-promised.
Even so, if you can overlook the presence of just one too many minibus - or maybe early on a quiet day - Ngorongoro Crater can still live up to its reputation as a Garden of Eden, or a Shangri-La of wildlife. Ngorongoro Crater is one of those exceptional natural places on earth where reality meets and sometimes exceeds expectation. Vague images that may have formed in one's mind over many years of anticipation are instantly reframed and focused, upon your first view of the crater, from the top of the descent road. Indeed, Ngorongoro Crater belongs squarely in that rather over-crowded pantheon of 'natural wonders of the world'.
Here, in an area of just about 10 miles square, you essentially have a microcosm of practically all the natural habitats of East Africa: lakes, marshes, rivers, grassy plains, woodland, forest and hills. For such a small area, the crater (more correctly a caldera), is extremely productive and as a result it sustains large numbers of an amazing variety of animals and birds.
Word of caution: Ngorongoro Crater is very popular and during some months of the year – notably July through September – it can get a little too busy for its own good.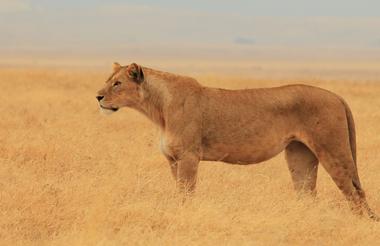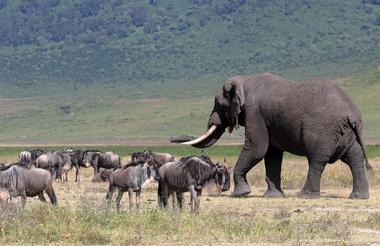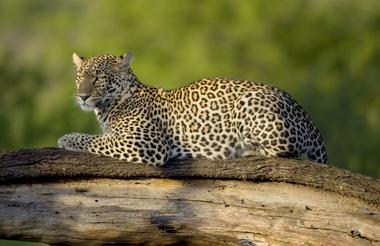 Transfer by Nomad private car/guide to Ndutu
Activities - Olduvai Gorge visit - fees prepaid
Serengeti Safari Camp # 2 for 3 nights - Full Board - arrive lunch
Note from Bert: Serengeti National Park is Tanzania's largest and most famous park. The southern short-grass plains of this vast 'sea of grass' which stretches all the way north and west into Kenya's Masai Mara, is best known as the calving grounds of the wildebeest herds.
Here, in the area around Ndutu - depending on local rainfall - the herds congregate from about November/December through March & early April for the calving season. There are often huge concentrations of wildebeest to be seen - with predators never far away. Lion and hyena are abundant and it is not uncommon to see 50 or even 100 different lions over the course of a couple of weeks or so.
Extract from Fish Eagle Safaris trip report from an earlier trip to the Southern part of the Serengeti National Park, close to Ndutu:
"Yes, Virginia there is a wildebeest migration and it is showing right now, somewhere in the theater of the vast Serengeti Plains. And what a picture it is. My first thought upon gazing out over thousands of wildebeest was that in the face of a spectacle like that, all technology fails. There is no camera or other device which can do justice to such a scene, all sound and fury in a 360 degree arc, non-stop movement and action as the wildebeest succumb to instinct and follow the rain across the Serengeti's sea of grass. Parting ahead of us like water around the prow of a boat, the wildebeest in their hundreds practically engulfed our vehicle, splashing across the muddy, wet shortgrass plains in the Ndutu area. Sounding like a bunch of bullfrogs on steroids, grunting and carrying on something fierce, they bulldozed ahead, seemingly mindless of the rogue hyenas and lions lurking all around. In the space of a couple of hours or so, we must have seen between 200,000 and 300,000 wildebeest. Unbelievable, amazing."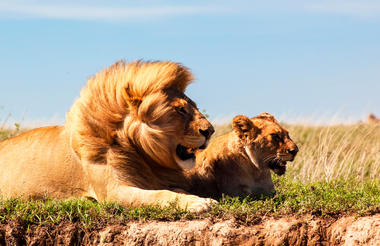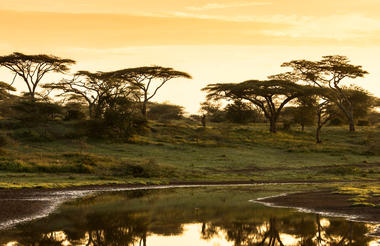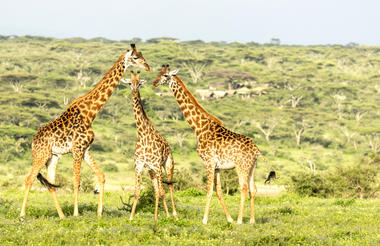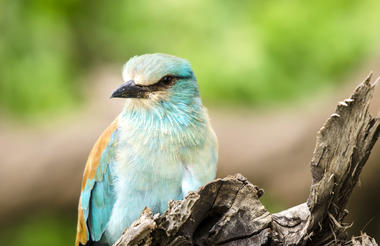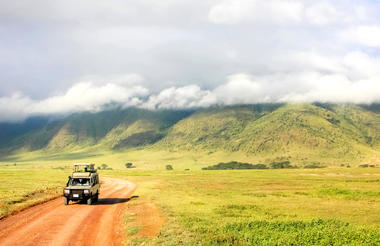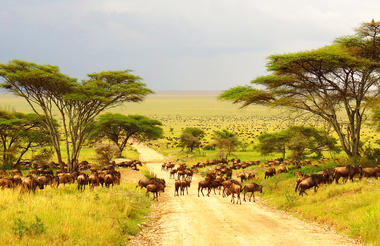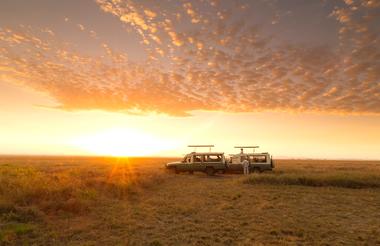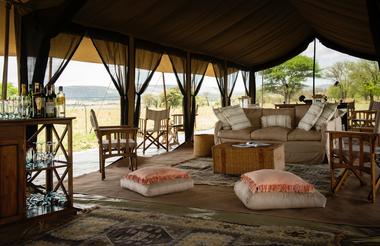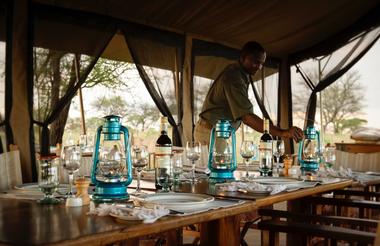 Day 7:
Northern Serengeti
Transfer by Nomad private car/guide to Ndutu airstrip
Nomad Private vehicle and guide cost as above
Coastal Schedule Flight Ndutu to Kogatende (08h50/10h05)
Transfer by Asilia to camp
Sayari Camp for 2 nights - arrive lunch
The award-winning Sayari Camp is renowned for extraordinary wildlife sightings and supreme comfort. Set on the unspoiled plains of the Northern Serengeti, close to the famous Lamai Wedge, Sayari gives you easy access to the Mara River and multiple river crossing points.
Sayari Camp offers some of the world's finest game viewing – and it does so in remarkable style. Relax in your stylish hillside suite after a day on safari, or take a dip in the infinity pool with dramatic views over the northern plains. Intimate, contemporary, and elegant, it is no surprise that this permanent camp is regularly voted one of the top safari escapes on the planet.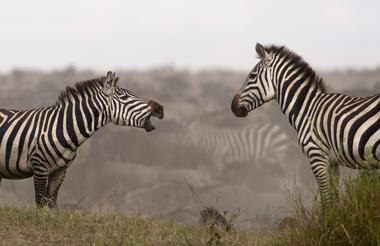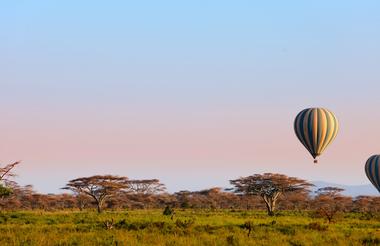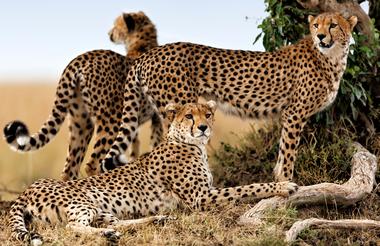 Day 8:
Northern Serengeti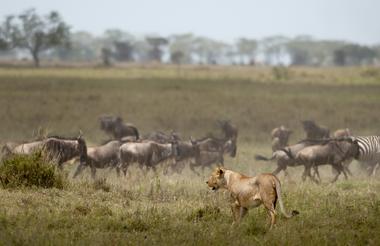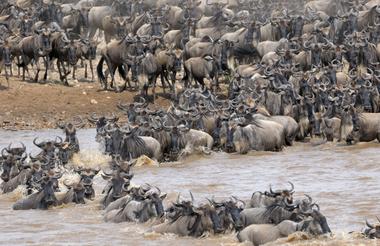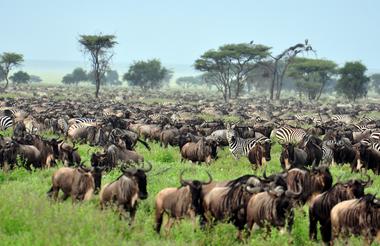 Transfer by Asilia to the airstrip
Coastal Schedule Flight Kogatende to Arusha (09h25/11h45)
Transfer by Nomad ARK to Arusha Coffee lodge
Arusha Coffee Lodge - Standard Day rooms + lunch (drinks payable direct)
Transfer by Nomad ARK to JRO
Departure - self booked flight from JRO (Departure details TBA)