Day 1 :
Nairobi
Sun. 30 Sep 2018
Arrive at Jomo Kenyatta International Airport.
Clearance with Immigration and Customs and proceed to the international arrivals hall.
You will be met by your Holden Safaris representative and transferred to Ole Sereni Hotel.
Ole Sereni is located a short drive from the international Airport and combines the best features of a modern City Hotel with the tranquillity of a safari lodge, as the hotel overlooks the Nairobi National Park. Facilities at the hotel include various restaurants and bars, swimming pool, spa and conferencing facilities. Ole-Sereni's four dining options capitalise on its unique location along the national park, enjoy breath-taking views whether looking out over the infinity pool or from the fourth-floor at Eagle's The Steakhouse.
Dinner at the hotel
Overnight: Ole Sereni Hotel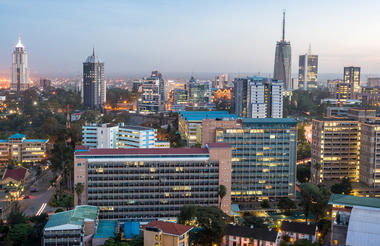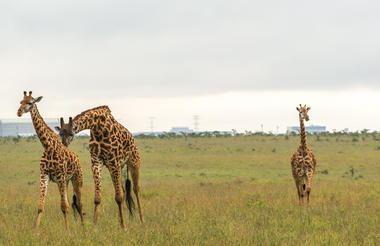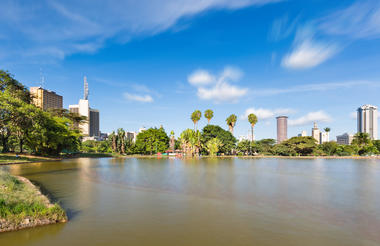 Included
Meet and greet at airport on arrival
Transfer to Ole Sereni Hotel
Dinner
Day 2 :
Nairobi
Mon. 1 Oct 2018
07:00 Hrs: Breakfast at the hotel.
08:00 Hrs: Visit Fanaka School which educates preschool children and an opportunity to talk to the teachers and volunteer in the classroom.
Visit Mt. Olive Academy - a girls boarding school and participate in classroom activities.
Both schools are run through donations received by African Child Foundation. (AFC)
Fr. Henry's vision is to save lives and try to break the cycle of poverty for as many children as possible. Giving these children a good educations will hopefully create an environment that leads to future opportunities.
Fananka (Swahili for God's providence) School, educates preschool children through the 5th grade and all the children are fed two healthy meals a day.
Mt. Olive Academy is a highly competitive boarding middle school, for girls, grades 4 through 8.
Through donations the foundation has built dormitories to house over a hundred girls and a mission house.
A number of the girls have been sponsored in surrounding Secondary Schools and some have gone on to receive degrees in college.
Today you will have packed lunches at the mission centre.
Return to Ole Sereni in the afternoon.
This evening you will have a private dinner at the Fairmont The Norfork Hotel with four young women sponsored by African Child Foundation to attend Nairobi University (total 15 people).
After dinner return transfer to the Ole Sereni hotel.
Overnight: Ole Sereni Hotel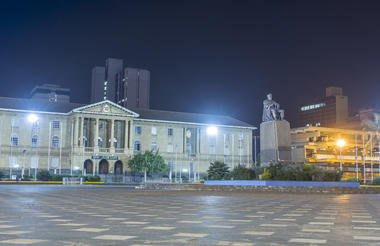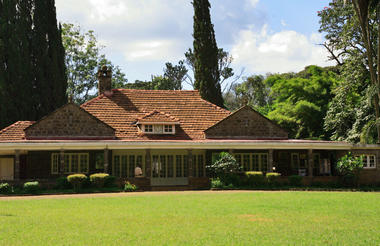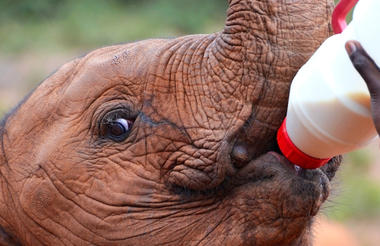 Included
Breakfast
Visit Fanaka School
Visit Mt Olive Academy
Packed lunch
Transfer to Fairmont The Norfolk Hotel for dinner
Return to Ole Sereni Hotel
Day 3 :
Nairobi
Tue. 2 Oct 2018
08:00 Hrs: After breakfast at the hotel you will be taken to the Kazuri Beads factory. This factory was started to help women around Nairobi with regular employment so that they could support their families and educate their children. Meet the women and chat with them about their lives as they work. The jewellery also makes great gifts!
09:15 Hrs: Transfer to the Nairobi Animal Orphanage
Father Henry Simaro, 3 teachers and the 16 children from Fanaka Primary School will be collected at the Fanaka School and taken to the Nairobi Animal Orphanage to meet with the travel group.
Arrive at the Nairobi Animal Orphanage at approximately 09:45 Hrs.
The Nairobi Animal Orphanage is located in the Nairobi National Park. It serves a treatments and rehabilitation centre for wild animals. The Orphanage hosts lions, cheetahs, hyenas, jackals, serval cats, rare Sokoke cats, warthogs, leopards, various monkeys, baboons and buffalo. Various birds can also be viewed including parrots, guinea fowls, crowned cranes and ostriches.
13:00 Hrs: Picnic lunches for 32 people (16 children +16 adults) at the Orphanage grounds
Later in the afternoon, return to the hotel to freshen up.
Welcome dinner with Father Henry Simaro of the African Child Foundation @ 7pm, and learn about the foundation and what they do. Since 2006, the foundation has clothed, fed, given safe shelter and provided a quality education to over 900 orphans and vulnerable children. Many have relocated and about 400 children remain in Fr. Henry's care
Overnight: Ole Sereni Hotel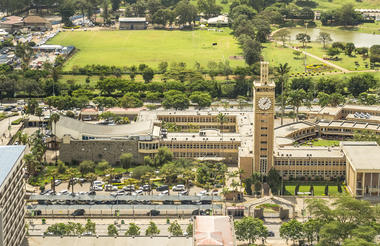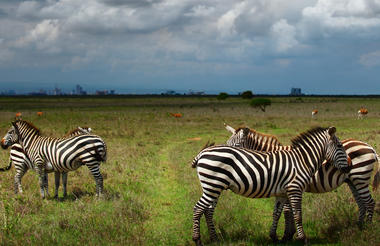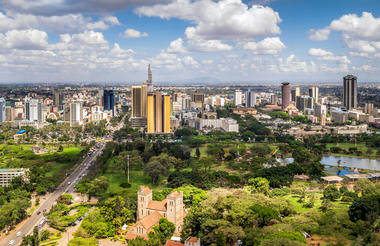 Included
Breakfast
All transfers
Visit to the Nairobi Animal Orphanage
Picnic lunch in the orphanage grounds.
Visit Kazuria Bead factory
Welcome dinner at Ole Sereni Hotel with Father Henry Simaro
Day 4 :
Masai Mara
Wed. 3 Oct 2018
07:30 Hrs: Breakfast at your hotel
08:30 Hrs: Transfer to Wilson Airport Nairobi
10:30 Hrs: Depart Air Kenya Aviation scheduled flight to the world famous Masai Mara National Reserve
11:10 Hrs: Arrive at Ol Kiombo airstrip and met by our professional English speaking driver guide.
Transfer Mara Ngenche Safari Camp with a game drive en-route to arrive in time for lunch.
Mara Ngenche Safari Camp is located on the banks of the Mara and Talek Rivers, in the heart of the Masai Mara.
Masai Mara is one of Africa's greatest wildlife reserves. Acacia dotted plains, tree-lined rivers and woodlands are abundant with wildlife and an array of birdlife. Game viewing is spectacular year round; you may see a pride of lions stalking their prey, observe a herd of elephant and their fascinating social structure, or see pods of hippo wallowing in the rivers. The great wildebeest migration is one of nature's wonders; an estimated two million animals migrate in a year-round pattern through Tanzania and Kenya, following the rain. The annual wildebeest migration is the largest mass movement of land mammals on the planet.
Relax a while at the camp before departing for your afternoon game viewing drive in the reserve until sunset. As the afternoon game drive comes to an end, drive to a specially chosen vantage point and take in the beauty of the rapid sunset as it transforms the world in a matter of minutes.
Dinner at the camp.
Overnight: Mara Ngenche Safari Camp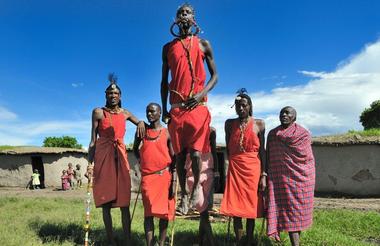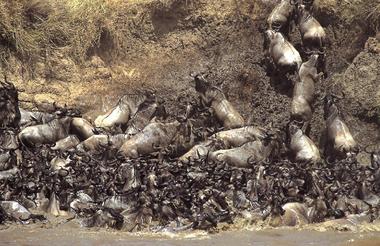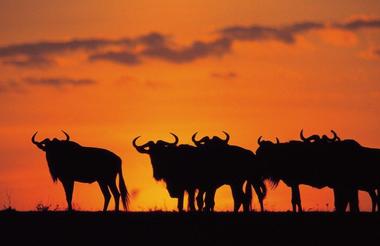 Included
Breakfast
Transfer to Wilson Airport
Air transfer to Ol Kiombo Airstrip
Transfer to Mara Ngenche Safari Camp
Lunch at the camp
Afternoon game viewing
Dinner
Day 5 :
Masai Mara
Thu. 4 Oct 2018
Today you will experience the Masai Mara from a Hot Air Balloon.
The balloon trip begins at the first rays of sunrise, floating gently over the plains and giving a bird's eye view of the game below. You will be woken early in the morning with a hot beverage and biscuits served in your tent and then be driven to the balloon launch site
After approximately one hour the balloon lands and nearby breakfast is already being prepared as glasses of bubbly toast your flight.
Return to the camp for lunch and a late afternoon game drive.
Overnight: Mara Ngenche Safari Cam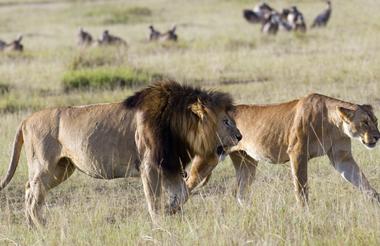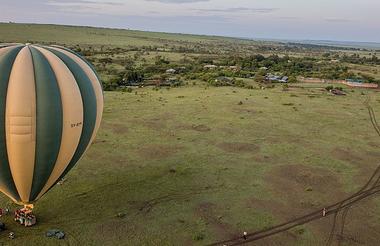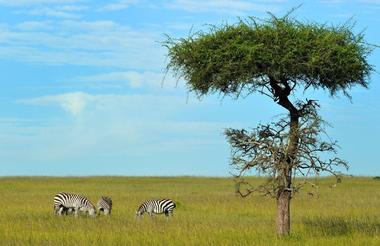 Included
Hot Air Balloon Safari
Breakfast
Morning and Afternoon game drive
Lunch at the camp
Dinner
Day 6 :
Masai Mara
Fri. 5 Oct 2018
Breakfast at the camp.
Morning game drive
Visit Ole Keene Maasai village at the invitation of Chief Ole Nairuko. Opportunity to interact with the women and marvel at their amazing beadwork.
The Maasai are proud pastoralists and warriors. Maasai Chief Ole Nairuko is one of our guides and he also acts as our cultural ambassador. Spend time in the "Manyatta" and immerse yourself in one of earth's oldest cultures. The ladies and children will entertain you with traditional songs and while at the village see how they all go about their daily lives in a very traditional way like making fire with sticks!
The Maasai women are well known for there traditional handmade bead jewellery. The women set aside time every day to meet and work on beaded jewellery which includes colorful necklaces, bracelets, and pendants. It is considered the duty of every Maasai women to learn the jewellery making craft. All the tribes' beadwork is made by the women but is worn by both women and men. The beadwork an individual wears will signify their age and social status.
Return to the camp for lunch.
Afternoon game drive ending with a sundowner at a specially chosen vantage point
Dinner at the camp.
Overnight: Mara Ngenche Safari Camp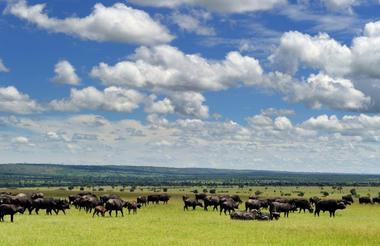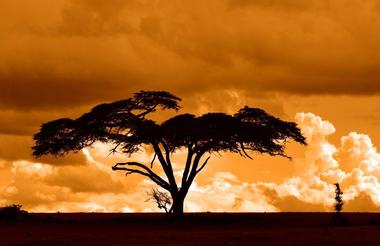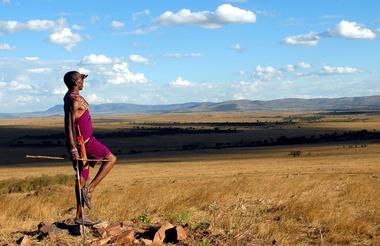 Included
All meals
Visit to Ole Keene Maasai Village (invitation by Chief Ole Nairuko)
Game viewing activities
Day 7 :
Nairobi
Sat. 6 Oct 2018
07:00 Hrs: Breakfast at the camp
After breakfast transfer to Ol Kiombo Airstrip and enjoy game viewing en route.
Depart the airstrip @ 11:15 hrs and arrive Wilson Airport @ 13:00 hrs
On arrival at Wilson Airport, you will be met by our representative and transferred to the Tamambo Blixen Garden restaurant for lunch.
After lunch visit to the Ocean Sole Foundation's shop.
Passionate about the ocean, its ecosystems and marine wildlife, Ocean Sole recycle flip-flops that are found littered on beaches and in waterways of Kenya. As a bizarre and yet very real phenomenon, thousands of flip-flops are washed up onto the East African coast creating an environmental disaster. The discarded flip-flops are transformed into elephant, giraffe, lion, rhino, dolphin and other attractive pieces and each piece comes with an important message about marine conservation
17:00 Hrs Adoption visit at The David Sheldrick Wildlife Trust's Elephant Orphanage and adopt 6 baby elephants. Interact with the young elephants as they get ready to settle down for the night.
The David Sheldrick Wildlife Trust's elephant Orphanage is a small charity, established in 1977 by Dr. Dame Daphne Sheldrick to honor the memory of her husband, famous Naturalist, David Sheldrick, the founder Warden of Tsavo East National Park in Kenya. For over 25 years Kenya born Daphne lived and worked alongside her late husband and during that time she raised and rehabilitated back into the wild orphans of misfortune from many different wild species, including elephants aged two and upwards. She is a recognized International authority on the rearing of wild creatures and is the first person to have perfected the milk formula and necessary husbandry for both infant milk dependent elephants and rhinos. For her work in this field Daphne has received several prestigious awards. The elephant orphans raised by the Trust are gradually rehabilitated back into the wild elephant community of Tsavo National Park when grown, a transition that is made at their own pace and in their own time, but usually taking approximately eight to ten years. A number of ex-Nursery orphans have now had young born in the wild
Adopting one or more of these special animals gives them a second chance at living freely in the wild.
Return to your hotel to freshen up for dinner
Farewell dinner at Tamarind Tree Hotel.
Overnight: Tamarind Tree Hotel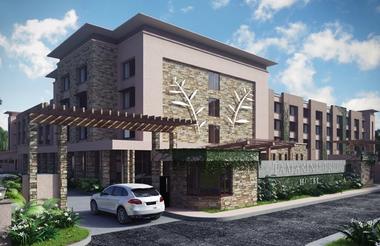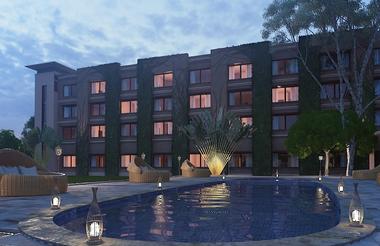 Included
Breakfast
Transfer to Ol Kiombo Airstrip for flight to Nairobi
Scheduled flight to Nairobi
Transfer to Tamambo Karen Blixen Restaurant for lunch
Visit Ocean Sole Foundation shop
Visit The David Sheldrick Wildlife Trust Elephant Orphanage for adoption
Farewell dinner at Tamarind Tree Hotel
Day 8 :
End of Itinerary
Sun. 7 Oct 2018
07:30 Hrs: Breakfast at the hotel.
08:30 Hrs: Luggage will be transferred to the Crown Plaza Airport Hotel Nairobi where day rooms have been secured for later in the day.
09:00 Hrs: Depart for a full day of excursions in the Karen suburb of Nairobi.
Begin with a visit to the Giraffe Centre which offers the unique experience of hand-feeding these gentle giants at eye level from a raised platform, while watching the warthogs below snuffle around looking for titbits. The centre is the headquarters of the African Fund for Endangered Wildlife (AFEW), a Kenyan non-profit organization, which was setup to raise money to relocate the endangered Rothschild giraffe to safe areas.
A representative of AFEW will talk to you about the work they do and how they work to promote sustainable environmental conservation through education of the youth.
Also visit the Karen Blixen Museum for a glimpse of typical colonial life in Kenya. The house was once the center piece of a farm owned by Danish Author Karen and her Swedish Husband, Baron Bror von Blixen. The museum gained international fame with the release of the Oscar winning film 'Out of Africa', which is based on Karen's life.
Karen Blixen was born in Denmark in 1885. She came to Kenya in 1914 to join her fiancé Baron Bror Von Blixen Fincke and they got married here on the second day of her arrival.
Baron Bror Von Blixen had persuaded her to buy a farm to rear Dairy cattle, but this plan changed, instead they engaged in coffee farming. Karen faced many challenges in Africa; she suffered poor health, a failed marriage which ended in divorce and the collapse of the coffee farm which left her bankrupt. Karen had invested so much in the farm and worried about the welfare of her farm workers, she kept on trying hoping that the returns would improve, but this was never to be.
During her time in Kenya, she fell in love with an English man, Denis Finch Hatton and his death in Tsavo in 1930, coupled with the failed farming, left her will little choice but to return to live with her mother at the family home in Denmark where she spent the rest of her days. It was at this stage in her life that she seriously started her literary career and wrote a number of successful books Including, Out of Africa, using a pen name, Isak Dinesen. Karen continued to write up to the time of her death in 1962. In 1964 the Danish government donated the house where she lived to the then new Kenyan government as an independence gift. The house opened to the public in 1986 as one of Kenya's national museums. Some of the original furniture has been restored and is on display at the house.
Enjoy lunch at the Talisman restuarant before your transfer to the Crown Plaza Airport Hotel Nairobi where you will be able to freshen up. Buffet dinner available at the hotel before your transfer to Jomo Kenyatta International Airport for your outbound flights to the US.
Included
Breakfast
Visit to Giraffe Centre
Visit to Karen Blixen Museum
Lunch the Talisman
Travel Group transfer to Crown Plaza Airport Hotel Nairobi (day rooms)
Buffet Dinner
Transfer to Jomo Kenyatta International Airport