Touch down in Arusha! Once through customs and immigration, you'll be met by our local Born Free representative and transferred to your hotel for the evening. Relax for the rest of the day- the adventure begins in the morning!
Lying on the gently rolling foothills that cascade down from the ever-present Mount Meru is the bustling and vibrant town of Arusha. It is on the outskirts of this town, hidden amongst one of Tanzania's largest coffee plantations that you will find Arusha Coffee Lodge. Comprised of 30 Plantation Houses that radiate out into the evergreen coffee fields, Arusha Coffee Lodge has been designed around the original landowner's home that dates back to the early 1900's. With spacious rooms, an intimate bar, enclosed pool, and cozy lounge; the lodge is an ideal place to relax before your safari.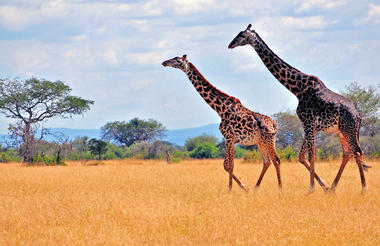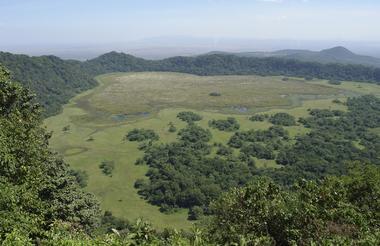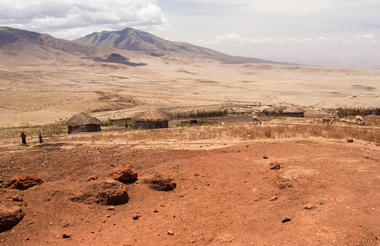 Expert tips
Drive time (Airport to Lodge): Approximately 1 - 1.5 hours
Days 2 - 3 :
Tarangire National Park
Today you'll meet your private guide who will be with you through the duration of your safari in Tanzania. You will board your 4x4 vehicle and head out to Tarangire National Park and your camp for the next two nights. During your stay, you'll adventure on game drives and a walking safari.
Tarangire National Park is a wonderful contrast to other areas one visits while on safari. It is uniquely beautiful with a prehistoric look due to large baobab and sausage trees. The lifeblood of this park is the Tarangire River which bisects the length of the park providing fresh water for wildlife in the dry months from June to September. Herds of Cape buffalo numbering 300 to 400 at times are seen on their way to slake their considerable thirst in the river. The sight of a large herd determinedly crossing a track is always impressive. Tarangire is believed to have some of the largest elephant herds in Africa and the park has a good cat population with the three major species of lion, leopard, and cheetah being well represented.
Swala Camp is nestled in a beautiful, acacia forest enclave at the edge of the gently rolling savanna in the southwest corner of the Tarangire National Park. Swala offers a very exclusive safari experience. The picturesque landscape is filled with ancient baobab trees, ambling elephants, and birds in flight. Each of the private, permanent tents features en suite bathrooms with showers and terraces overlooking the bush and the Gurusi swamps. The main dining area, lounge, deck and library feature contemporary African design under traditional thatched structures. An infinity pool looks out over the waterhole which is frequented by elephants as well as the big cats that are often seen amongst the surrounding baobab trees.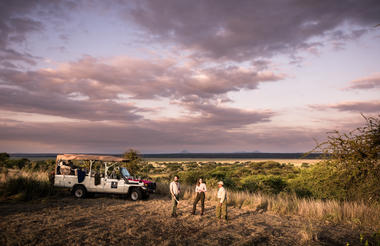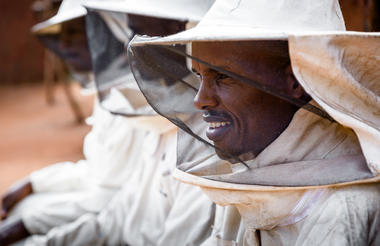 Expert tips
Drive time (Arusha to Tarangire): 2 – 2.5 hours
Bonus Features: We are also including a night game drive, where you may catch some predator activity that you missed in the heat of the day, as well as a guided walking safari!
Included
Private Game Drives- also including 1 night drive, and 1 Guided Bush Walk
Beverages & non-premium liquor, and Laundry
Day 4 :
Ngorongoro Crater
After breakfast you will continue on to lush Lake Manyara National Park to take in the wildlife and lovely scenery.
Ernest Hemingway called Lake Manyara "the loveliest place I have seen in Africa." More than two-thirds of this 127 square mile park is covered by lake, and the highlight of the park's wildlife is the wonderful hippo population. Elephant, giraffe, monkeys, impala, and more than 380 species of birds are also to be found among the park's five different vegetation zones. The park is also known for its tree-climbing lions, which may be seen sleeping off the heat of the day on a nearby branch.
Afterward, continue your journey towards Ngorongoro to your lodge, set high on the rim of Ngorongoro Crater… Ngorongoro Serena Lodge is regularly voted one of the best hotels in the world. This unique lodge clings to the rim of the magnificent Ngorongoro Crater, the largest and most perfect volcanic crater on Earth. Long and low, the lodge is built from local river stone and camouflaged with indigenous vines. Designed to blend completely into the landscape, it is entirely invisible from the floor of the Crater 600 meters below.
Hugging the contours of the jagged Crater rim, the lodge takes its inspiration from the so-called 'Cradle of Mankind', the prehistoric site of Olduvai Gorge, which lies close by. Linked by arched stone passages and timbered decks, its walls are decorated with stylized prehistoric cave paintings and lit by flaring torches. At the stone heart of the lodge burns a glowing fire, which is kept constantly alight. Decorated with cave paintings, the rooms are strung around the Crater rim. Each has its own rock- enclosed balcony, and all enjoy completely uninterrupted views of the volcanic amphitheater far below.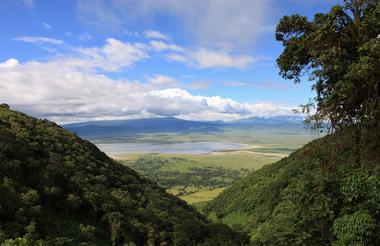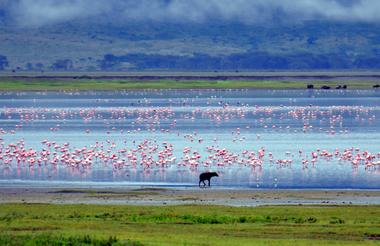 Expert tips
Drive Time (Tarangire to Manyara): 2- 3 hours + plus game viewing
Included
Included Activities: Private Game Drive in Lake Manyara National Park
Day 5 :
Ngorongoro Crater
A highlight awaits you this morning as you depart to explore what is commonly referred to as the World's largest wildlife zoo. After breakfast, you descend through the early morning mists and 2,000 feet into the crater. After a picnic lunch, continue game viewing before returning to the crater's rim and your lodge in the late afternoon.
Known as 'The eighth wonder of the world' the Ngorongoro Crater is one of Africa's best-known wildlife arenas. A UNESCO World Heritage Site, it offers a unique biosphere, which has remained virtually unchanged since the dawn of time. Deep within the Crater, enclosed by towering walls, some 25,000 large mammals wander the plains, lakes and forests of 'The land that time forgot', dominated by enormous bull elephants, rhinos and lions.
Ngorongoro Crater is the World's largest intact volcanic caldera. Due to its size and diversity, the crater floor is comprised of several distinct areas, ranging from forest, swamps, lakes and springs, to open grassland and some sandy dunes. It's an awesome wildlife experience.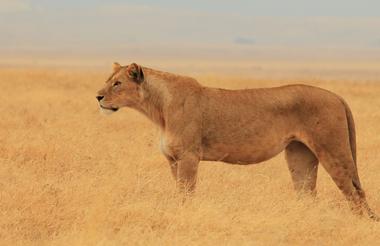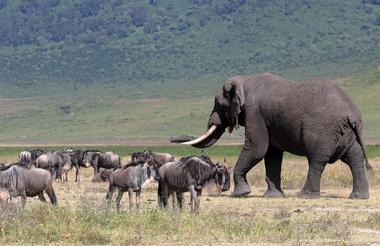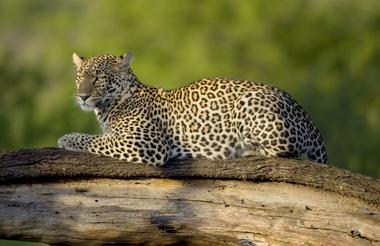 Expert tips
Drive Time: full day of game viewing
Included
Included Activities: Private Game Drive in Ngorongoro Crater
Days 6 - 8 :
Southern Serengeti
Continue with your guide to the Southern Serengeti area, where you will spend the next two nights. Along the way, you'll visit an authentic Maasai village. This village is bustling with activity and is still as it was many years ago. You are greeted and taken on an in-depth tour of the community to learn about their local customs and traditions.
Spend the next three days on game drives in this fantastic region! These areas are rich in the phosphorous-rich grasses that the wildebeest are after, but after the rains there are few if any sources of permanent water so the grasses rapidly dry out forcing the wildebeest to move on. It's on these surrounding plains that the wildebeest cows will congregate to give birth, in an extraordinarily effective coordinated bout of calving for a period of a month or so around February. The intention is to overwhelm the predators by sheer numbers when the young calves are at their most vulnerable so, as you'd expect there is lots of lion, hyena and cheetah action during this time and always plenty to see.
Lake Masek Tented Camp - your luxury tented camp is located by the shores of Lake Masek in Ndutu, situated between the vast plains of the Serengeti National Park and the northwest side of the Ngorongoro Conservation Area. The southern plains are at their best between mid-December and late May when this whole area comes alive as millions of wildebeest move onto the plains in search of the fresh green grass after the first rains.
The camp is eco-friendly as all the electric power is supplied by solar panels and water is collected during the rainy season. Each of the 20 guest tents are built on a raised wooden platform with a verandah to observe the wildlife visiting Lake Masek. The bedroom area is ample and tastefully furnished and the bathroom area has twin washbasins, a standalone bath and an outside shower is separated by a screen.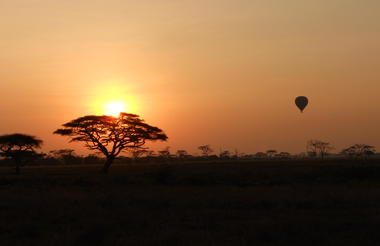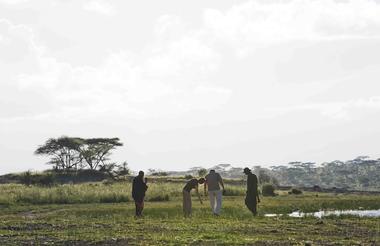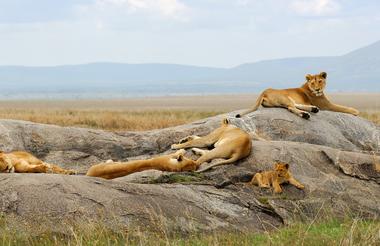 Expert tips
Bonus Feature: Cultural visit to a Maasai village
Activities and Services
Cultural visit to a Maasai village
Included
Bonus Feature: Cultural visit to a Maasai village
Included Activities: Private Game Drives in the Southern Serengeti, Maasai Village Visit
Also Includes: Beverages & non-premium Liquor
Excluded
Optional Activities: Hiking with Maasai Guide
Days 9 - 10 :
Central Serengeti
Today it's off to the central Serengeti, where you will have 2 days to take in the amazing wildlife. In between your game drives, you can relax at the swimming pool or take in the stunning views from the lodge.
Tanzania's oldest and most popular national park is the Serengeti. The Serengeti offers arguably the most scintillating game-viewing in Africa: great herds of buffalo, smaller groups of elephant and giraffe, and thousands upon thousands of eland, topi, kongoni, impala and Grant's gazelle. This area never ceases to amaze. In one sweep of binoculars you can see a hundred elephants, lion, cheetah, impala, zebra and wildebeest. Born Free's game viewing is always unlimited and we will take you to the best areas of the park. Each day will be a surprise as the daily wildlife routine unfolds – however, there will be nothing routine as far as what you see!
Soroi Serengeti Lodge is set high on a natural plateau with endless views over the vast plains of Musabi in the Serengeti, giving you a truly unforgettable African experience. The thatched chalets are built on the edge of the plateau, offering an expansive view. The lodge features a three-tier decked main area, with swimming pool, fire place, open plan restaurant and kitchen where classic meals are served with care and attention. This Eco-Friendly Lodge uses solar hot water geysers, inverters with batteries and organic room amenities, ensuring a low carbon footprint.
Twenty- five individual thatched Chalets complete with hardwood floorboards and dreamy mosquito nets are linked to the main lodge by raised timber walkways. With soft comfortable furnishings, combining fabrics and finishes with traditional earthy tones, the Chalets feature large expanses of glass and spacious viewing decks for better game viewing. Each Chalet features a writing desk and chair, mini-fridge and en-suite bathroom with a stand-alone bath, an outside shower for the more adventurous and a full range of guest amenities. The Suites enjoy an extended lounge area with wifi & TV.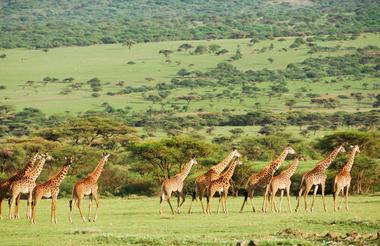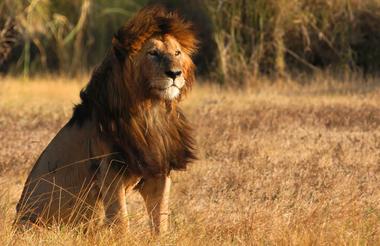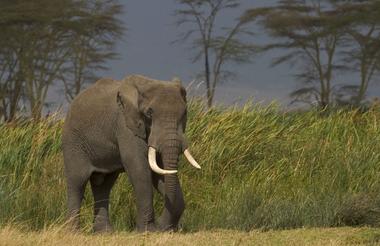 Expert tips
Drive Time: 3 - 4 hours, with game viewing en-route
Included
Included Activities: Private Game Drives in the Serengeti
Excluded
Optional Activities: Hot Air Balloon Safari
Day 11 :
End of Itinerary
Bid farewell to the bush and the friends you've made at camp as you are escorted to the airstrip for your flight to Arusha (flight included). Upon arrival, you will be greeted and escorted to the Kilimanjaro airport for your international flight home.
Take with you the memories of a wonderfully unforgettable African experience!
Expert tips
Depending on international flight times, we can arrange for the additional touring in Arusha and/or a day-room where you can refresh before your flight.