Your South African adventure starts when arriving at the ORT International Airport in Johannesburg. Upon arrival you will be met by a Trip,me representative who will accompany you to the check in counter for your connecting flight to King Shaka International Airport in Durban.
After a 2 hour flight you arrive in Durban. Durban is blessed with balmy weather all year round, making it a perfect holiday paradise. Your driver will meet you at the arrivals hall and transfer you to your hotel in Umhlanga.
The rest of the day is at leisure to relax and enjoy all this beautiful beach front hotel has to offer.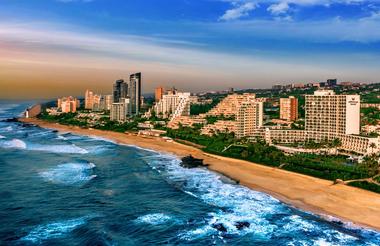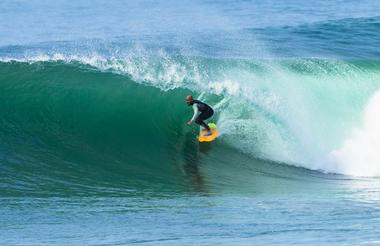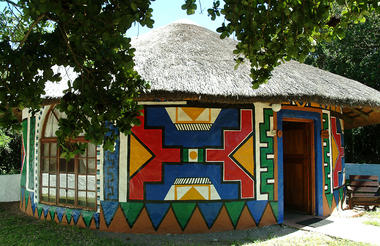 Included
Domestic Flight from Johannesburg to Durban
Meet & Greet Service in Johannesburg
Transfer from the King Shaka airport to your guesthouse in Umhlanga
Excluded
Meals & Drinks not specified
DURBAN CITY & VALLEY OF 1000 HILLS / PHEZULU – FULL DAY
After breakfast we travel along the Golden Mile, the revitalised beachfront promenade which hugs the beckoning beaches of Durban, before viewing the Point Waterfront.
Continue to the small craft harbour viewing the 8th largest harbour in the world. Drive past the sugar terminals and very busy harbour warehouses on our way to the University of Natal – Durban Campus where we view lovely sights of the harbour down below.
Afterwards we visit to the bustling African/Indian Markets at Warwick Triangle – home to 9 distinct markets developed around Durban's largest public transport interchange and where approximately 6 000 street vendors ply their trade, to an average of 460 000 daily commuters – an authentic experience.
From culture to nature, we visit the peaceful Durban Botanical Gardens founded in 1849, a treasure trove of massive trees from Asia, Africa and America, and a magnificent orchid house.
We then proceed to an icon of KwaZulu-Natal, the Moses Mabhida Stadium, where you will have the option of experiencing the cable car ride (for own account) to the top of the stadium for that phenomenal view of Durban and its surroundings.
We then escape from civilization and journey inland through villages and gentle rolling countryside which give way to the most spectacular vista, known as the Valley of a Thousand Hills. At Phezulu you will be immersed in the fascinating culture and traditions of a proud Zulu Nation; have the opportunity to interact with the villagers and purchase traditional and modern souvenirs.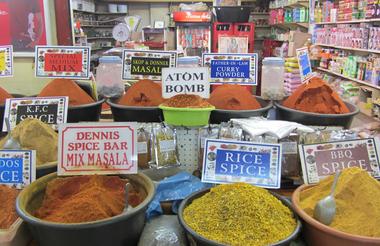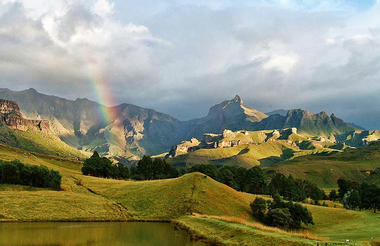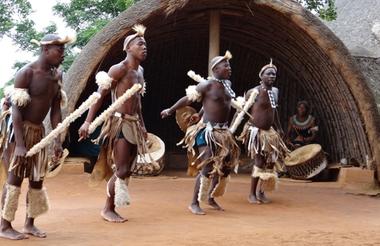 Included
Breakfast
Full Day Touring with a Registered English Speaking Guide
Durban Botanical Gardens
Moses Mabhida Stadium
Valley of a 1000 Hills
Phezulu Village
Excluded
Meals & Drinks not specified
Additional Activities
SANI PASS TOUR
We've got a little breakfast packed for us for our early morning start today! A mere 3 hours drive from the city we find ourselves in the magnificent Drakensberg Mountains. Spectacular vistas, breathtaking scenery and diverse flora and fauna are what you can look forward to experiencing today, as we explore the highlight of the Southern Drakensberg – Sani Pass! We leave our vehicle at the base station and use 4 x 4 vehicles to traverse the pass into the "Mountain Kingdom of Lesotho". En route we stop to visit with the local people in their traditional village and learn a little about their culture and way of life. Our journey continues further up the pass to the "Highest Pub in Africa" where we will enjoy a light lunch whilst marveling at the sheer magnitude and beauty of these incredible mountains. After lunch we will make our way back down the pass, through the border post and return to Durban.
PASSPORTS ESSENTIAL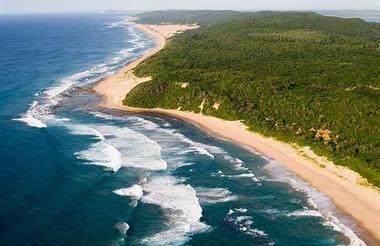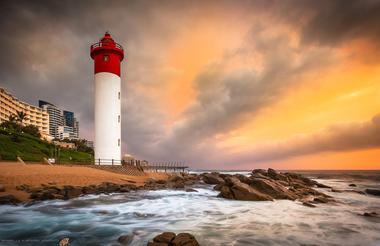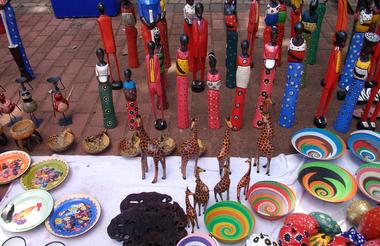 Expert tips
Wear comfortable clothes and shoes. Remember your sun glasses, hat and sun screen! Binoculars and your camera!
Included
Breakfast
Full Day Touring with a Registered English Speaking Guide
All Entrance Fees
Lunch
Excluded
Meals & Drinks not specified
Additional Activities
Another early morning start. Today we explore St Lucia, and enjoy a 2 hour cruise on Lake St Lucia, one of South Africa's 8 World Heritage sites. Here we will have the opportunity to view crocodiles and hippos in their natural habitat. After a light lunch, we depart on a visit to Cape Vidal. Cape Vidal falls within the St Lucia Marine Reserve and is situated north-east of St Lucia. It has the best of both worlds with access to the eastern shores of Lake St Lucia where there is a variety of game including reedbuck, other antelope, hippos, crocodiles and buffalo, spectacular water, forest and grassland birds and the wonderful Indian Ocean shore line with its startling array of marine animals. We return to Umhlanga, cameras filled with footage of Africa's wildlife at its best!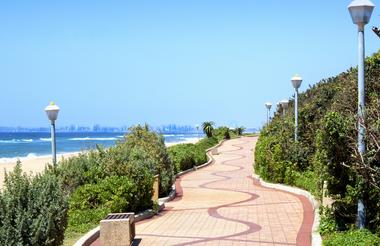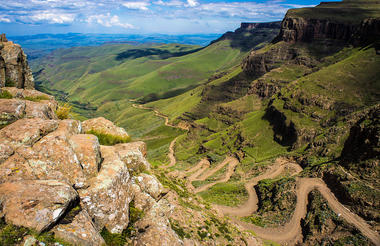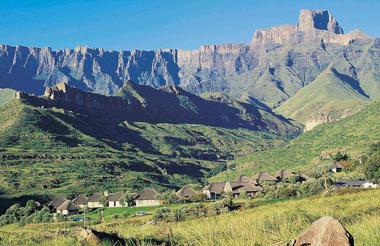 Included
Breakfast
Full Day Touring with a Registered English Speaking Guide
Entrance Fees
Boat Cruise
Light Lunch
Excluded
Meals & Drinks not specified
Additional Activities
Day 5:
Amakhala Game Reserve
After breakfast you check out of the hotel and transfer to the King Shaka International Airport for your flight to Port Elizabeth. Upon arrival in Port Elizabeth you will be met by your guide and transferred to the Amakala Game Reserve where you will be staying for 3 nights.
The Reserve is home to all members of the Big 5, over 600 Elephants, Black Rhinos, Cape buffalo, Lion and Leopard amongst the many other species of mammals, Birds and Reptiles that inhabit the 5 biomes of this unique wildlife preserve.
5-star rated Bukela Lodge is a romantic and secluded safari destination tucked away into indigenous trees and bushes at the top of a hidden valley at the Amakhala Game Reserve. Connected by a wooden walkway, our thatched suites offer a remarkable private wildlife-viewing experience. Savour a crisp glass of wine in your sun-soaked spa bath, opening onto trees alive with birdsong. Indulge in sumptuous high teas, private candlelit dinners or exciting fireside boma dinners under African stars. And as you fall asleep, hear the silence broken by the unmistakeable sounds of elephant and buffalo making their stately progress through the unfenced camp.It's our privilege to create moments like these, and to share them with you.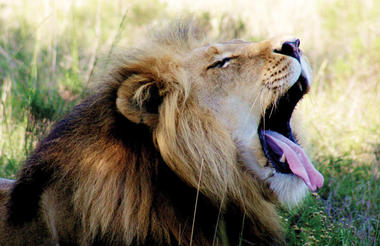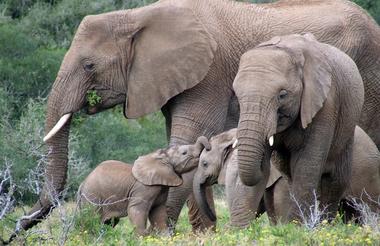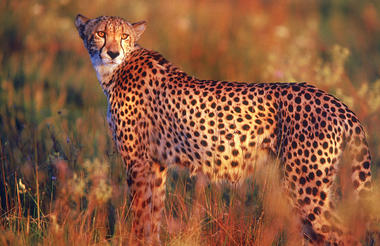 Included
Breakfast
Domestic Flight from Durban to Port Elizabeth
Transfer from hotel to the airport in Durban
Transfer from Port Elizabeth Airport to Bukela Lodge
High Tea
Dinner
Afternoon Game Drive
Excluded
Meals & Drinks not specified
Additional Activities
Day 6:
Amakhala Game Reserve
You are likely to encounter: lion, elephant, rhino, buffalo, cheetah, giraffe, zebra, wildebeest, monkeys, tortoise and plenty of antelope species. You might be lucky and see some of the more elusive and shy animals like hyena or bat eared fox.
This is your chance to be privileged enough to see the world famous African animals close up in their own habitat .The focus of the game drives is not only the large majestic beasts but also the humble smaller mammals, birds and insects which will leave you in awe.
Refreshment breaks have been included to make your safari experience that much more enjoyable. This safari experience will create memories which will linger for a life time.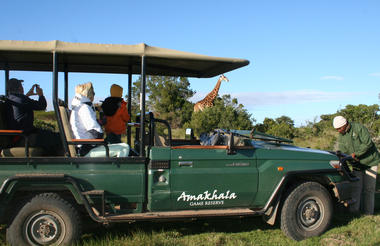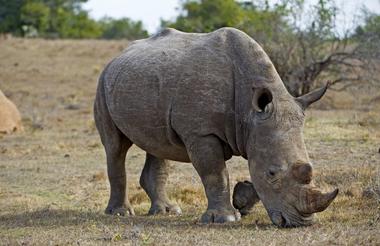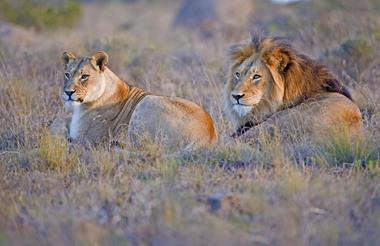 Included
Breakfast
Lunch
Dinner
2 x Game Drives per day
Excluded
Drinks
Additional Activities
Day 7:
Amakhala Game Reserve
Included in your stay are morning and evening game drives leaving from your lodge. You will be guided by informative, professional rangers through Addo National Park in open Land Rovers. Here you can return to nature and explore the abundant wildlife, the diverse vegetation and the dramatic landscape of the Eastern Cape.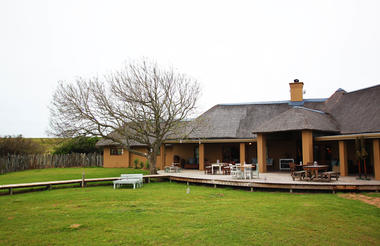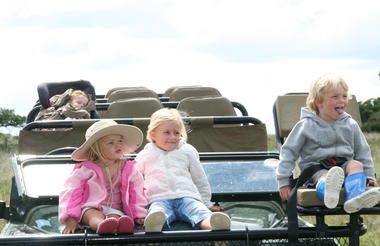 Included
Breakfast
Lunch
Dinner
2 x Game Drives per day
Excluded
Drinks
Additional Activities
Day 8:
Plettenberg Bay, Tsitsikamma National Park
After breakfast we check out of our Lodge and make our way to Plettenberg Bay situated in the beautiful Garden Route. En-route we stop at the Tsitsikamma National Park. Here we do a short walk along the coastline and over the spectacular suspension bridge. Another amazing stop is at the Bloukrans bungee bridge. If you are brave enough you can attempt the world highest bungee jump here (216m of pure adrenalin). We overnight in our lovely guesthouse in Plettenberg Bay for the next two nights.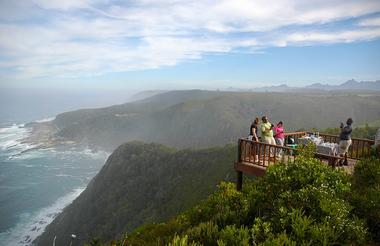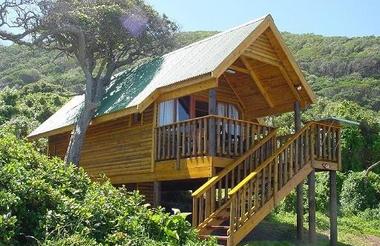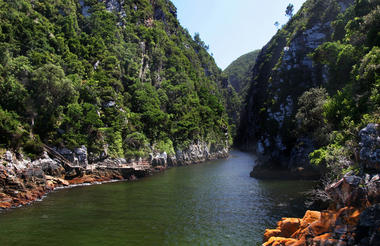 Included
Breakfast
Transfer from Addo to Plettenberg Bay
Bloukrans Bungee Bridge (jump optional)
Tsitsikamma National Park entrance fees
Excluded
Meals & Drinks not specified
Additional Activities
After breakfast we make our way to Knysna, the jewel of the Garden Route. Nestled on a beautiful estuary, Knysna is surrounded by idyllic natural forest, a rugged coastline,beaches, majestic mountains, rivers, and the world famous Knysna Lagoon. You have the rest of the day at leisure to enjoy all that Knysna has to offer.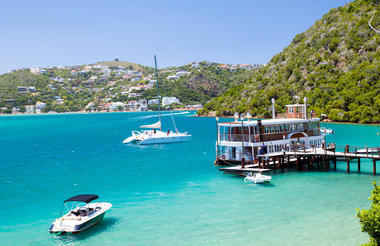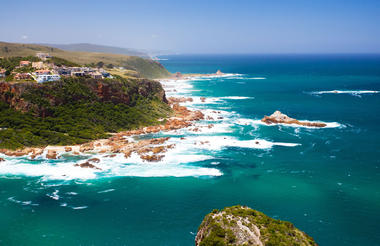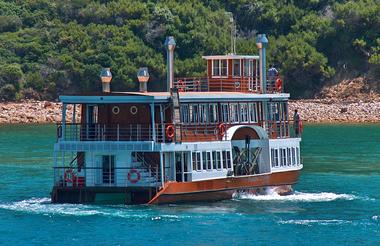 Included
Breakfast
Transfer from Plettenberg Bay to Knysna
Excluded
Meals & Drinks not specified
Additional Activities
Today you board the Rivercat Ferry for a four-hour-eco-experience to the Featherbed Nature Reserve. This experience includes a return ferry trip, nature drive, guided walk and a world renowned buffet lunch at the Featherbed Restaurant. After lunch, return back to mainland. You can spend the rest of the afternoon at the Knysna Waterfront or return to your guesthouse to relax at the swimming pool.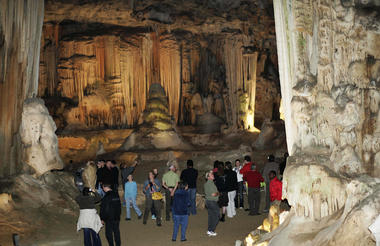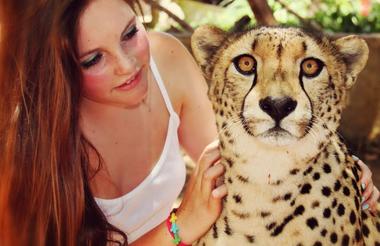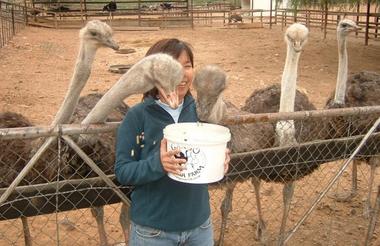 Included
Breakfast
Return transfers from guesthouse to Knysna Waterfront
Featherbed Nature Reserve
Lunch
Excluded
Meals & Drinks not specified
Additional Activities
After breakfast and check out, we proceed to Oudtshoorn, the ostrich capital of the world. Enjoy a scenic drive through Wilderness, George and over the majestic Outeniqua Mountains. After a 2 hour drive we arrive at the world famous Cango Caves, one of the world's great natural wonders sculptured by nature through the ages - a series of dripstone caverns that open into vast halls of towering stalagmite formations. Afterwards we visit an Ostrich Farm where you can stand on an ostrich egg and even ride an ostrich! After lunch (optional) we check into our lovely hotel.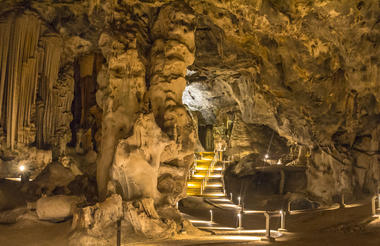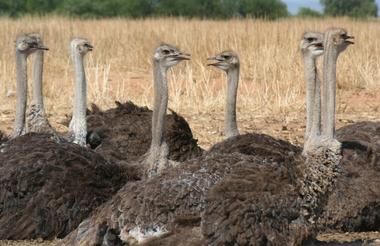 Included
Breakfast
Transfer from Knysna to Oudtshoorn
Cango Caves
Ostrich Farm
Excluded
Meals & Drinks not specified
Additional Activities
Today we say goodbye to the Garden Route and make our way to the beautiful Cape Winelands. We travel via Route 62, the longest wine route in the Western Cape and most likely the whole world. This scenic route passes through farming towns such as Calitzdorp, Ladismith, Montagu, Worcester & Paarl. After a 4.5 hour drive, we arrive at our beautiful guesthouse in the late afternoon.
Franschhoek Valley is one of the most beautiful wine valleys in the whole world with its senses of intimacy and mystery which make everyone feeling very welcome. The Cape wineland region takes its pride for being the culinary capital of South Africa. Of the top ten restaurants in South Africa, Franschhoek has three and one in the top 50 in the world.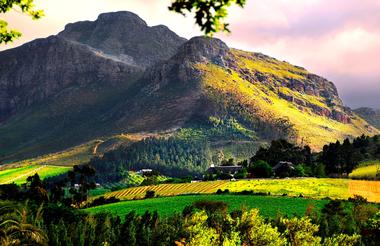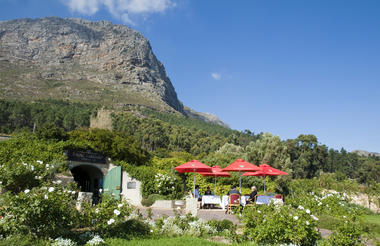 Included
Breakfast
Transfer from Oudtshoorn to Franschhoek
Excluded
Meals & Drinks not specified
Additional Activities
Today you enjoy a trip onbaord the Franschoek Wine Tram. The Franschhoek Wine Tram, a hop-on hop-off tour is one of the best ways to discover the true essence of the Franschhoek Valley – picturesque vineyards, breath-taking scenery, warm hospitality, world-class cuisine, fine wines and a 300 year history.
Passengers aboard the hop-on hop-off tour will experience a unique and leisurely way to see the Franschhoek Valley as they journey through rolling vineyards in an open-side tram and open-air tram-bus stopping in at some of South Africa's oldest and most distinguished wine estates.
A combination of tram and tram-bus transports passengers around a loop of stops allowing them to hop-off at each stop and experience the activities on offer, be it wine tasting, a cellar tour, lunch or simply a stroll through the vineyards and when they are ready, hop-on to continue the tour.
The tour takes passengers right into the heart of the Franschhoek Valley, with a narration focusing on the history of Franschhoek and wine cultivation in the valley and unparalleled views of the valley and vineyards.
Franschhoek Wine Tram currently offers four hop-on hop-off lines to choose from: Blue Line, Red Line, Yellow Line and Green Line. Each visiting eight wine estates and showcasing a separate part of the Franschhoek Valley.
READ MORE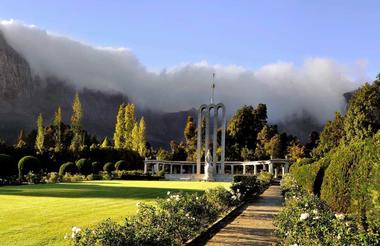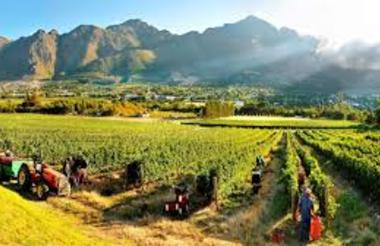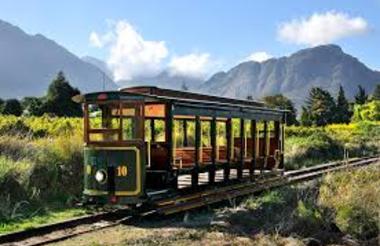 Included
Breakfast
Wine Tram including 2 x wine tasting
Excluded
Meals & drinks not specified
Additional activities
After breakfast and checking out of the guesthouse we explore the town of Stellenbosch. Stellenbosch was founded by Simon van der Stel in 1679. He ordered the planting of the oak trees which now line the streets and gardens. The City of Oaks is the second oldest European settlement in South Africa and is home to the University of Stellenbosch. In the early days of the Second Boer War, Stellenbosch was a British military base and was used as a 'remount' camp. The town lies at the foot of the Cape Fold mountain range, which provides soil favorable for viticulture. Grapes grown in this area are primarily used for wine production. After exploring the town of Stellenbosch we make our way to the "mother city" Cape Town (1 hour drive) where you will be staying for 3 nights.
Once in Cape Town we embark on a cable car trip up the legendary Table Mountain for spectacular views of the Mother City and the surrounding peninsula. (weather permitting). After lunch (own account), we visit the well preserved Company Gardens, the S.A. Museum, the Castle of Good Hope and the vibrant and arty flea market, Greenmarket Square. We also take a trip through the colourful and picturesque Malay Quarter known as Bo-Kaap. Check into your lovely guesthouse in the late afternoon.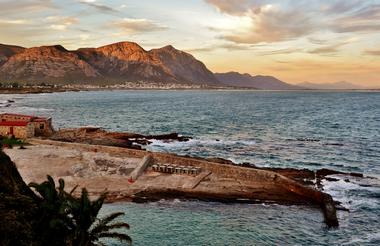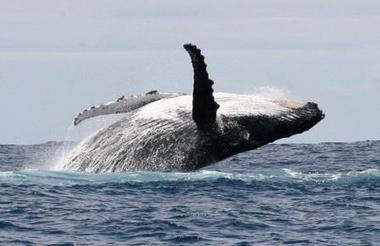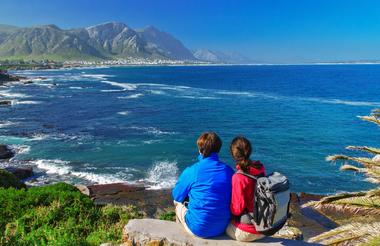 Included
Breakfast
Transfer from Franschhoek to Cape Town
Table Mountain cable car trip
Entrance fees as per itinerary
Excluded
Meals & Drinks not specified
Additional Activities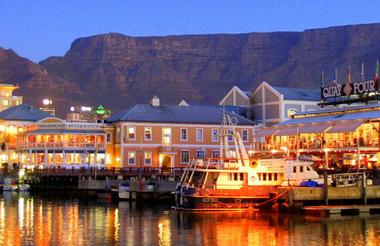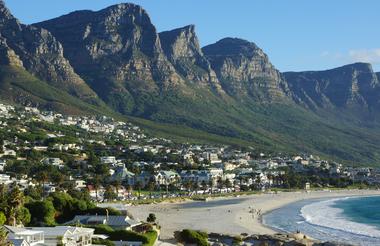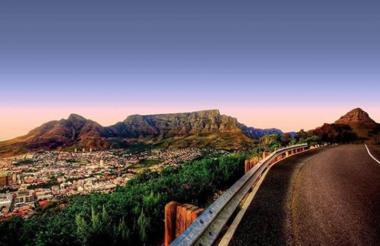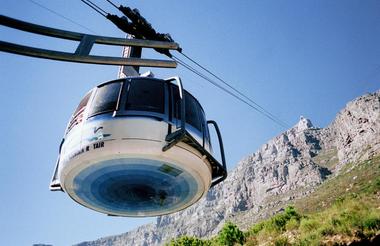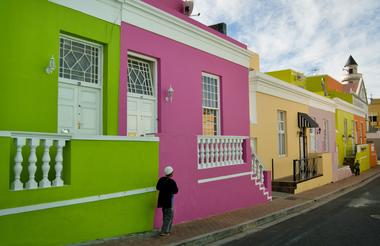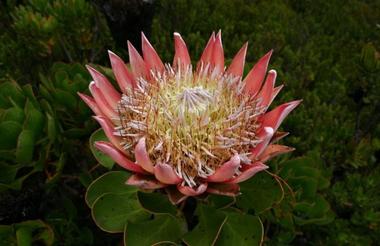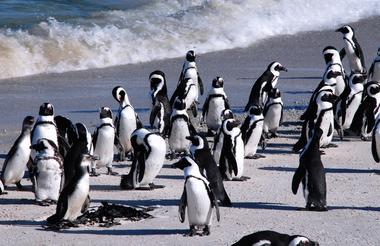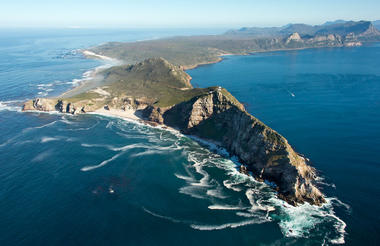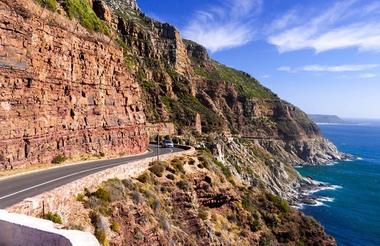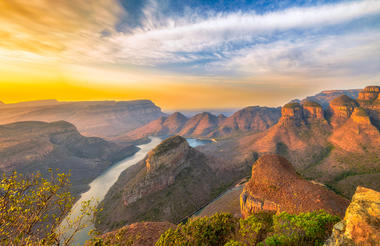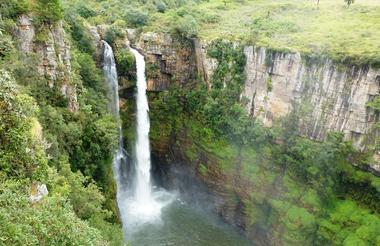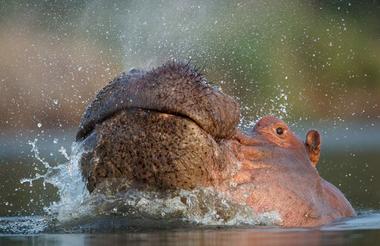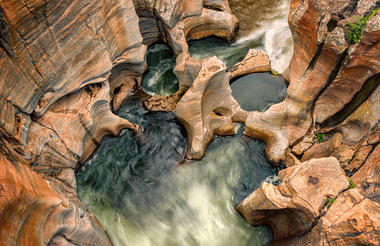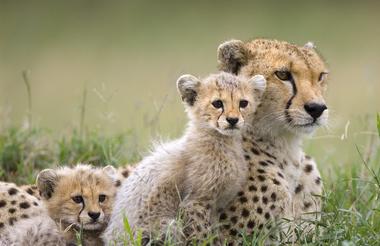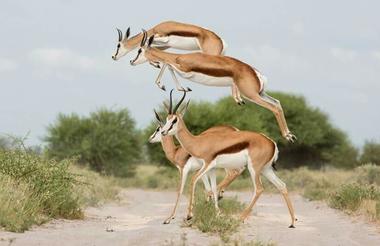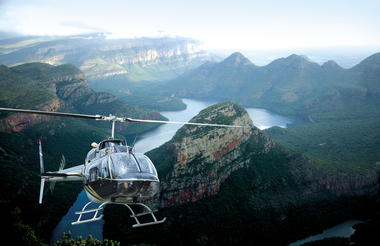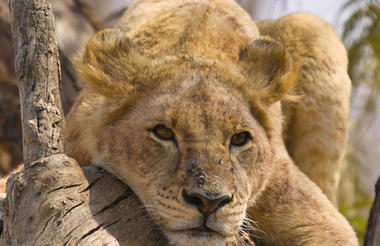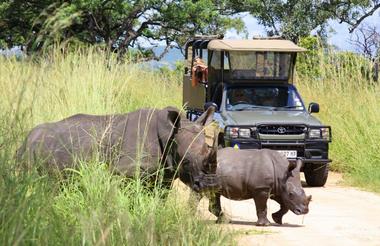 After a last morning activity and breakfast you will check out and be taken to the Kasane Airport for your onward journey.
We wish you a safe trip back home with wonderful memories!
Included
Breakfast
Morning Game Drive
Transfer from Chobe to Kasane Airport
Domestic Flight from Kasane Airport to Johannesburg
Excluded
Meals & Drinks not specified
Additional Activities